1987 Advertisement for Judge Dredd Citi-Block Floor Plans
There for a time in the mid-eighties, Games Workshop's Judge Dredd roleplaying game (find at Amazon.com*) was getting heavy promotion in the pages of TSR's Dragon magazine. That may sound a bit strange — especially when you stop and think about the question "When did you last see Games Workshop advertising in Dragon magazine?" (forgetting the question of where is Dragon these days?) — but trust me, the mid-eighties was a strange time for the roleplaying market.
Today's ad for the Judge Dredd Citi-Block floor plans product is every bit as colorful as some of the other Judge Dredd RPG ads we have seen before, leaving me to feel that the RPG ads of the past were more effective than the RPG ads of today. Wait. When did I last see a printed advertisement for a roleplaying game?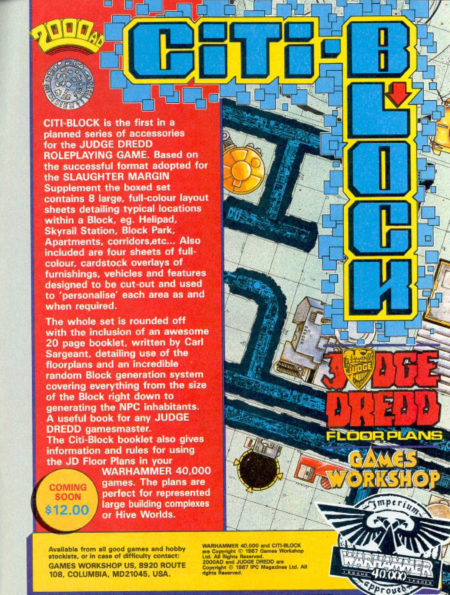 Related articles