Review – Radio Shack Space Walker (1983)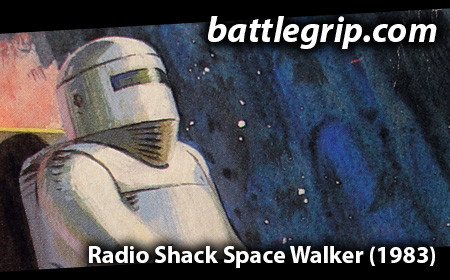 My first encounter with this 1983 Space Walker toy from Radio Shack was when I saw the toy on Facebook in 2014. That fabulous box art and the toy tank's boxy, unusual design both grabbed my imagination, and after a year of hunting I managed to track down the toy. How is it? Let me say that I'm glad I kept the eBay search running for as long as I did; this is a fun little machine.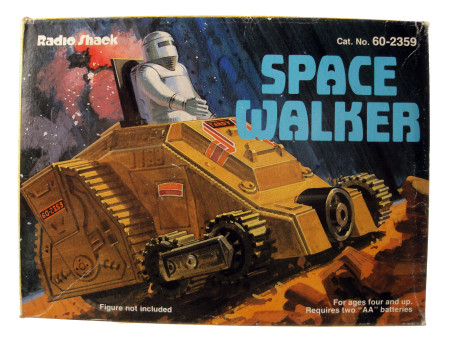 Packaging Art and Echo Toys
Thanks to the assistance of battlegrip.com reader Microbry (Tumblr page) I was directed to the Echo Toys line posted at virtualtoychest.com. It turns out this Space Walker from Radio Shack is the same design as the Echo Toys Defender and it's from the same series as the Echo Space Walker that I reviewed last month. I probably shouldn't have known about these Echo Toys pieces, but now that I do I can't stop searching for them. Such remarkable designs!

And as to the packaging artwork, I think the photos here speak for themselves. That's an amazing painting, the line art looks awesome, and everything in my body is yelling: Why isn't there a book of old Radio Shack toy art?!?!? I know collecting all of the boxes for such a book would be expensive, but that doesn't stop me from wishing such a book existed. I know I'd rush out and buy a copy immediately.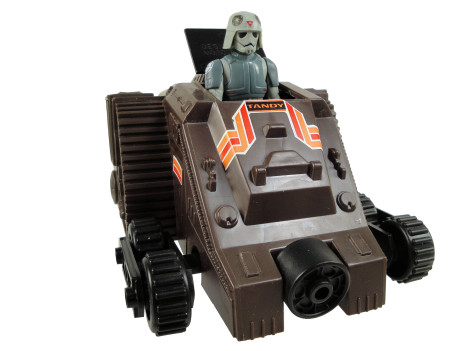 A Boxy Little Tank
At 4.25-inches wide, 5-inches long, and 3-inches tall we can safely call this Radio Shack Space Walker toy a brick of a vehicle. The design has great angles and details, but it's ultimately a boxy machine with faux rear treads and an opening hatch where we can sit 3.75-inch scale action figures. I wish we knew who designed this toy because the creator should be remembered for this unusual and enjoyable design; it's like an unofficial Star Wars Mini-Rig toy!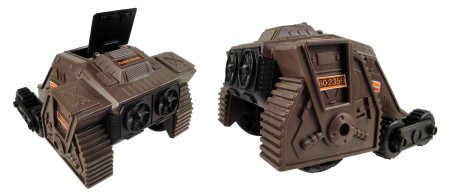 Chug Thuwack
As with the other toy named Space Walker (review here), this Radio Shack Space Walker toy is battery-operated and propels itself forward by slapping plastic against the floor. The twin-wheel contraption at the front of the toy rotates, the plastic bits dragging the rest of the toy with it across the floor. The mechanism is similar to the other Space Walker toy (review here), but only in that both are unsophisticated and function as inelegant solutions to the question: How do I make a toy move without spinning wheels?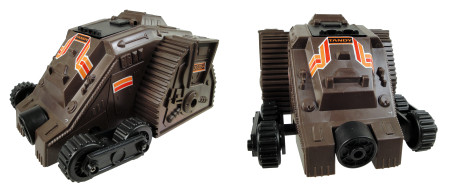 Closing Thoughts
This is a fun toy that is likely one most of the world will forget as time passes. It's already over thirty years old, and as time passes it's not as if someone is going to bring these old Radio Shack toys into the mainstream and make them popular again. I'm happy to have found one when I did, even if I am now keeping an eye open for similar Radio Shack (and Echo Toys) vehicles from the early eighties.