1985 Sears Wishbook and G.I. Joe
The Sears Wishbook was always one of the best parts of Christmas when I was a kid, and this spread showcasing G.I. Joe toys in 1985 has some really fun treats for kids of all ages. The G.I. Joe Aircraft Carrier likely caught your eye first, but it's the exclusive Crimson Guard vehicles — C.A.T. (Crimson Attack Tank) and the S.M.S. (Sentry Missile System) — that are the real star of the toys shown.
yojoe.com has pages for both the C.A.T. and the S.M.S., and the site even points out that the catalog incorrectly calls the S.M.S. a H.I.S.S. Fun stuff!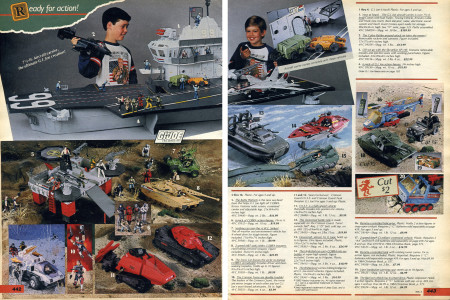 It's good to see that the Hasbro of the eighties hadn't forgotten the G.I. Joe tricks of the sixties. In GI Joe: The Complete Story of America's Favorite Man of Action* Don Levine says:
"The word special was very important, and the sales reps in the field were coming to us asking for packages that they could offer to accounts like Sears Roebuck, Montgomery Ward, or J.C. Penny."

Related articles