1986 Marchon Toy Fair Catalog and Fourth Road Bots Toy
Locating the 1985 Marchon Road Bots carrying case this past weekend (posted here) was a real surprise for me. Ever since about five or six years ago when I finally discovered the name of these toys I've been watching for the other colors, so finding the carrying case was exciting since it made me realize there could be more to the line than I had realized.
Much more, as it turns out by this ended eBay auction for the 1986 Marchon Toy Fair catalog. More as in:
Scooporr, a fourth Marchon Road Bots toy to join the three I already knew about — Loadorr review here, Hookorr review here, and Cementorr review here — and leave me now trying to figure out if the toy was ever actually made or is just a prototype in the catalog.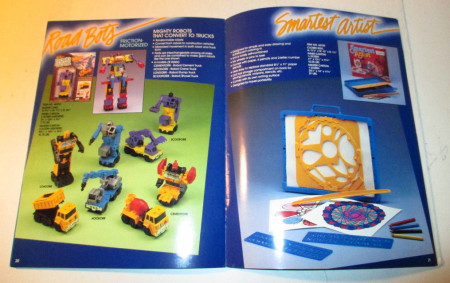 And things get even more exciting for us when we see the combined giant robot, a Marchon Road Bots take on the Transformers Devastator if I ever saw one. And what's fun for me is that over five years ago I even talked about how I used to merge the two toys I had into one. In the comments to my Hookorr review I wrote:
And since Hookorr and Loader used the same basic connectors I would "merge" those two into a single robot. Now that I have all three of the Roadbots I'll have to see what I can make out of the three of them.
Well, it turns out there was an official combined form. Awesome stuff. I want this catalog. And I want Scooporr! Not to mention that Loadorr in colors I've never seen before . . .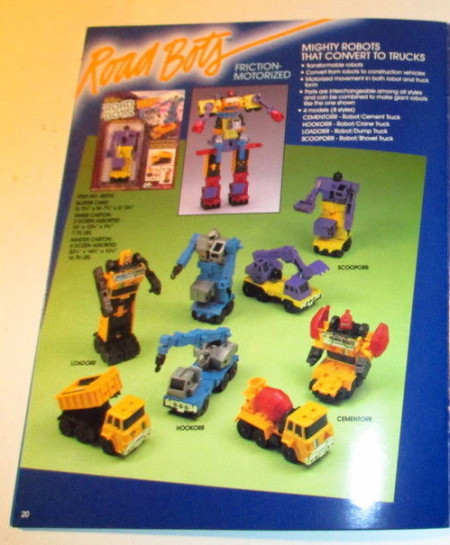 Related articles