2012 Battlegrip.com Awards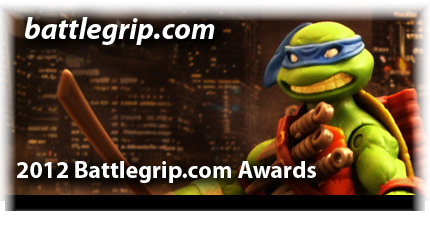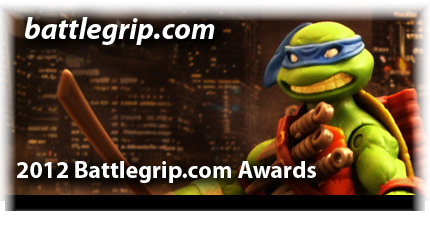 It's the end of another year, and what has become a tradition here at battlegrip.com is my annual awards post. So following the semi-standard format of the 2009, 2010, and 2011 awards posts I present my top choices for 2012. Click through and then don't forget to leave a comment telling all of us your own choices for the best of the year.
---
Best Mass-Market Action Figure Line of 2012
Without a doubt the best mass-market action figure line of the year has to be Playmates' Teenage Mutant Ninja Turtles series (Amazon.com search*). With fantastic designs, an insane number of vehicles and even a playset, and spectacular sales (see "Teenage Mutant Ninja Turtles Toys Are a Hit") there was no way that this couldn't be my choice for the Best Mass-Market Action Figure Line of 2012. And as long as Playmates keeps new releases coming and Nickelodeon keeps entertaining kids with the new cartoon I fully expect this line to do quite well in 2013.
See my Teenage Mutant Ninja Turtues reviews for more on my thoughts on the line: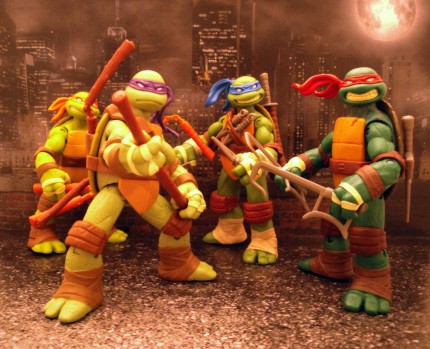 ---
Best Designer Vinyl Series of 2012
There were several new designer vinyl toys released in 2012, but out of all of them the one series that kept looking adorable and making me smile had to be Funko's Pop! Vinyl toy series (Amazon.com search*). And what impresses me even more if that Funko, through their wide variety of licenses, managed to get the line placed in all sorts of locations; I've even found Pop! Vinyl toys at Wal-Greens! This is a remarkable and addictive series of vinyl toys and I recommend you avoid them unless you want to start collecting several of them.
Here are all of the Pop! Vinyl reviews I've posted at battlegrip.com: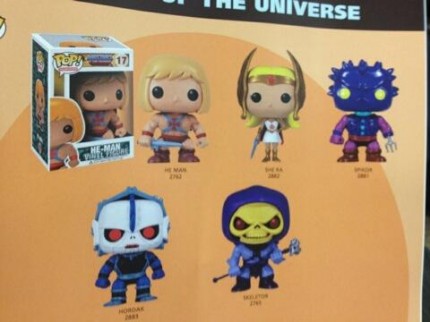 ---
Best Third Party Transformers Toy Manufacturer of 2012
The third party scene exploded in 2012, with more releases hitting than many collectors could keep up with. And between my interest in the entire third party concept and working on the Transforming Collections book I spent a lot of time studying the toys and the manufacturers involved during the year. And while it wasn't an easy decision, in the end I've settled on iGear Toys as my choice for Best Third Party Transformers Toy Manufacturer of 2012 primarily due to the strength of their Mini-Warriors line. There were a lot of great toys and some strong competition for "best," but those Mini-Warriors are, for me, a perfect mix of modern design and classic styling and the toys are great homages to their ancestors.
To see my thoughts on the various Mini-Warriors released so far I direct you to my reviews posted in 2012: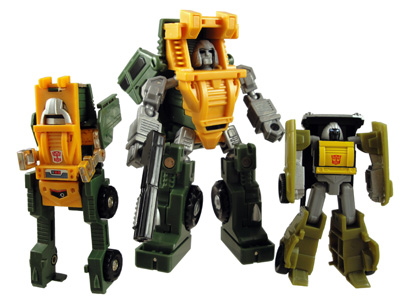 ---
Best Site of 2012
This is always the most difficult award to grant, if only because there are so many excellent sites out there that I visit almost every day. To make my life a little easier I am eliminating earlier winners from the running (ActionFigurePics, It's All True) and giving other sites a chance.
I ultimately settled on DoomKick as my choice for Best Site of 2012. There are some fun reviews at the site, fairly regular updates, and the site seems to cover the toys I am interested in but fail to write about at times. If you're unfamiliar with it I suggest taking a little time to explore the site.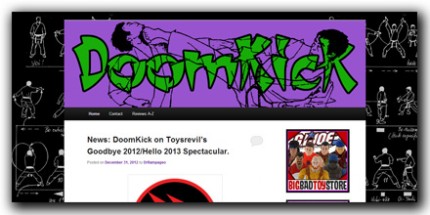 A few of the sites that came close to snagging the top spot, in the interest of sharing sites with all of you that you may not be regularly visiting, include:
---
Another year down and battlegrip.com is now officially starting its fifth year online. Thousands of posts and comments, far more photos shot than I like to think of, and hundreds of thousands of words written over four years all tell me that I'm still having fun with the site.
I just hope that you're having fun reading the site and will stick around for another year.