Affiliate Link – Hershey's Hot Wheels
I reviewed two of the cars in this series yesterday (review here) and now I see that Entertainment Earth has entire cases available* for the hardcore fan. And a case may be the way to go if you really want these; I was back in the Wal-Mart where I first found them and the cars were completely gone. Hot Wheels collectors are insane!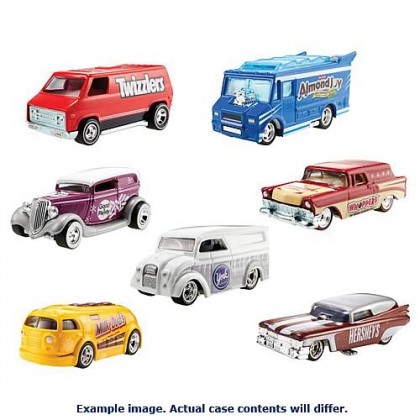 This Hot Wheels Nostalgia Wave 3 956D Die-Cast Vehicles case contains 16 individually packaged vehicles. Assortment breakdown not available at this time. In the spirit of fun, adventure and, above all else, play, this line celebrates favorite brands from back in the day. The assortment captures the iconic art of Coca-Cola, Hanna Barbera, the Saturday Evening Post, DC Comics, assorted ice cream and pin-up/nose art including Classic Coke, Santa Claus, George Jetson, Saturday Evening Post covers, The Flash and WWII airplane art. With die-cast bodies, die-cast chassis and Real Riders tires, these vehicles will transport you back to a time when you didn't have a care in the world! Not for use with Hot Wheels sets. For the adult collector.
Related articles