Castle Grayskull Pre-Orders Start Today
Our all-new Castle Grayskull® playset is slated for a late 2013 release. Because it's still in its very earliest stage, the final design is subject (and likely) to change. Why are we offering it for pre-order now and asking you to make a commitment when the design hasn't been finalized? Because the production cycle for an item like this takes over a year and is extremely costly. If we don't reach the minimum pre-order goal, we can't go forward.
Today's the day! The Castle Grayskull pre-orders go live today at Matty Collector and if you're at all interested in what sounds like the ultimate action figure playset for the Masters of the Universe Classics action figure series (Amazon.com search*) then you must check the product description.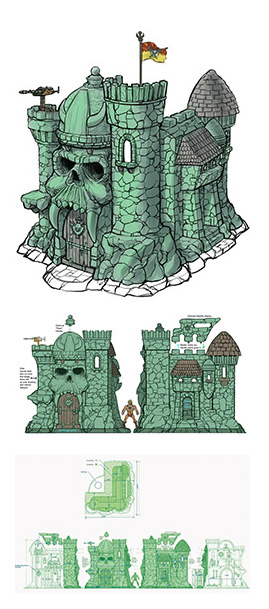 Mattel has outlined some very specific features and measurements for the playset and then been careful to structure the deal so that they can change anything even after pre-orders are placed. So that $250 — plus whatever shipping ends up costing on a playset of this size — is a commitment you are locked into even if Mattel dramatically changes the playset's design.
If this item reaches the pre-order goal, there will be NO REFUNDS OR EXCHANGES, even if the design or features change. If you place a pre-order, you are committed to the purchase and will be billed when the item ships.
I am really torn on whether or not I pre-order this. The idea is exciting, but the lack of any firm commitment from Mattel combined with their pre-order policy and the tiny images has me undecided. And with only hours to go until pre-orders open — and then just a few weeks before Mattel will assess the situation — I'll need to make a decision in the next week or two.
One last thing… because this is a work-in-progress, features may be added or subtracted from the proposed design, but we can't confirm anything now. We're seriously as excited as you are by the prospect of finally having a Castle Grayskull® playset and Mattel will do everything to ensure we can deliver as much value as possible!
I really think I'll come down on the side of pre-ordering Castle Grayskull because the idea of a playset of this size really is exciting. Where will I put it if the playset meets the minimum pre-order and actually happens? I have no idea, but something this big deserves a dedicated display space. And with one year before expected delivery that should give us all time to prepare a place of honor for a giant playset.
(Odd. I noticed that as I worked this out my brain started leaning more and more toward pre-ordering the playset. I suspect it's the idea of missing out on a toy of this size and then searching eBay for one that has me leaning toward placing an order.)
Related articles