Five Points of Articulation is Plenty for Play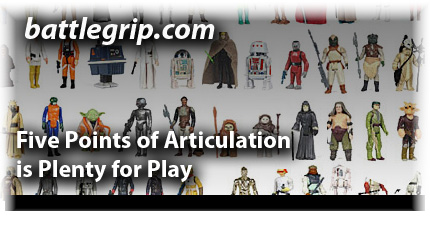 When I was a child I played with Kenner's Star Wars action figures. For roughly five years it was Star Wars action figures, vehicles, and playsets that consumed my playtime. I froze them in ice. I played with them in the bathtub. I constructed vehicles and environments out of cardboard boxes. I even created tiny (and crude) clothing for my Star Wars action figures.
And not once was I bothered by the limited articulation of the toys. Most had only five points of articulation — simple 360-degree swivels at the neck, shoulders, and hips — and those joints were enough for me to have a lot of fun.
Since launching battlegrip.com I have swung from being happy with a few points of articulation to wanting more and back again. Swivels, hinges, balls, and joints that merge all three have kept my attention as I have played with and reviewed action figures and I think I have settled on something very important that should forever color my opinion when it comes to action figures and articulation:
More is not always better.
You see, action figures that feature twenty or more points of articulation aren't really any more playable when it comes right down to it. Sure I can get some remarkably exciting poses out of those toys with double-hinged knees, ball-jointed hips, cut thighs that swivel 360-degrees, rocker ankles, and hinged toes. But I also experience frustration at times because the more moving parts an action figure possesses the greater the chance that something will break. (Or, as with the Assassin's Creed Ezio I recently reviewed,just fill with paint and fuse in place.)
And toy companies do not have the best quality control during manufacturing and some manufacturers don't even attempt to deal with broken toys once they have your money. (Square Enix, despite their customer service rep personally promising me at NYCC to deal with the problem, has never responded to mail about the busted Play Arts Kai Armored Batman in my collection.)
Besides the higher chance of flaws or breaks there's also the reality that more points of articulation means it takes longer to get a figure to stand on its own. And how many kids, when playing with their toys, want to sit there and struggle to balance a Batman action figure. I think the fact that the Power Attack Batman series has fewer points of articulation than the DC Universe Classics line shows that Mattel understands that children actually playing with the toys are happy with fewer points of articulation.
And if the children are happy then shouldn't we be happy? Yes, adults (including me) collect and play with these toys, but it is the kids who are the target market for most toys and that means toys should be designed for kids.
I have been guilty in the past of complaining about toys with simplified articulation. I was wrong. With that in mind I will try to think more about playability of toys when writing reviews and posting my thoughts about a toy. Designer and high-end collector action figures and toys will, of course, be judged as collectibles, but mass market action figures priced about $15 to $20 or less will be treated as toys . . . as they should be.
I apologize to the toy designers and manufacturers who I may have unfairly criticized in the past. You were right and I was wrong. And thank you for not coming out and blasting me and instead allowing me to find my own way.
Toys are for kids. Let's give them what they want: durable, fun, inexpensive toys.
Related articles