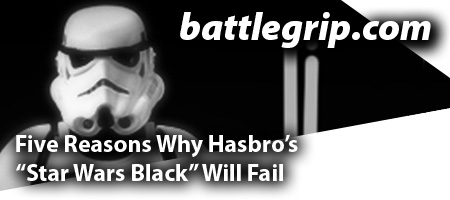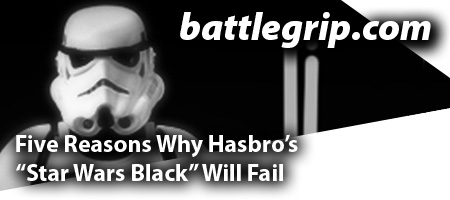 2017 Update: Check out Five Reasons Why Hasbro's "Star Wars Black" Series Hasn't Failed.
NOTE: This is a discussion about the 6-inch scale Star Wars "Black" action figure series. I am not at all covering their 3.75-inch scale "Black" line in this article.
With the official announcement on January 29 at USA Today (post here) the 6-inch Star Wars "Black" action figures have sparked excitement across the web. What looks like a great idea at first glance — and strikes me as something that should have been tackled long before now — may not actually have all that much of a chance at success. After some thinking through the new line, and reading opinions across the web, I've settled on one single strong opinion of my own:
Hasbro's "Star Wars Black" series will fail.
(What is failure? See "Star Wars Black: Defining Failure" for one possible definition.)
I hope that I am wrong. I'd love to see the series reach a point that I can buy a 6-inch scale Blue Snaggletooth action figure, but I just can't shake the feeling that five key points will take this new line down the road to cancellation.
1. Against Tradition
Since Kenner's first Star Wars action figures reached stores in 1978 the most popular scale for Star Wars action figures has been 3.75-inch. For 35 years now all of us have handled, owned, played with, or otherwise interacted with 3.75-inch scale Star Wars action figures. That's a lot of tradition to fight against, and even when the line was new Kenner struggled with introducing other scales to the line; the 12-inch scale Star Wars action figures of the seventies and the non-articulated Star Wars Micro Collection of the eighties. And even the diecast metal toys and Micro Machines Star Wars toys have never had the longevity of the 3.75-inch scale figures.
Sideshow Collectibles' line of 12-inch scale Star Wars action figures (browse Sideshow's site*) has done fairly well, but Sideshow Collectibles is a much smaller company than Hasbro and sells their toys for far more than Hasbro; Sideshow's line is a real "Adult Collectible" and I don't see Hasbro easily transitioning collectors to their new 6-inch scale line.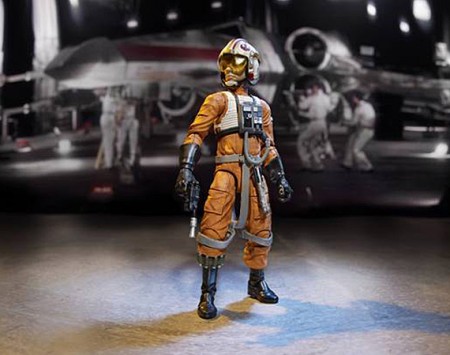 2. Limited Play Potential
Above is the promotional photo of the Luke Skywalker action figure in his X-Wing gear. At a scale that would work neatly with this Luke Skywalker action figure — and at the detail "adult" collectors will expect and appreciate — I cannot see Hasbro producing an X-Wing toy spaceship for less than $175 or $200. And that's a lot of cash to sink into a single mass market (or any) toy. And where would you even place the thing once you had it?
And kids actually playing with a spaceship scaled for the line? Forget it. How would they carry it around? The 6-inch scale size is just too big for playable toys that rely on vehicles and creatures. Even a Dewback scaled for the upcoming Sandtrooper would be a massive piece of plastic.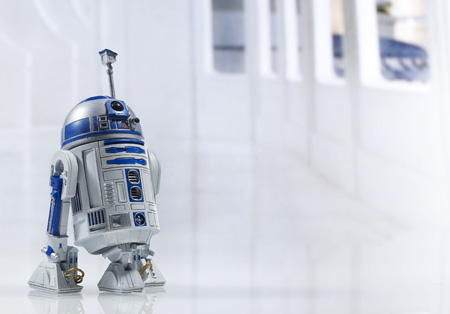 3. Twenty Bucks!?!?!
Even though Hasbro is targeting their Star Wars "Black" 6-inch action figures at collectors the line has to perform at retail, which means that the $20 price tag on the toys automatically makes these look pricey in comparison to a lot of the action figures on the pegs in places like Target and Walmart. For survival at retail to happen the toys will need to sell at least as well as the weakest-selling toys around them, and between the lack of vehicles and the fact these don't work with existing Star Wars toys I think parents won't be able to get past that $20 price point and actually buy the toys.
4. Difficult to Find
But maybe the lack of parent buying the toys for children will be a good thing, because I fully expect the first wave or two of Star Wars "Black" action figures to have distribution problems. Yes, Darth Maul will be the peg warmer of wave one, but the other three action figures — especially the Sandtrooper — will be tough to find in stores for a while. This may seem to argue that the line is an automatic success, but if all Hasbro is reaching with the toys is the adult collectors then the positive of fast sell-through actually leads to the overwhelmingly negative — and line-killing — reason number five for why I feel Hasbro's Star Wars "Black" will fail.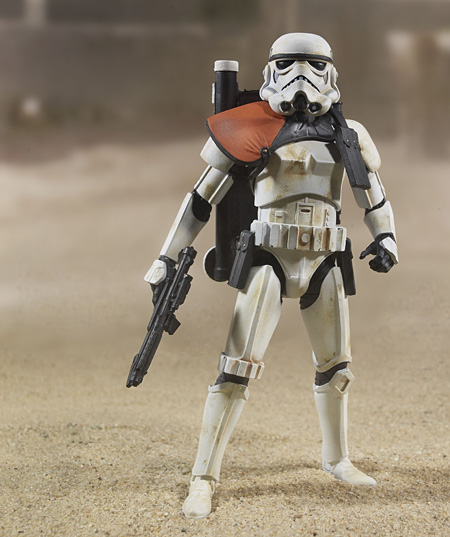 5. Oversaturation of the Market
It's basically guaranteed to happen. Let us assume that waves one and two reach stores and blow through fast (except for Darth Maul and any other prequel figures; they'll be too busy acting as peg warmers to go home with anyone) and fans are excited about the quality of the action figures. Hasbro, in an attempt to keep up with the overwhelming demand for their 6-inch scale Star Wars "Black" action figures, will start increasing the size of later waves. This is a great thing for Hasbro and collectors; Hasbro can make more money off of their expensive tooling and fans have an easier time finding the toys.
But this will not be a good thing in about two years and I expect the line to be dead within three years.

You see, with Star Wars "Black" the massive success it is (remember, I'm speculating and predicting the future here) everything works out so that as the next Star Wars movie hits theaters Hasbro starts delivering huge runs of 6-inch scale Star Wars action figures to the retail stores. Action figures, because of timing, of whatever new characters are in the new movie.
Action figures for "adult" collectors. Those very same "adult" collectors who have been skipping the prequel action figures because, well, because we're old and cranky. Hey, I plan to skip Darth Maul so I'm right there with all of you.
So now we have tons of product on shelves targeted at adults. The line is still not great for kids, so now the new Star Wars movie must appeal to adult collectors in order to move all of that inventory. Some will move, sure, but chances are I and other adults will be less than satisfied with the Star Wars movie . . . and now stores have 6-inch scale Star Wars action figures clogging their shelves.
I Hope I Am Wrong
With any real luck I am very wrong and the issues I have outlined won't cripple and destroy the 6-inch scale Star Wars "Black" action figure series. In a perfect world Hasbro resists temptation to increase production runs to the point that they oversaturate the market, but I think that perfect world also requires Star Wars fans of my own age to love the new movies.
And our history with Star Wars films — and even the Clone Wars animated series — suggests that far too many of us will dislike the new movies for our buying power to sustain an oversaturated action figure series that has limited appeal to children.
We'll see what happens, but I expect to hear of the death of the Star Wars "Black" line in 2016.
Related articles