Hasbro's Battle Beasts "New" in 1987
September 11, 1987. The push of smaller action figures in the mid-eighties is starting to really gnaw at my brain. Why did toymakers abandon the 3.75-inch scale and start making several lines of roughly 2-inch tall action figures? At first, I thought that oil prices may have been on the rise in the mid-eighties, but this macrotrends.net chart of oil prices actually shows the price of oil dropping in the early eighties, with the prices at their lowest for the eighties in February of 1986. Okay, so it wasn't the price of oil that led to small figures.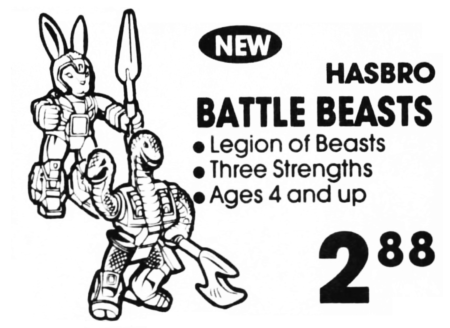 The above ad block comes from The Montgomery Advertiser newspaper of Montgomery, Alabama, and is out of an ad for Toby's Toys, what must have been an independent retailer. I'm not finding the retailer listed online today, so this must be one of those ads that offers a peek at a now-dead store. Sorry to have missed you, 1980s toy store.