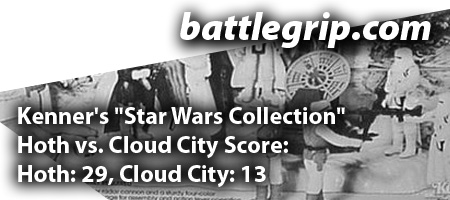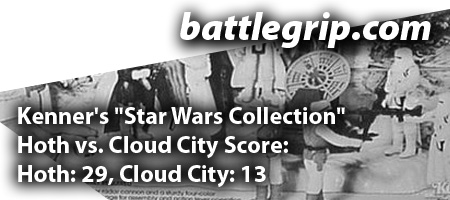 When I wrote "Where Kenner's "Star Wars Collection" Failed Cloud City" I was thinking that overall Hoth got much better coverage in the old Kenner "Star Wars Collection" toy series, but rather than just go with my gut I decided to sit down and count the toys produced between The Empire Strikes Back and Return of the Jedi and let the numbers speak for themselves.
I knew Hoth was the winner, but it wasn't until I had counted this list (twice!) that I saw just how much of a lead Hoth had over Cloud City. And even if we yank the Mini Rigs from the equation Hoth still wins, so I guess when I wrote "When we watch Empire we see that while Cloud City has some important scenes in the film, Hoth has a lot more toy-friendly activity." I pretty much nailed it.
NOTE: All of the toy links in this post direct you to kennerarchive.com, a site with some excellent packaged pics of the toys. You may also want to try theswca.com for even more information and pics. Both sites are a lot of fun to browse through.

Action Figures
Action figures were Kenner's "bread and butter" of the "Star Wars Collection" and between the two worlds they released a total of 21 action figures from The Empire Strikes Back. (There were others, yes, but only 21 were based on Hoth/Cloud City scenes in the movie.) You really need to have The Star Wars Action Figure Archive* on your shelves if you're a fan of the classic Kenner action figures.
Hoth
Kenner released a total of eleven action figures from the Hoth scenes in The Empire Strikes Back. I think the strangest choice of all has to be FX-7.
Cloud City
Ten action figures from Cloud City hit the pegs between the release of The Empire Strikes Back and Return of the Jedi.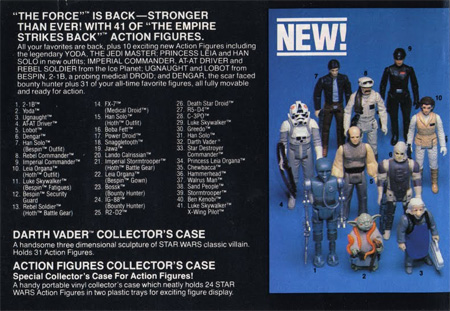 Vehicles
Reportedly the entire reason that Kenner released their Star Wars action figures in 3.75-inch scale was so that they could produce affordable vehicles, and based on the number of releases I'm not going to argue with that information. The vehicles may have been cooler than the action figures.
Hoth
Four Hoth-based vehicles gave kids a pretty good set of choices for ice planet combat during the early eighties. The Rebel Transport is more of a carrying case than a vehicle, but it's still pretty neat.
Cloud City
Only a single vehicle? I guess that kinda makes sense since there wasn't a lot happening on Cloud City.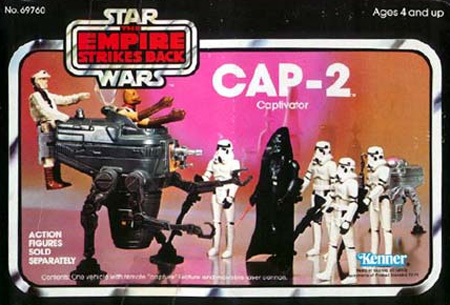 Mini Rigs
Going by the packaging designs I divided the Mini Rigs released between The Empire Strikes Back and Return of the Jedi between the two worlds.
Hoth
A whopping seven releases with Hoth-inspired packaging really boosts the total numbers on the Hoth side of the line.
Cloud City
Out of all of those little toys only a single one has Cloud City-inspired packaging? I think I'm sad.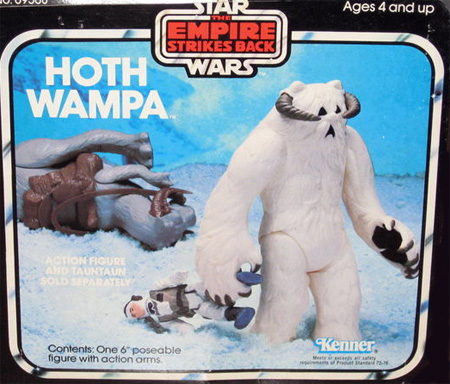 Accessories
All three of the toys classified as "accessories" released for The Empire Strikes Back are Hoth-based toys. It feels kinda cheating to count this as three since the Tauntaun is there twice, but the toys were released as two separate pieces and I guess "three" is legit.
Hoth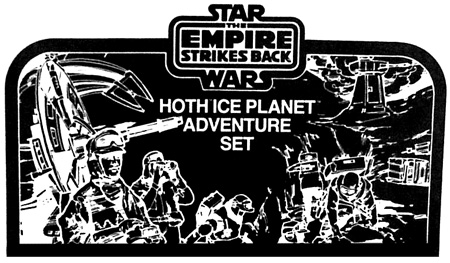 Playsets
We took a look at playsets yesterday (see "Where Kenner's "Star Wars Collection" Failed Cloud City"), but in the interest of getting all of the numbers in one place I didn't want to skip the playsets; another place where Cloud City really suffers in the competition between the two worlds.
Hoth
Hoth has four playsets — two using an old plastic base — and all of them have some really cool bits. I think that Turret and Probot Playset may be the coolest of the bunch.
Cloud City
Our single and lonely Cloud City Playset was a Sears exclusive and inspired my "Where Kenner's "Star Wars Collection" Failed Cloud City" post.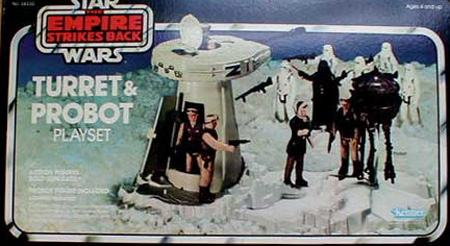 Hoth Wins!
Hoth, as I said when we started this look at the Kenner "Star Wars Collection" Hoth and Cloud City toys, clearly wins the popularity contest with 29 toys vs. Cloud City and its 13 toys. The difference between action figure offerings is minimal (Hoth had only one more figure than Cloud City), but it's all of the other categories where Hoth dominates.
In later years Kenner/Hasbro tried to do more with Cloud City — an "Expanded Universe" Cloud Car released in the nineties was one way Cloud City was given another toy — but the lack of any big battle scenes between ships and vehicles leaves toymakers a bit stuck when it comes to designing toys for Cloud City and the best bet is probably in the list of possible playsets that I posted yesterday.
Sorry, Cloud City, but I think you're destined to always come behind Hoth in the toy race.
Related articles