Kickstarter – Fearful Symmetries: An Anthology of Horror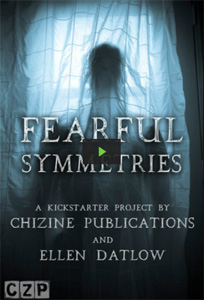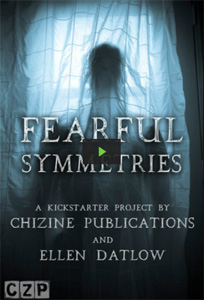 The Fearful Symmetries: An Anthology of Horror project at Kickstarter, edited by Ellen Datlow, has over $10,000 to go before it meets its funding goal . . . and less than a week to collect support. As a fan of short stories I'd love to see this succeed and hope that maybe a few of you who have never heard of the project will find it interesting enough to jump in.
The book will be a fully professional publication — check the project page for info on Datlow's work and a list of authors — and should be a lot of fun to read if it is successful. Hell, a new story by Jeffrey Ford — if you have never read his Portrait of Mrs. Charbuque*, a novel set in late 1800s New York, then you're missing out on some fun — alone made me back the project. There's likely someone on the list you're a fan of if you follow horror fiction.
I've been editing sf/f/h short fiction for over thirty years. I was fiction editor of OMNI Magazine and SCIFICTION and have edited more than fifty anthologies, including the annual Year's Best Fantasy and Horror for 21 years and the Best Horror of the Year for the last five years. My most recent anthologies are Blood and Other Cravings, Supernatural Noir, Teeth, and a young adult dystopian anthology titled After (with Terri Windling).
Related articles