Masters of the Universe in Shadowland Magazine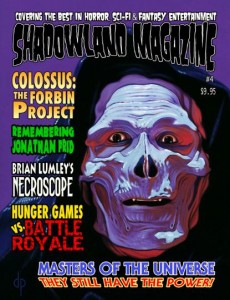 Thanks to this post by Poe Ghostal I am now aware of — and have ordered — the latest issue of Shadowland Magazine. Why? Because, as Poe pointed out, the new issue includes an interview with Donald F. Glut about the Masters of the Universe mini-comics that he wrote back in the eighties. There's also a lot more Masters of the Universe packed away in the magazine, but it's the interview with Glut that I'm most interested in.
Glut, as some of you probably know, is responsible for many books. My absolute favorite (but only because I remember reading the book on the flight to the US from Turkey in 1981) has to be his Empire Strikes Back adaptation*. Yes, my first experience with Empire was the Marvel comic and then the novel. It wasn't until the summer of 1981 — after I was living in the US again — that I actually saw the film. Poor little me.
Anyway, check the Shadowland Magazine site for details on the magazine and to order your own copy. I'll try to remember to post a little about the magazine when it arrives.
Related articles