Mezco's Mummy Pre-Orders Open at Big Bad Toy Store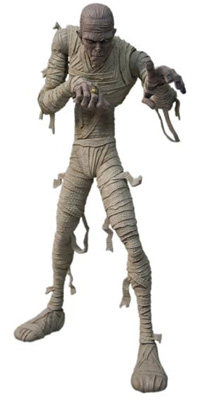 Woah. It was New York Toy Fair in 2012 when I first saw this guy (photos posted here) and I must admit that I'd completely forgotten about it . . . until I saw Big Bad Toy Store is now taking pre-orders for the toy. It's listed as a September release, but at only $25 I'm willing to pre-order it now while I'm thinking of it. This is one very cool and stylized Mummy action figure.
Buried beneath the sands of time he rested, until he was awoken by Mezco's award-winning design team. Now, Mezco proudly presents…The Mummy! This iconic terror from the beneath the sand stands 9" tall and captures the intricate detail of each ancient bandage: from his mysterious eyes, to his legendary scarab ring. With 11 points of articulation he'll be able to take out any explorer who dares to come between him and his tana leaves. He is packaged in a full color, collector-friendly window box.
Related articles