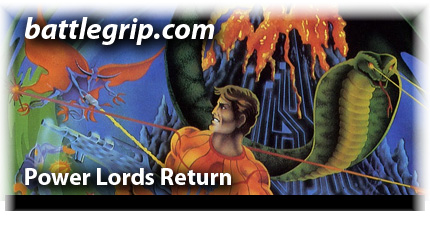 A few months ago, various toy sites started posting about the return of the eighties series from Revell, Power Lords, and speculations on who was behind the relaunch and what the new toys would be like popped up on sites and forums. Well, today we know that Power Lords are returning thanks to the work of toy sculpting masters Four Horsemen. You can read the official press release to learn more, and for discussions on the relaunch of the toys I direct you to posts at It's All True and Poe Ghostal's Points of Articulation.
Power Lords?
Released in 1983 by Revell, my own personal associations with the Power Lords toys were more through seeing ads in comics than actually playing with the toys. But looking back at the designs I can see that new Power Lords toys — especially since the toys will use a mix of traditional and Glyos System (Onell Design) joints — will be a welcome addition to a lot of collectors' shelves. Maybe not the humans, but those aliens look incredibly fun and weird.
Power Lords, as Wikipedia tells us, is the story of "Adam Power is an earthling, given the cosmic Power Jewel to protect the galaxy from the evil dictator, Arkus. Arkus is a nigh invincible foe, determined to take the Power Jewel as well as Volcan Rock, Adam Power's secret stronghold, in his quest to conquer the galaxy." Fairly generic story concept that was never quite enough to propel the toys into action figure's top properties.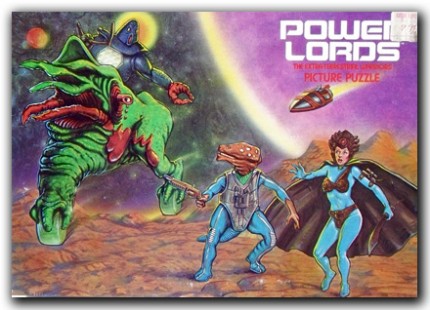 What We're Unlikely to See
While the action figures will no doubt be remarkable — take a look at what the Four Horsemen can do when they combine an older property with their sculpting skills and the Glyos System joints: The Outer Spacemen — something we're not likely to see are updated playsets and vehicles . . . and that makes me sad because I'd love to see new a sculpt of the old Volcan Rock playset shown at Virtual Toy Chest. And just look at the weird vehicles and beasts shown on that site!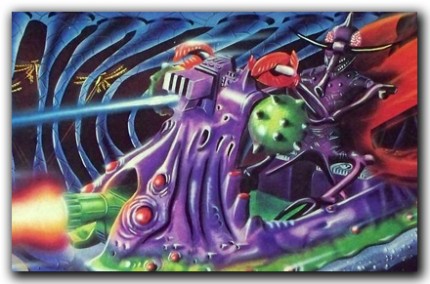 But as an independent line I doubt that the Four Horsemen will be sinking their resources into anything as ambitious as a playset or as expensive to design and manufacture as a vehicle. After all, if Mattel can't even bring us a Batmobile for the DC Universe Classics line can we really expect the Four Horsemen to construct a new Volcan Rock playset? Playsets and vehicles are one place where collector-driven toy lines really suffer.
But There Will Be Aliens!
And they will no doubt be amazing. The Four Horsemen have brought the original designer of the Power Lords aliens, Wayne Barlowe, on as a consultant and that can only mean that what would have been great alien action figures will be even better. Barlowe's fantastic Guide to Extraterrestrials* is one of the neatest alien guides in my library and just running through what could be part of his involvement in this new line has me pretty stoked and ready to see what the Horsemen reveal.
As to which aliens I'd like to see released first, scanning through the old action figures shown at Virtual Toy Chest I've singled out three as my top choices:
Arkus – Those wings would be welcome additions to my arsenal of Glyos System parts and that head would have to be made of multiple Glyos-compatible pieces; the horns could make great swords for other toys!
Tork – This alien looks like he's ready to go into battle against the Weaponeers of Monkaa toys. And those hands would be fun new Glyoshands.
Bakatak- Look at those feet! And if that armored chest were a new Glyos-compatible part I could see it getting a lot of use when building big, nasty, thuggish warriors.
Now We Wait
The new Power Lords Return website will be the place to watch for news as we get closer to the reveal in February. And as the press release at their site tells us there will also be a new Power Lords Fan Club for those who seriously want to be involved. As someone who feels Fan Clubs have been missing from toy collecting these days (there are a few clubs, but not many) I may have to sign on just to show I'm serious when I say things like:
Onell Design needs to offer a Glyos System Fan Club!
---
Related articles