Reading – BattleTech: 25 Years of Art and Fiction
Published in 2009 by Catalyst Game Labs (website, Twitter), the 304-page BattleTech: 25 Years of Art & Fiction* has been the source of hours of entertainment. Though the fiction in the book may be new — and fun — it's the art from the eighties, nineties, and up through 2009 that makes this book a great buy for anyone who has ever enjoyed the BattleTech games or fiction.
The fiction ranges from pre-Clan Invasion to the days of the MechWarrior Dark Age* game and stories. I personally prefer the classic era — from the launch of the original game to just after the introduction of the Clans — but even the later stories are enjoyable (if a tad confusing at times because of my knowledge of the later eras is less-than-complete).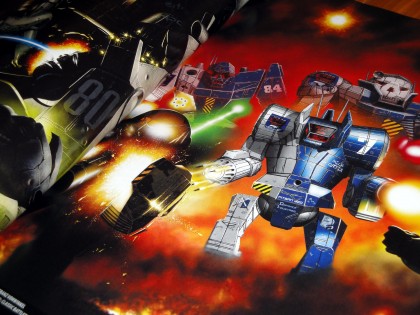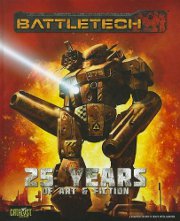 And it's not just "art" and "fiction" packed into this over-sized hardcover. A thorough introduction to the BattleTech universe opens the book, and the final pages present a detailed bibliography of paper games, digital games, and the novels that build the setting since the mid-1980s. A truly impressive collection that I am glad I bought.
And in addition to the books and games there is bits of information and photos that cover the animated series and toys from the nineties and the MechWarrior toys released by Joyride in the early 2000s. Damn, I'd love to get my hands on some of those toys.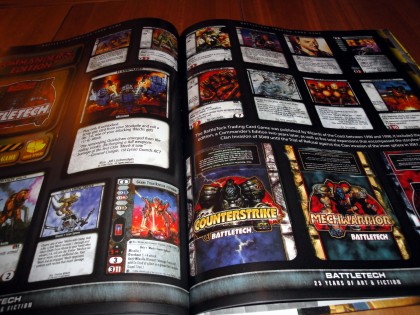 The book is packed with artwork, and if you'd like to see more snaps checkout this thread at Flickr where I've posted 23 photos of the book. That's not nearly enough BattleTech to satisfy anyone, but it's definitely enough to demonstrate just why this book is one that I've taken off of the shelf countless times over the last few years.
Excellent work and lots of fun.