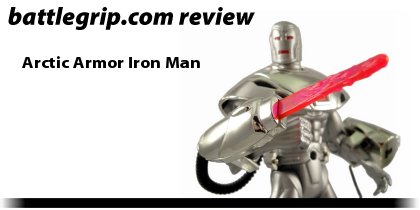 Line: Marvel * Manufacturer: Toybiz * Year: 1995 * Ages: 5+
"When Iron Man's regular armor isn't powerful enough to get the job done, Tony Stark devises new specialty suits of armor — each tailored to the needs of a specific mission! The arctic armor was designed for use in sub-zero climates — using a built-in thermocouple to draw energy from the cold of the environment!"
— from the back of the card
If you like Iron Man and don't want to be disappointed then I recommend you try one of my other Iron Man action figure reviews (Hulk Buster Iron Man and Heroes Reborn Iron Man are the two most recent Iron Man action figure reviews). Skip this review because Arctic Armor Iron Man is the absolute worst Iron Man action figure in my collection. What should have been a great toy was devastated by terrible choices and poor design.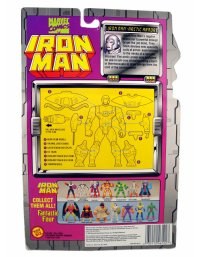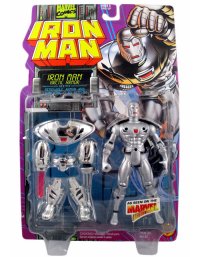 Packaging
Unfortunately, the blister card design is the best feature of this action figure. The card front, complete with the classic Iron Man logo, looks fantastic with a great illustration of the Arctic Armor Iron Man design; this is one of the few times I'm going to recommend leaving the action figure in the package. As a display item this looks good.
The card back shows how the armor accessories are meant to snap into place on the action figure (see below), as well as some of the other figures in the Iron Man and Fantastic Four lines. I remember the Iron Man cartoon from the mid-90s but I must have blocked the Fantastic Four cartoon from my memory; too bad, since I'm now wondering just how Annihilus turned out in the series.
Silver? Arctic Armor Should Be White or Pale Blue
I know starting with the paint and color of an action figure isn't the way we normally do these reviews, but I feel strongly enough that the color choice for Arctic Armor Iron Man was just plain wrong that I wanna dive right into that before looking at the figure's terrible design. White or pale blue are the appropriate colors for an arctic action figure, or maybe a very faint gray, but silver is completely unacceptable. The vac metallized parts are okay, and would have been adequate if the base figure hadn't been gray, but there's nothing here that makes me happy when it comes to color choice.
The actual paint applications are fine. Nothing wonderful or amazing, but functional and the paint is in the right place. I just really dislike the silver coloring of the figure. The coloring for the Arctic Armor shown here — silver and blue — would have also been fine, but silver on gray is terrible. Okay, I promise I won't complain about the colors again.
Sculpt
Arctic Armor Iron Man's sculpt is clean and functional and the figure resembles Iron Man, but everything about the design shouts "basic body." Rather than a sculpt of an armored figure we get the basic superheroic anatomy, with muscled abs, thighs, and biceps. The chest has the unibeam sculpted on, and the figure is obviously wearing gauntlets of some sort, but I'd be surprised if Toybiz didn't use this body for other action figures over the years. The accessories bulk up Iron Man considerably, but we're not yet ready to get into the awful accessories that were packed with the toy.
Adequate Articulation
Keep in mind this figure was released in 1995. Arctic Armor Iron Man has hinged elbows and knees, t-hips, swivel shoulders and neck and . . . well. that's it. No more articulation. It's all functional, without any weak or stiff joints, and is fine for an action figure that's almost fifteen years old. Sure it's not the best articulation for a figure from that era (no waist articulation?), but it's adequate and far from Arctic Armor Iron Man's biggest crime against toy collectors. No, the largest crime of all has to be the accessories.
Terrible Accessories
The gimmick for this Iron Man action figure line was the armored accessories that were interchangeable between the different Iron Man action figures in the series. (See this page at toymania.com for an overview of the series.) The idea is cool, but the armored accessories on this figure completely suck. Why? Because . . .
They don't all fit. The post on the belt accessory is too long and the belt won't fit on the figure.

The boots are one-piece accessories without backs. Snap these on and turn the figure around and there's automatically a problem.

The launching claw was busted in the package. The trigger piece is just missing so the claw doesn't even stay in the launcher.

The armored pieces look dumb. Not every suit of armor that Iron Man wears is meant to be bulky and massive. Well, these parts take what should be a slender figure and turn him into a brute that just looks stupid.
Closing Thoughts
Do not buy this toy. Arctic Armor Iron Man looks terrible, has accessories that don't even work well, and was a huge disappointment for me. I would love an snow-themed Iron Man action figure in my collection, but unless the Marvel Universe or upcoming Iron Man 2 action figure series (mentioned here) gives us one, I may just have to have a hole in my armor collection. I'm not sure if this piece of garbage even deserves to go on display with my other Iron Man action figures.
This thing is a waste of plastic. Now go wash your eyes and try to scrub the memory of this thing from your brain. I'm sorry I ruined Christmas, kids, because there's no way this figure can do anything but make an Iron Man fan cry.
---
Philip Reed is gonna go play with his Hulk Buster Iron Man because he needs to wash the memory of this awful action figure from his mind.