Review – Art Figures City Police 12-Inch Scale Action Figure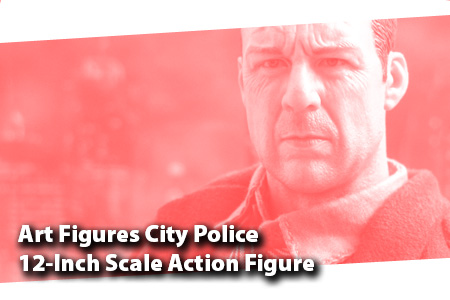 Frank Miller's Sin City comic series (Amazon.com search*) was groundbreaking and exciting when it hit comic stores over twenty years ago, and the look and feel of the tales eventually made its way to Hollywood in the 2005 Sin City film*. And while there have been Sin City action figures before, I don't think any of them can compare to this unlicensed Bruce Willis as John Hartigan. This is one fantastic action figure!
Above you can see a still from the film (left) next to a B&W edit of one of the photos I took for this review. I played with a the contrast a tad — because I could — and I must admit that this comparison piece demonstrates how even though this is a great toy it is not an exact match for Bruce Willis' look . . . but I've noticed that the sculpt works far better from some angles than it does others. Just check the other pics to see what I mean.
Loaded With Accessories
All of the clothing shown is great, with wires hidden inside the jacket so that you can pose the jacket while posing the action figure. And this unofficial John Hartigan action figure comes ready for a fight with a total of four different pistols, a shoulder holster, and an assortment of removable magazines for the guns. For a close look at all of the accessories check this Toyhaven review. I didn't take any photos of the toy with the jacket off because that jacket is just so much of the character design that removing it didn't strike me as fun at all. But the Toyhaven review shows I am wrong because even without the jacket the figure looks great.
Fantastic Feel
One of the very first things that stood out as I started posing the City Police action figure is that everything — the clothing, the accessories, the plastic of the toy, and even the strength of the joints — feels amazingly professional and durable. And there's some real heft to the piece, making the toy feel well worth the $120 that I ended up paying for it. This is my very first Art Figures release, but it's such an excellent work of art that I won't have any hesitation ordering another Art Figures action figure if I spot one that interests me.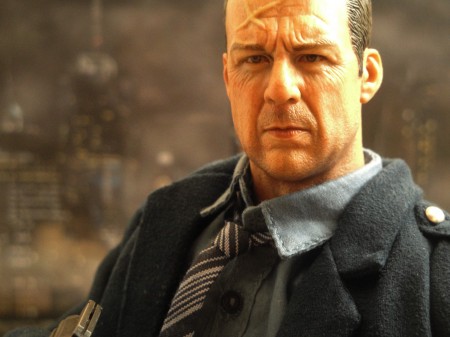 Has it only been one year?
It feels like forever since I first posted about this toy (mentioned here), but it was only back in 2012 that this toy was announced and released so it actually hasn't been all that long. Even so, now that I own the action figure I can say that I made a mistake in not ordering one last year; there has been an entire year wasted because I didn't take a chance on something I wasn't sure about. And if my nonstop "Wow, this is great!" needs some outside opinion then consider this onesixthscale.co.uk review that closes with:
Overall, really impressed and I can't wait to see future offerings from Art Figures!
Fun to Photograph!
One way in which I can tell I'm enjoying a toy is when I find myself snapping more and more pics of it, and with a dozen shots of City Police in this review I think it's safe to say I'm having a blast snapping pics of this unofficial Bruce Willis action figure.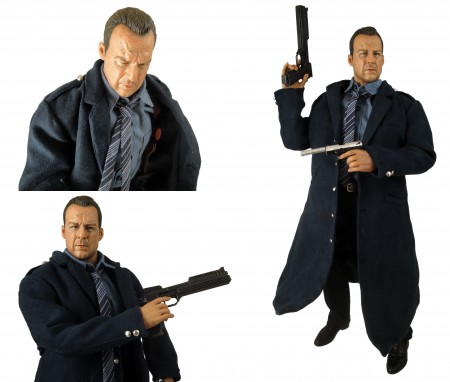 I shot some on white, as I often do, but I also pulled out the Action Figure Display City Display piece for some of the pics. You can see Poe Ghostal's City Display review for a closer look at the backdrop piece. To make this 12-inch scale figure work with that 10.5-inch tall display all I did was set the display on blocks and far back from the toy. Careful cropping did the rest of the work for me.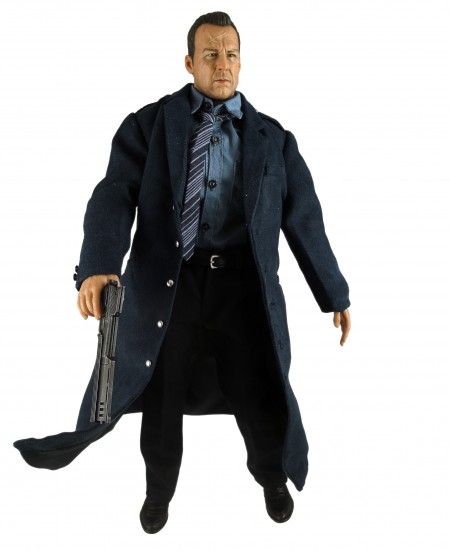 Closing Thoughts
Any fan of the Sin City film* who wants an awesome 12-inch scale John Hartigan action figure should own this toy. That Bruce Willis head sculpt is excellent and the quality of the toy is way up there; one of the best 12-inch scale action figures in my collection when comes to accessories, durability, and design.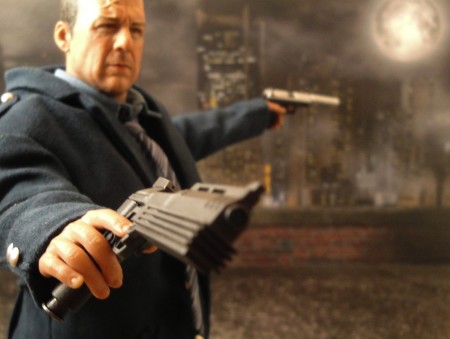 And after some time posing and playing with this Art Figures City Police action figure I'm starting to get curious about the other 12-inch scale John Hartigan from VTS, Stone Cold Killer. The comparison photos at Toyhaven make me think this City Police toy is the better of the two designs, though, so I will likely continue to pass on that VTS design. Still, it's kinda weird to know there are two unlicensed toys based on the character.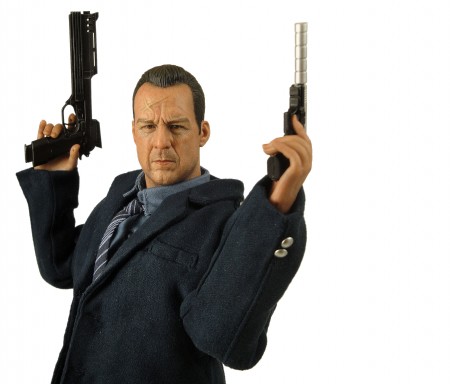 I'll just wrap this up by saying that it's a great toy, maybe even the best 12-inch scale action figure in my collection. The poseability is incredible, the Bruce Willis head sculpt (from many angles) is phenomenal, and the only thing I regret about the toy is that I didn't order it much sooner. Highly recommended if you can grab one before the aftermarket prices start to climb, and with a toy this good I expect demand to eventually outstrip supply and the price to rise. Get one today!