Review – Bara Pro Robogorira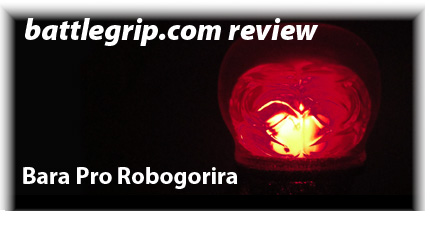 At 9-inches tall the Bara Pro Robogorira is much larger than I was expecting when I first encountered photos of it online (first mentioned here). Fortunately for me, Amy and Luke at Lulubell Toys (website, Twitter) contacted me recently to let me know that they had gotten their hands on one of these sparkly vinyl toys. About $90 later the toy was on its way to me, and now that I'm settled in at home after New York Toy Fair it's time that I share the space toy with everyone.
Sparkly!
The photos here just don't make it immediately clear that the entire surface of the toy is covered in glittery sparkles. I'm not sure what you would technically call the process that was used to decorate the Bara Pro Robogorira, but whatever it is I don't think I'd be too far off if I described it as dunking the plastic in glue and then completely covering it in red, pink, green, silver, and other sparkling glitter. I suspect that isn't really how it's done, but it sure is shiny.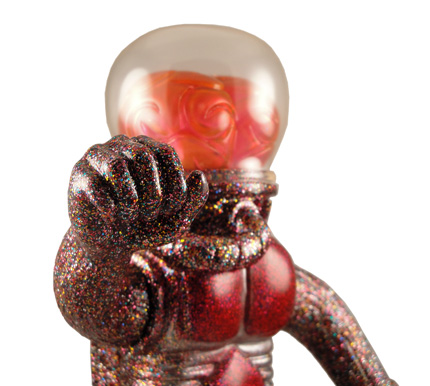 Limited Articulation
Basically, what you get are swivels at the shoulders. To be fair you can also rotate the clear helmet around and the waist has a tiny bit of give (twisting a degree or two in either direction), but realistically those shoulder joints are it. And I suggest keeping the arms forward a bit; the toy has a small balance issue and the arms swung forward helps it to stand. Trust me, you're not going to try to track down a Bara Pro Robogorira for the articulation.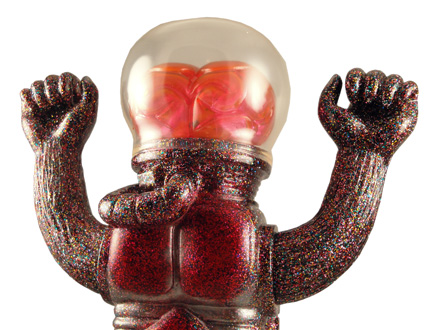 Light!
As if the body covered in sparkles wasn't enough, the Bara Pro Robogorira has a color-change LED inside the brain that you can see through the clear helmet. It's one of those impact lights, so a solid smack and the head starts flashing through a sequence of colors for about 13 or 14 seconds. It's not long, true, but it sure is fun.
How much fun? Well, because I'm a geek I switched my camera to "video" and shot the following rough footage. In the video you'll hear two solid smacks and then the head will start flashing through the colors as the light engages. I'll just pretend that this is the only time that I've ever activated the color-change LED and spare us all the embarrassment of admitting how many times I've really played with the light hiding inside the toy's brain.
Closing Thoughts
My first thought when I saw the Bara Pro Robogorira online was that this would make an awesome companion to the Toygraph Space Troopers ("Space Trooper" search at battlegrip.com). Well, now that I own the toy I still feel that this does go nicely with Space Troopers, but more as a towering adversary than as a companion to the Space Troopers.
The Bara Pro Robogorira isn't for everyone, but if you like sparkles and light, and if you enjoy the brain-in-the-helmet look of the design, you could do a lot worse than to hunt the web for a Bara Pro Robogorira. I've got one and don't need a second, but I will try to keep an eye on the Bara Pro blog because I want to see what other crazy toys come out of this operation. A fun toy!
---
Philip Reed admits that he is behind on reviews. Maybe he can get a few posted before he goes on vacation later this week.