Review – Batman Black and White Statue: Gotham Knight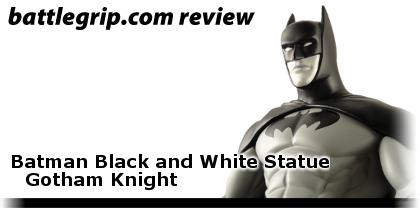 Line: DC Universe * Manufacturer: DC Direct * Year: 2008
If life was fair then this Batman: Gotham Knight statue* would be shoddy and ill-produced. But life isn't fair, so instead the very first Batman Black and White series statue* in my collection is as incredible as I had hoped. Smooth lines, sharp paint, and a great-looking Batman means that I'm now collecting a new statue series . . . and that's likely gonna lead to headaches while tracking down some of the cooler and harder to find releases in the series.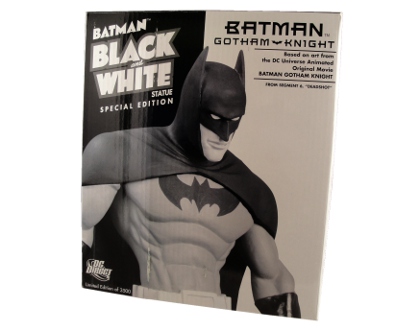 Based on Gotham Knight
While most of the Black and White statues are based on designs by known artists, this release is based on one of the segments in the Batman: Gotham Knight* animated film. After buying the statue yesterday I watched the movie again last night and it was more fun than I remembered . . . but that's a discussion for another day so let's get into the statue.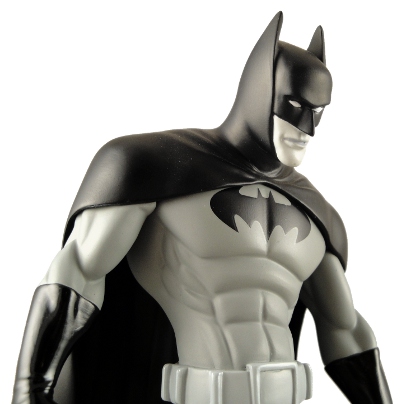 Sculpt
This is a lean, chiseled Batman sculpt that looks even better in person than it does in photos. I'm not sure if the sculpt is an exact match for the design in the animated short, but from what I can tell this is close enough to make me happy. The flowing cape and overall pose are more dynamic than I expect from a statue that's walking toward us and I've got no complaints at all with the design.
Paint
It may just be blacks and grays, but the paint is sharp and there's enough going on to make it a spectacular piece of art. The gloves and boots are gloss black while everything else is painted with flat paints, giving the statue a lot of depth as the light shimmers on the gloss areas. There's an odd effect in one of the below photos that makes it look like another color on the glove, but it's not on the actual statue and must just be some weird reflection.
Will I Buy More in the Series?
Absolutely. In fact, my first purchase in the Batman Black and White statue series* is so nice that Gina and I returned to Hastings today and I bought the other statue they had on display (both of the statues I bought this weekend were priced really low . . . no doubt a trap to get me deeper into the line). These two are just the start and it's time I start planning on how to display these and the other statues I'll no doubt be grabbing as I track down deals.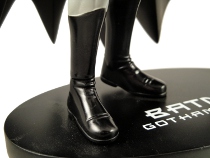 Closing Thoughts
This Batman: Gotham Knight statue* looks great and is every bit as nice as I was hoping for. The $40 I paid likely makes me even more impressed with the statue than if I had paid the original price, but I think that even at $75 or $80 I'd be happy with the statue. The $100 and more I see this priced at on some sites feels too high to me so if you like what you see I suggest watching for a deal; it's not all that large — about 7-inches tall — and spending the $100+ I see on some online sites to way too high for the statue's size and quality.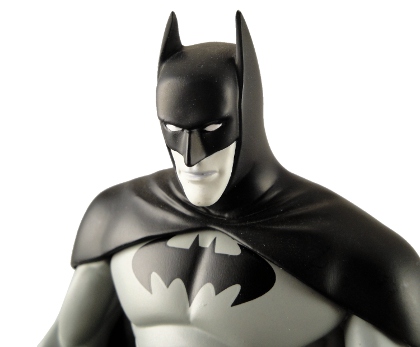 Enjoy the photos I've posted and then head over to Michael Crawford's review of this same statue for more photos and his thoughts. Or, if you want to stay safe from the entire series, just close this window now and never look at another Batman Black and White statue series* review or photo again. Trust me, this entire line looks fantastic and at $50 to $75/each it's way more expensive to collect than action figures.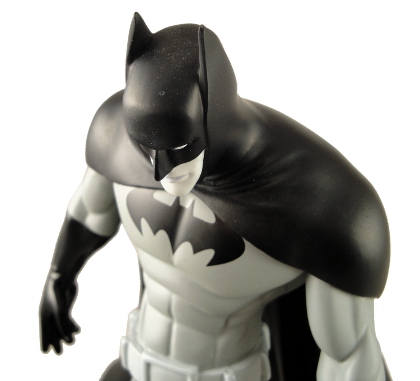 And don't miss the digital illustration I posted earlier. I know it's not the same as seeing photos of the statue, but I'm hoping that some of you will find the image entertaining.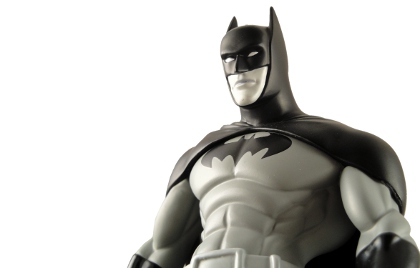 ---
Philip Reed should review the other statue he bought this weekend so that all of you can get bit by the Batman bug.