Review – Billy Zinser's Macrodon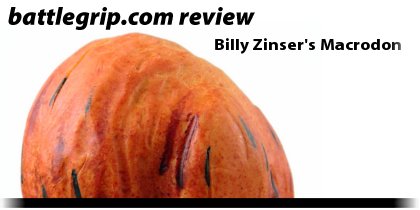 Designer/Custom * Year: 2007
Found at the Macrodons Etsy Shop a few months ago, this one-off custom toy by Billy Zinser is bizarre, unnatural, heavy, and very neat. The Macrodons website has more information on this series of custom toys.
Packaging
Nothing special, but Zinser did put a little effort into this guy's box design. Using a clear plastic box (the sort of box you can find at Hobby Lobby), Zinser added a label to the front of the box and then packed the toy inside on its base. Not really much to it; the box is hitting the trash the next time I straighten up my toys.
Base
The Macrodon's resin base has a post so that the toy remains standing tall when set up on your toy shelf. It's a simple extra, but it's exactly the sort of thing I'd like to see more toy artists include with their resin toys and customs. The upcoming Minimate dioramas from Luke's Toy Store (mentioned here) is a perfect example of the sort of thing I'd like to see packed with resin and custom toys.
The base is a nice touch, but I can accept that most people won't care as much about a base/display stand as much as I do.
The Macrodon
Standing at about 4-inches tall, the Macrodon I purchased (the Macrodons sightings page is an awesome idea and fun to look at for a peek at the other styles of Macrodons) is numbered 7 of 9.
The beast-like, four-legged design is irregular in shape and smooth, featureless except for the colored details painted on the figure's body. There is no face of any sort, not even an eye or mouth anywhere on the body, so I'm not sure how these things eat, see, speak . . . as I said, this is a bizarre design.
Sculpt
Since it's a completely original design, and not an attempt to mimic someone else's art or design, there's really not much to say about the sculpt except that it doesn't show any fingerprints or obvious blemishes; it's a nice design, with rough bumps and depth sculpted into the figure's back. I have no idea what this was sculpted out of, but the toy is a solid piece that's heavier than you first expect when you see it.
The combination of the sculpted texture and the painted lines gives the illusion of hair, but it's definitely an abstracted view of a hairy beast (I assume it's meant to be hairy) and not a literal representation of a shaggy beast.
Closing Thoughts
There really isn't a lot that can be said about Zinser's toy. Or is it a statue? This is one of those works of art that sits firmly on the line between toy and statue; the artist has the final word on what he has created, but the average person will see either depending on whether or not he thinks this is a plaything or an art object.
The Macrodon is neat, but it's small size, price, and lack of articulation all combine to make it a good buy only for those of us who enjoy having wacky art objects around the house. Designer toy collectors may enjoy owning one of these — I think that resin toy collectors would love this a lot more than vinyl toy collectors would — but action figure fans will have no use for this at all.
Regardless of your thoughts on inarticulate toys, the Macrodons website is small enough, and has enough cute little extras, that it's worth looking at for a few moments.
It's neat, but it's not the sort of thing that everyone who reads this site will enjoy.
---
Philip Reed knows that he looks at very different sorts of things here at the site, but he hopes that you enjoy seeing the wide variety of playthings and art objects. Do you? Or would you rather see the site focus on just one type of thing?