Review – Bubbolone Resin Toy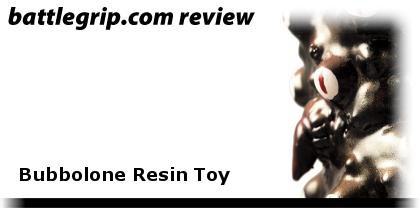 At just under 5-inches tall, this Bubbolone resin toy by M.A.R.T.A. (Flickr) reached me a few weeks ago while I was in Atlanta for work. I've been trying to get to this guy ever since I got home, but sudden secret projects and far too many tasks at the office have eaten into my time for toy reviews (as you likely noticed over the past week). Well, today I finally got a chance to sit down and actually play with the toy, so now it's time to share pics and my thoughts with you.
Cool Card Art
Packed in a bag with header card, getting Bubbolone free of his packaging was as easy a quick tear into the plastic bag. And as you can see in the pic, above, the header art is pretty sweet, with Bubbolone's eye/hand shining some sort of destructive ray across the city.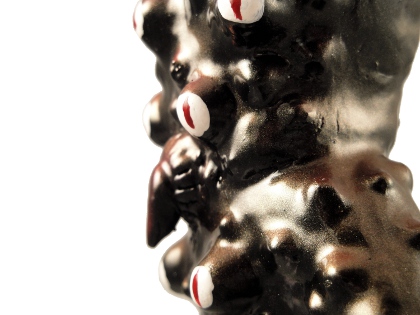 Rotocast Resin
Releasing Bubbolone from his bag, the first thing I noticed was that he was far lighter than I was expecting from a resin toy of this size. Rotocast resin, the toy's feet and hands feel as if they're solid but every other part of the body has that hollow feeling to it. In general the rotocasting is very well done, but like a baby Bubbolone has a soft spot on his head that feels like it's gonna break through at any second. I'll have to be very careful with this guy, because one drop is likely to shatter the toy into several tiny pieces.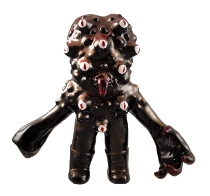 Sculpt
Rough, but nicely done. If you look at the pics you can see some seam lines on the back of the head and down a leg, as well as some patchy-looking spots on the very top of the head, but these are all minor issues and the actual sculpt itself is a great kaiju toy. The beak-like mouth/nose is surrounded by several eyes and the toy kinda feels like it needs to be displayed with Mark Nagata's Eyezon (review here). The right hand is meant to house an eye, but the sculpt makes it look like some sort of vacuum creation that's gonna suck up the universe. The feet/boots are the weakest part of the sculpt because they're just so forgettable compared to the rest of the toy's design.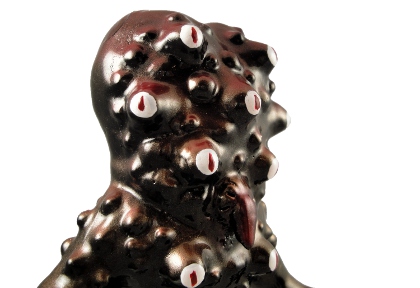 Paint
A mix of great ideas and less-than-excellent execution, Bubbolone has a shimmery, color-changing base coat that's tough to photograph. The cover shifts as you move the toy in your hand, and it's a great effect that makes me think of some of the custom cars I've seen out there.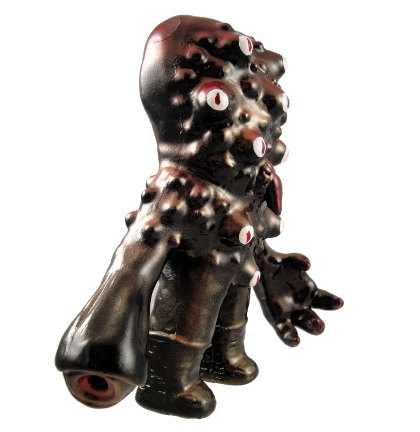 Unfortunately, the detail work on the toy isn't as fun as that base coat of paint. The eyes are a little sloppy in spots, and the entire back of the toy was left unpainted (well, with details that is). Even just painting the one eye on the back of the toy would have made the piece feel more complete. When displayed on the shelf the bare back isn't a problem, but it's the small details like that that take a design from good to great. Hopefully future releases of this design will get more attention when it comes to painting the details.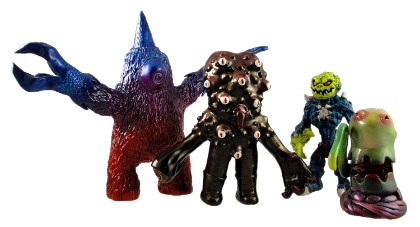 Closing Thoughts
Bubbolone is an adequate resin toy, but it's not spectacular and not a vital piece to any collection. I'm hoping that the creator, M.A.R.T.A., keeps working at resin toys because I think what he has here is a great start to a cool design. If he can solve the thin spots on the resin (maybe more resin, or just cast solid pieces) and give the toys more detailed paint work I think he'll significantly improve the quality of his work.
Bubbolone will make a nice addition to my collection of resin toys, but this isn't the toy for you unless you're already a master resin collector and really like what you see in these pics.
---
Philip Reed will now try to get some other reviews ready for the next week, because he knows that he'll be swamped at the office for at least one more week and it's gonna be tough to work on toy reviews in the evenings after work.