Review – Centurions Pencil Top Erasers
Manufacturer: Arco * Year: 1986
It's time I remind you guys what makes battlegrip.com unlike the other toy sites you enjoy . . . and I can think of no better way to do that than to dive back into the eighties for a look at something that isn't even a toy. And to keep you on your toes, today we're going to look at Centurions Pencil Top Erasers, cheap garbage that was designed to suck down the dollars of kids of the eighties.
And, as you can tell, suck down my dollars over twenty years later.
What the Hell is "Centurions?"
To answer this question we go to that great fountain of information and misinformation, Wikipedia.
"The Centurions is a syndicated 30-minute American science fiction animated television series produced by Ruby-Spears and animated in Japan by Sunrise. Comic book legends Jack Kirby and Gil Kane contributed to the design and concepts of the show."
Okay, that explains it completely. All we need to remember is that "The Centurions" was a 30-minute commercial for a toy line that was produced in the mid-eighties when every toy manufacturer on the planet was trying to create the next G.I. Joe or Transformers smash hit. Action figures for boys were huge back then, and it was the responsibility of every manufacturer to bring us comics and cartoons to go along with the toys.
And, as we see here, worthless junk that's actually kinda neat.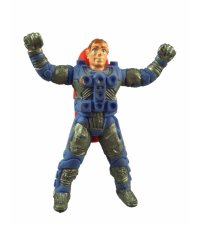 Ace McCloud Eraser
First up is the hero of my set, Ace McCloud. Standing roughly two-inches tall, Ace is crudely sculpted, poorly painted, and a perfect representation of what we can expect from pencil top erasers. At $2 (when released and, surprisingly enough, what I paid today) these are cheap pieces that could be used as playthings in class. After all, kids need erasers, so why not give them rubbery toys that are roughly the same size as Battle Beasts and M.U.S.C.L.E.s?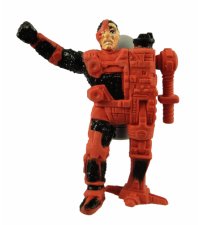 Dr. Terror Eraser
The villain, Dr. Terror has a great design (see this page at Duke Nostalgia's Centurions site) that only kinda translated over to eraser form. The evil Dr. Terror eraser can't stand on his own, but I guess that's why he's designed to get shoved into place on a pencil. Anyone looking to display this guy today will need to either shove him on a pencil or use something to tack his feet to the shelf, but for a cheap collectible from the eighties he's not that bad. The action figure would be way more fun, but those Centurions completists out there no doubt need this eraser.
Hacker Eraser
The last one of my set of Centurions erasers, Hacker is another villain and has the same sort of wacky body design as Dr. Terror. He's as cheap and ugly as the other two erasers, cannot stand, and I should be ashamed for even showing this guy to you. The things I go through to entertain you . . .
Closing Thoughts
Junk is the best word to describe these erasers. But fun, weird junk, and exactly the sort of garbage that the children of the eighties loved. I remember buying pencil top erasers when I was young, and even today kids can get erasers in special shapes (including Transformers erasers). Some things never change.
And just so you don't think we were getting ripped off back in 1986, keep in mind that each one of these also came with a backpack-shaped eraser. Yes, boys and girls, two erasers for the price of one! What a bargain Arco gave us all back in 1986.
You know what's really sad? I'm only missing two of the five erasers that are shown on the back of the card. I swear here and now that I will not try to find the two missing erasers. After all, I sure as hell don't need them and you don't want to see any more erasers from this line on battlegrip.com.
---
Philip Reed wonders how many comments this review will get . . . and just how many of those comments will be from people demanding that Philip get serious and review some damned toys for a change.