Review – Fisher-Price HeroWorld Batman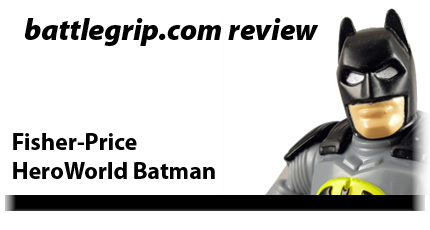 At 4.5-inches tall the HeroWorld Batman (Amazon.com search*) may be shorter than other Batman action figures that we've looked at before, but his squat, cute style makes him a fantastic addition to any kid's toy collection . . . or to any dedicated Batman collector's display.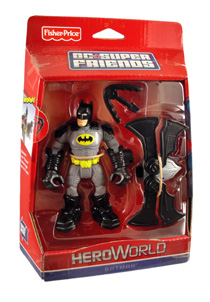 Sculpt
Looking a lot like most modern day Batman costume designs, the HeroWorld Batman has what appears to be a padded and slightly armored costume. As a toy for young children the emphasis is more on cuteness and rounded edges that comic-accurate proportions and details, but I think that the end result is an excellent Batman action figure that, while perfect for children, is so well-crafted that any Batman fan would be happy to have this in a display of other toys.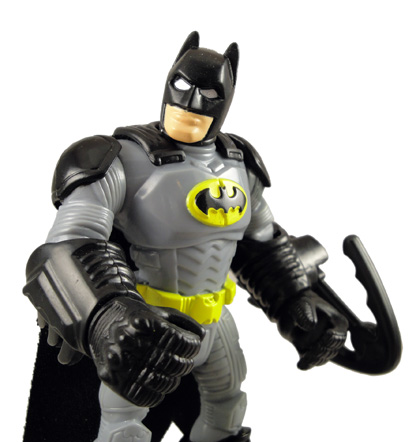 Much like the Battle Gauntlet Batman (review here) this HeroWorld Batman has large hands and even larger boots, but those just help add to the cute style of the toy and, in my opinion, help make this such a fun sculpt. The addition of sculpted armor detail lines and a sculpted bat symbol on the suit show how much work was sunk into the toy; nothing was cutback or skipped when it came to sculpting this little Batman.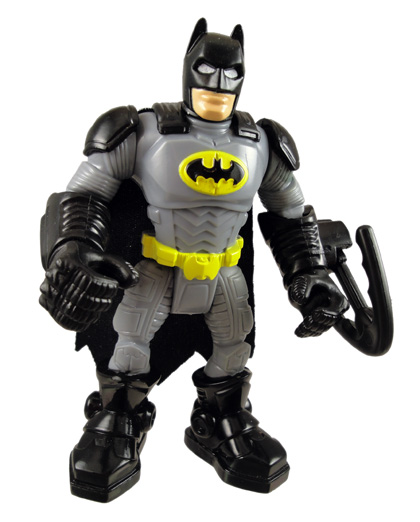 Articulation
Actually, this guys shares the same basic points of articulation as we're getting in the new Power Attack Batman action figure series (Amazon.com search*, at Entertainment Earth*):
Head – Swivel neck. Mine feels a little wobbly, as if the peg inside the torso is slightly too small for the socket holding it in place.

Arms – Swivel shoulders and hinged elbows are it. The left arm, though, only has a working elbow since the shoulder joint is connected to a lever on Batman's back. The gimmick is supposed to make Batman throw his Batarang. Unfortunately for me, however, it doesn't work all that well.

Legs – T-hips finish out Batman's articulation. Yeah, no knees or waist movement. But really, it's for little kids and what we get does its job just fine.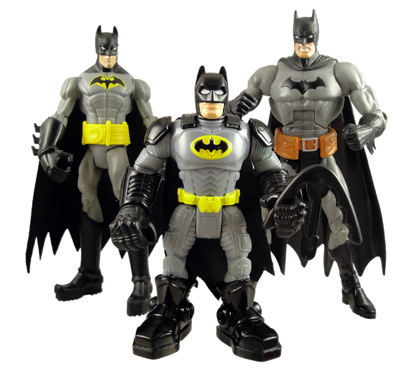 Paint
Again, keep in mind that the toy is for kids. HeroWorld Batman seems to be cast in gray plastic with the black, yellow, flesh, and white (eyes) all added as paint apps. Batman's forearms might be cast in black plastic, it's hard for me to tell, but if they were then Fisher-Price did an excellent job of matching the black paint and black plastic. The paint is relatively neat — no nasty smears — and works well whether you're down in the dirt playing with Batman or sticking him on a shelf to collect dust.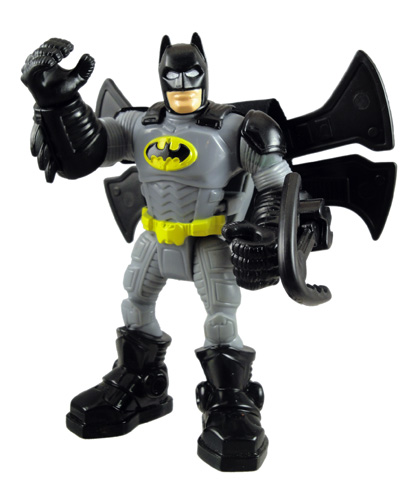 Accessories
Finally, the HeroWorld Batman comes with two accessories, a Batarang that can either be mounted on a slot on his left forearm or held in his hand and a Bat-Pack with wings that snaps onto his back. The wings fold down and then pop-up with the push of a button, but the pack doesn't work well with the cape and in general the pack feels like an afterthought and not like it was in the original toy design. The pack is the one truly bad part of the toy and I'd be happier if Fisher-Price had just left it out of the pack.
Closing Thoughts
HeroWorld Batman was kinda pricey — I paid $10 for him at ToysRUs, which feels high in comparison to the $9 at Wal-Mart and Target for Power Attack Batman action figures — but I'm suggesting that parents buy this for their younger Batman fans and that collectors try at least one of the figures in this line. Great plastic, excellent sculpt, and just enough fun in the overall design and execution that I see this as a line that I'm sure to pick up every now and then.
After all, there's a Mr. Freeze in the series . . .
---
Philip Reed stared at this toy for months before he finally bought one. And now that he has opened it he's ready to go back and grab another figure in the series.