Review – Fishtank Castle Playset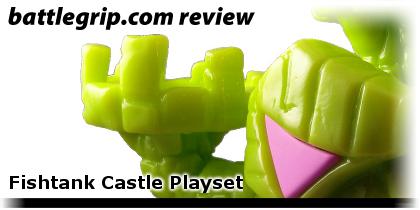 The Tarantulas (blog, Twitter) released the very first versions of this playset at San Diego Comic Con earlier this year and I missed out . . . but in the end missing the release at SDCC was a great thing since it meant I got the chance to score this Fishtank Slime colorway of the toy. I thought for sure I wanted a purple playset, but The Taranulas knows me way too well and shipped me this colorway with nothing more than a "let me know when you get it" message. Awesome! Thanks, Chris. I can say I've got it and I love it.
It's Huge!
As you can tell by the photos here — and the photos in this post at Fans of Pheyden — this is one massive playset. About 13-inches wide and 7.5-inches tall at the tip of the tallest tower this thing takes a lot of real estate on my shelf, but after clearing space I can say that it's worth every inch of the shelf it consumes. A truly incredible playset design and a perfect home for Glyos System (Onell Design) and the various Nibbler toys I've gotten over the years: Winter Nibbler (review here), RealXHead Nibbler (Hooded) (review here), Future Nibbler (review here), and Real X Nibbler (review here).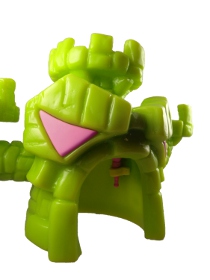 Torches Inside
Using the same resin torches as the RealXHead Nibbler (Hooded) (review here), the two torches that snap in place inside the castle are the smallest pieces that come with the playset and the ones that will be easiest to lose. I'm tempted to glue the torches in place, but doing that would make the castle tougher to move in the future; it's made of six rubbery (heavy rubber) parts that slot together and gluing the torches in place would prevent the arms from separating from the main body. I'll have to think this over carefully before trying anything.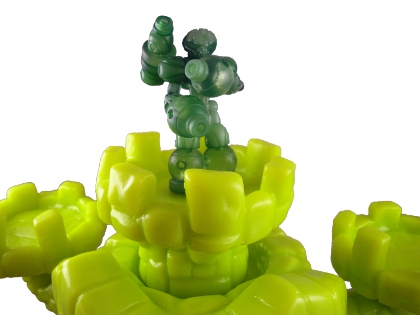 A Fantastic Sculpt
Even though it's just a building, the sculpting of the bricks and the overall design is excellent, with the entire piece a perfect representation of the Nibbler character as a castle. Everything about this screams that Castle Grayskull (Wikipedia) was an inspiration and I bet a variant in that Grayskull color has to be on the list of "must do this" colorways for the playset. It's not a complex design, but it's a well-executed design and the end result is a beautiful shelf decoration where action figures will live happily.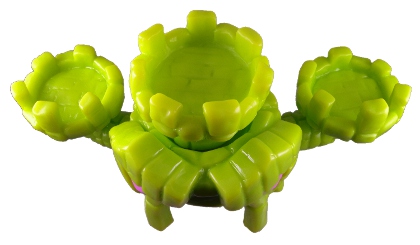 Fishtank Slime
I had requested a purple playset, but when I opened the box and found this Transformers Devastator-inspired green I was overjoyed. I'd never even considered this color for the playset, and looking at the playset has me now wanting to paint the detail lines in a dark purple to carry that Devastator colorway one step to perfection. I'll have to be careful with testing paints on this, though, because I have no idea what will or won't work on the rubbery material and I would hate myself if I destroyed this heavy, large, and fun playset.
Closing Thoughts
I really wanted one of these at San Diego Comic Con but there were a limited number and I missed out. But in the end that was for the best, because if this colorway had appeared online after I bought a Fishtank Castle Playset I'd be kicking myself for not predicting the future and waiting for the Devastator-inspired set. This playset is one of the new gems of my collection, and with the bright green color it's gonna be tough to miss whenever anyone comes into the house.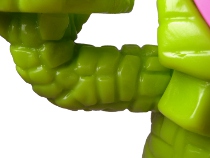 The word is that this colorway will be made available online, but I do not have any specific information on when it will be released. The best I can suggest is that you keep an eye on Twitterthe Tarantulas Twitter feed. And if I can I'll be sure to post an update here at battlegrip.com whenever release information becomes available.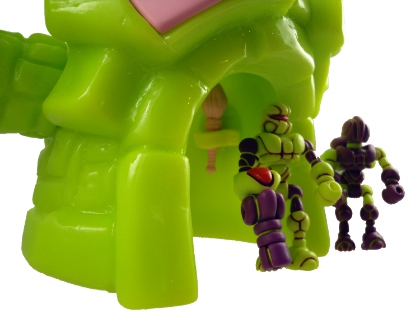 Thanks, Chris, for giving me the chance to buy one of these direct and for shipping me such a fun and unexpected colorway of the Fishtank Castle Playset. This is going right next to the Transformers Cyberverse Ark (photo post here) on my shelf and both will be heavily covered in Glyos action figures. Then there can be a battle between the two playsets.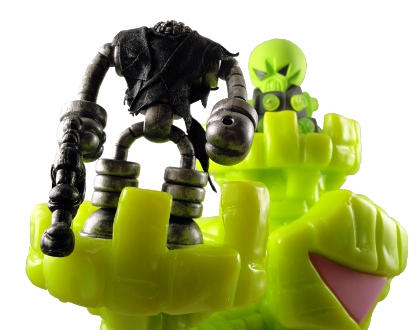 ---
Philip Reed admits that this is a very big and weird playset, but since he's a fan of weird he loves how it looks on the shelf.