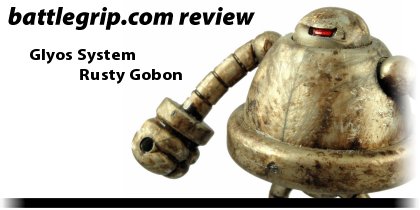 Manufacturer: Onell Design * Year: 2009
I know, you're sitting there thinking to yourself "Didn't we just look at a Gobon?" Yes we did, but that doesn't stop me from dragging out this latest (my fourth) Glyos System (Onell Design) Gobon toy and having a blast with him. He may be the exact same design we've looked at already (basic Gobon, Cerberus Gobon, Nemica Gobon) but that doesn't make him any less fun.
Gobon Is Turning Into One of My Favorites
I started out just kinda lukewarm on the Gobon design when I first saw him online, but after playing with the actual toy I suddenly found myself loving his goofy, over-sized body and fists. And the tiny head, sitting on top of his dome-like body, just looks perfect once you start playing around with him. And the more Gobons I get my hands on the more playable I find him to be; he's not as useful for construction as some of the other Glyos System toys are, but the character design is a lot friendlier and overall just feels like something kids have got no choice but to love (and let's face it, I'm a kid).
My Favorite Paint Design So Far
The basic Gobon's shiny metallic paint is cool, and Matt Walker's custom spray work on the Cerberus Gobon (review here) and Nemica Gobon (review here) is unarguably amazing, but the weatherized, rusted look of this Gobon is the best colorway so far. This weather-beaten look is every bit as good as what we've seen on some of Ashley Wood's World War Robot toys . . . and at a much lower price! I'm not sure how this guy was painted — how much is the paint and how much is swirled plastic colors? — but the end result is one of the best paint apps we've seen on any Glyos System toy.
The photo above gives you a close look at the paint on the figure. The rust-coloring almost looks like actual metal, and the effect is every bit as good as metal rusty plate modeling effect I posted last month (mentioned here). No wonder this Gobon was a limited run; painting these had to have taken the factory a lot more time than painting most other figures requires.
Group Photo!
The photo above shows all four of my Gobons in action. It's almost like they're multiplying . . . which is a good thing, since this guy's so damned cute. In my Nemica Gobon review I pointed out that there's no reason to own so many different colorways of the same basic figure, but that doesn't stop me from enjoying my collection of Gobon toys. And best of all, I now have two factory figures so I can snap them apart and build one of the Gobon designs I've seen online but have been unable to replicate. (The Matt Walker custom Gobons aren't for playing with.)
Closing Thoughts
Okay, you caught me. I posted this short review just as an excuse to post two photos — the configuration in the photo above and the group shot — of my Gobon toys. And even though I have four of these guys I don't have every colorway that has been released; see the archive page at the Onell website for a look at every Gobon that has been released so far.
Gobon is cute, fun, and infinitely more playable than a lot of the designer toys in my collection. If you've got any interest in the Glyos System toyline the Gobon isn't the best figure to start with, but I guarantee that once you get your hands on one you're going to want a second. There's gotta be something addictive hidden in the plastic . . .
---
Philip Reed is holding out hope for a run of white Gobon toys so that he can buy five or six of them for customizing purposes. The toy just begs to be reconfigured and painted, but Philip can't bear the idea of marring the paint jobs on any of his Gobon figures.