Review – Hercules Structor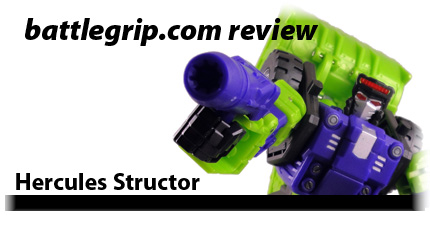 In Transformers: The Movie* we see only one combiner make an appearance: Devastator. Over the 25+ years of Transformers history there have been many special teams, but time and again the Constructicons, and specifically their combined form, Devastator, comes out as the most-discussed and most-referenced of all of the combiners.
But we've never really had a truly impressive Devastator toy. Until now.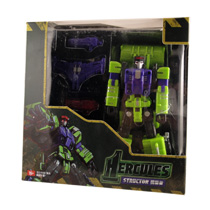 Unofficial Transformers manufacturer TFC Toys (Facebook) has released four of six not-Constructicon toys and yesterday I opened the first in the series, Structor, their Generation One-styled version of Scrapper. And at $100/each I had very high expectations for these toys, expectations which Structor met and even exceeds. I think I've found the best toy series of the year.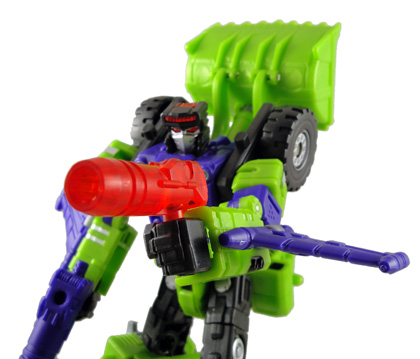 Packaging
Packed in an 8-inch by 8-inch by 4-inch window box the very first thing you notice about Structor's packaging is that it's massive. If this is just one of the six toys that combine to form Hercules just how big will the combined form be? Anyway, back to the box, it's attractive with a fairly minimalist design that shows several photos of the toy and an attractive illustration. Definitely a professional box and a sign that I didn't make a mistake ordering three of these without testing one first.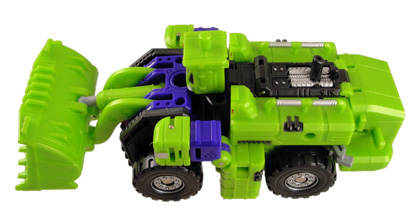 Vehicle Mode
First up is Structor's vehicle mode which is, after a discussion in the office that led us to the net, technically a front end loader. And it's a bulky vehicle — take a look at the toy next to the Transformers Rodimus for a sense of scale — that's blocky and beautifully Generation One-styled.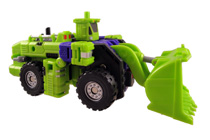 Structor has great details, with working hydraulic piston on the shovel (working as in the gray piece slides in and out of the green pipe), rolling wheels, and the shovel even raises and lowers. And the sculpt is sharp; click the images and take a close look at each tire and at the engine block on the back of the vehicle.
If I had to pick one nit about Structor's vehicle mode it would be the cab; notice the post sticking out of the cab, which is the one piece of the toy's vehicle mode that I find annoying. But since I won't be displaying him in vehicle mode that doesn't negatively affect my opinion of the toy at all. Trust me, this is one amazing piece of work.
Robot Mode
This is where Structor shines. At 6-inches tall (to the top of his head) Structor is slightly larger than most Transformers "deluxe class" toys and is far, far beefier and heavier. My biggest concern with the toy after a fear of substandard joints was that the plastic would feel cheap. Well that's far from the case and Structor feels like a high-quality toy with durable, heavy plastics that are at least as good as what Hasbro uses . . . and maybe even better since the parts are simply thicker and heavier than what we usually get from Hasbro designs. I can't even adequately describe how shocked I was when I first held the toy in my hands and realized exactly why it cost $100.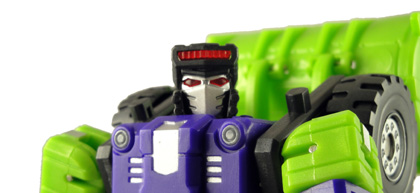 Paint
As you can see, Structor is that gorgeous green and purple that we expect from the Constructicons and most of the color comes from the plastics. The painted details are pretty good, but there are a few spots where the paint extends onto the wrong spots and the edges aren't as sharp as I would like. It's still better paint work than we see on most mass-produced toys, though, but I expect more from a toy that costs this much. After the cab issue already mentioned I think paint is the only other weak spot on the toy; and it's only weak because the rest of the toy is so impressive.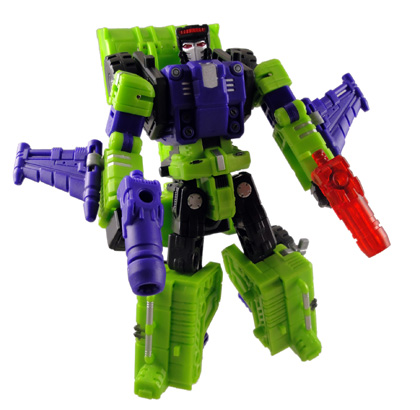 Articulation
Pretty damned good. It's not what you get with a DC Universe Classics action figure, but as you can see in the photos Structor has enough articulation that the poseability is pretty good and you can get him in some fun poses without much difficulty. (The plastic extenders on the back of the feet move and really help with balancing the toy.) Running through the various points of articulation we get: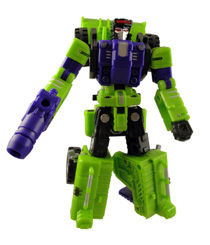 Arms – Post-swivels at the shoulders that act a lot like ball joints, cuts at the bicep, and hinged elbows. The only wrist articulation is where the hands fold into the arms.

Legs – Ball joints at the hips, thigh cuts, hinged knees, and the hinged pieces behind the feet are Structor's leg points of articulation.

Head – Just a swivel; he cannot look up or down.

Torso – No crunch or waist swivel, but he does feature a pivot point that allows you to lean him to the left or right at the ribs. This joint is mainly for his leg form but it helps the robot mode better than I expected it to.
And that's it for articulation. It doesn't sound like a lot, but I think the photos demonstrate that you can have a lot of fun with the joints we've got to work with.
Closing Thoughts
I'll admit that $100 is a lot to spend on one toy — and it's even more expensive when you consider you'll need six $100 toys to build the combined form — but after playing with this guy at work for a day I'm going to say that if you can swing it at all order one of these now and check it out. Or find a friend and convince him to order one. I've had a real wide range of experience with unofficial Transformers toys in the past, I know, but never have I encountered one that blew me away like this did. The unofficial Powerglide, X Transbots Glider (review here) shocked the hell out of me, but Structor exceeds that toy by . . . I can't even think of how to describe just how far apart these are in terms of quality, design, and fun.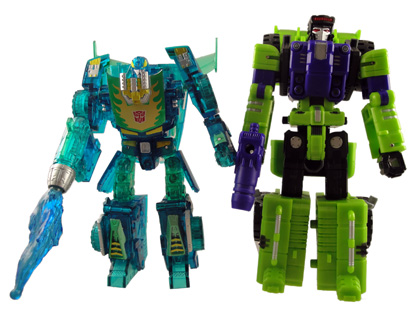 And as amazing as this is I've now opened a second in the series, Heavy Labor, and it is every bit as remarkable as Structor. I have no idea what TFC Toys did before this unofficial Constructicons line but I sure as hell hope that they tackle more Transformers toys as soon as Hercules is complete.
If you're a Generation One Transformers fan then you want this series. Sell your collectibles, trade off your kids, pawn the TV, and get out there and grab these before they vanish and eBay becomes your only choice.
---
Philip Reed wishes he could stay home all day and just play with the three Hercules toys that he has. And he can't wait for the last three to arrive so that he can assemble the team into Hercules not-Devastator.