Review – Hot Wheels Jet Threat 4.0
Line: Hot Wheels * Manufacturer: Mattel * Year: 2008 * Ages: 3+
"With two jet engines blasting from behind, this sleek racer extends its massive wings to fly by at unimaginable speeds."
— from the card back
If there's one thing that Hot Wheels cars do right — and they honestly do more than one thing right but stick with me here — it's put some really weird stuff on the pegs at the big box stores. The second I spotted this semi-translucent purple Jet Threat 4.0 car I immediately thought of M.A.S.K. (click here for M.A.S.K. entries) . . . which meant that this die-cast beauty had to come home with me.
The Jet Threat 4.0 page at the Hot Wheels Wiki lists this particular color as the most recent release in a series of Jet Threat 4.0 colorways, and I've gotta say that I'm very happy that I've got the purple version of the car. If I ever setup my toys by color, rather than the random arrangement the toys currently live in, that means this car will go on the same shelf with Ratbat (review here), Cyclonus (review here), and Shockwave (I don't have one yet, but I will get one).
First, the Bad News
Unfortunately, the second I removed this car from the packaging I discovered that one of the wings is broken. It hangs there, loose, and doesn't close up neatly. The tiny plastic peg that holds the wing in place is busted, so the wing will look okay if you position it but you can forget cleanly opening/closing the wing.
And what's worse is that the busted wing rubs against the rear tire, which means that the car doesn't roll well unless you remove the wing and set it to the side. Damn. Well, now I have to decide if I like this design well enough to track down a replacement toy. Which is an option since Hot Wheels cars are so cheap. But still, the broken wing is very frustrating.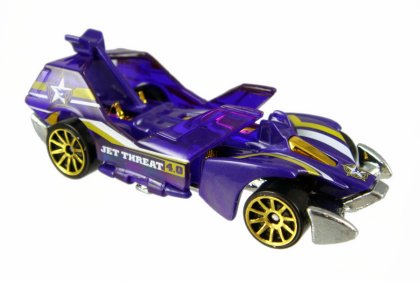 Paint and Color
Getting past the accidental breakage, the Jet Threat 4.0 looks fantastic, with a combination of solid and translucent purple plastic parts, some sharp paint details, and shiny metal base that gives the toy a heavy, solid feel and an overall beautiful appearance. I find that my favorite Hot Wheels cars are the ones that do not look like real cars, which automatically places this design on the short-list of awesome designs. It may not be as neat as the Fast Fortress (review here), but it's definitely close to that design when it comes to cool car design.
How Big is This Thing Supposed to Be?
Where's the driver sit in this thing? There's no clear cockpit or windshield, and there's definitely no way to get in that I can find, but I'm assuming the gold section in the general hood area of the car is meant to be a windshield. And if that's true then this car must be massive. It's gotta be a single-seat car, but it's a little frustrating that I can't determine what scale it's meant to be.
I'd love to see one of these in 3.75-inch scale so that my G.I. Joe figures could drive it, but can anyone tell me just how big it would be? I'm imagining that it would be a couple of feet long.
Closing Thoughts
Fun design, great color choice, and an extremely low price make the Jet Threat 4.0 a perfect toy for those of us who enjoy seeing cars that do not look like normal cars. The broken wing seriously damages this car, but I have to be honest and admit that the damage is an isolated incident and it can't be that every copy of this car on the market has the same break.
I'm not sure if this is the sort of car that hardcore Hot Wheels collectors go after — I've never looked very closely at that community — but I think this is exactly the sort of car/jet combo that designer toy fans would find cool enough to grab. If this thing was made of resin or vinyl and was 6 or 7-inches long I bet it would sell for $75 or more; and be very popular. Unfortunately, at $1 it probably won't sell to the same crowd because it's a simple car available from just about any toy store. (But now that I think about it, Mattel creating vinyl versions of some of these designs could be a neat way for them to tap into the designer audience.)
It's neat. It's a buck. It's a great addition to any die-cast toy car collection. If you collect toys you owe it to yourself to grab a Hot Wheels car or two for your collection, and this design would look good in any toy collection.
Search for Hot Wheels toys at Amazon.com and support battlegrip.com today!
---
Philip Reed is a little sad that his Jet Threat 4.0 has a busted wing. Maybe the momma Threat will come along and help mend it's wing and make it all better.