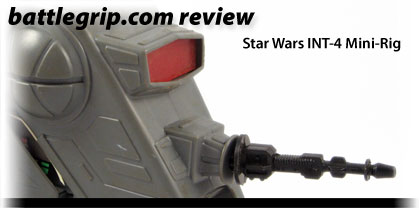 Line: Star Wars * Manufacturer: Kenner * Year: 1981 * Ages: 4+
No doubt you remember my recent review of the AST-5 in which I admitted I was trying to track down more mini-rigs at a low price. Well, today we're gonna look at the INT-4 (Interceptor), one of the first wave of Star Wars mini-rigs straight from 1981 . . . by way of some very rough years as a toy. Yep, the INT-4 I'm looking at was obviously well loved and saw a lot of time no doubt fighting those awful Rebels. Let's see if she's still got enough juice to fight off Rebel scum after almost three decades on our world.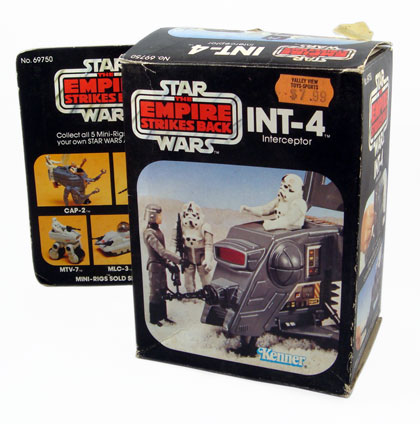 Unlike the other releases in the initial wave of mini-rig toys, the INT-4 has a direct visual ancestor: the Imperial AT-AT. Few would deny that the INT-4 looks an awful lot like it was based on an AT-AT — or maybe an AT-ST — head. Ron Salvatore, in his description of the toy at www.theswca.com writes:
"The look of its central portion was reminiscent of the larger AT-AT and Scout Walker vehicles. But it had wings on its sides. I think it was envisioned as an attack vehicle for deployment from the AT-AT, as the box shows it inside of the larger toy and the above catalog description mentions that it was capable of being placed inside of it."
Unfortunately, I never had an AT-AT when I was a kid (unless you count the cardboard AT-AT playset) so my INT-4 never saw the inside of an AT-AT. And these days, despite having a house, there's just no room for an AT-AT so the INT-4 is still out of luck. Sorry, buddy, but you're stuck landing on the toy display and not docking inside an AT-AT.
The INT-4
About 7-inches long from the rear of its body to the tip of its laser cannon, the INT-4 isn't quite as compact as some of the other mini-rigs, and once its wings are deployed — making the INT-4 about 6-inches wide — it really starts to eat up some shelf space. It's no Millennium Falcon or AT-AT, but there's a lot of toy here for the price. It makes me wonder if the original Landspeeder, had Kenner planned this series from the start of the Star Wars line, would have been counted as a mini-rig. Probably not, since the mini-rigs were exclusively vehicles that didn't quite exist in the Star Wars films.
The INT-4, as with all of the mini-rigs, is basically a one-color toy, with the piece cast in gray plastic with a few black plastic pieces (the front landing gear and the gun), a red viewscreen (another plastic piece), and several stickers providing the other colors on the vehicle. There's no painting at all on this toy, which no doubt helped it move quickly through the production line.
Below you can see the INT-4 with its cockpit open (and my scarred Glyos System Rothan Pheyden — reviewed here — ready for battle). There's supposed to be an AT-AT Driver inside (at least, according to the box photos) but since I don't have any AT-AT Driver figures we'll just have to let Pheyden use the vehicle for now.
Here we see the Rothan Pheyden and my Custom Corps Sincroid (reviewed here) investigating the rear section of the INT-4. As you can see, an engine sticker is missing (which no doubt affects the vehicle's flight), but the black lever that raises and lowers the wings is working great.
This photo also gives you an idea of how narrow the INT-4 is when its wings are retracted. Just under 3-inches wide, you could snug one of these babies into the smallest of spaces, which no doubt was planned by the Kenner designers when someone said, "I know, let's make a vehicle that goes inside the AT-AT!"
Where'd that Jawa come from?
It looks like Pheyden and Sincroid are gonna have to deal with this pesky Jawa. It's a good thing that these Star Wars action figure rifles were handy.
Closing Thoughts
The INT-4 might be the most common Star Wars mini-rig that Kenner produced. I've seen these pop up on eBay frequently, and I've even spotted these at vintage toy stores (like Hog Wild, a vintage store in Austin). It's not the best of the mini-rigs, but its AT-AT-inspired design, large size, and retractable wings makes it a fun toy.
You can read other thoughts on the INT-4 at Action Figure of the Day.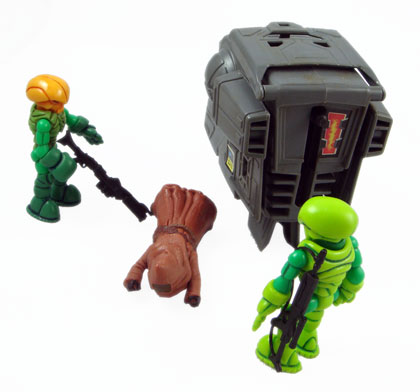 Search for Star Wars action figures at Amazon.com!
---
Philip Reed is still watching for mini–rigs. Please do him a favor, world, and stop bidding on these things until he manages to score a complete set.