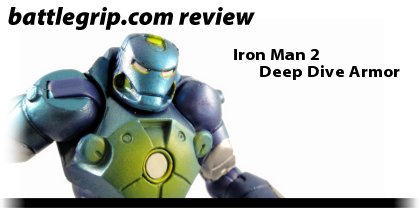 Line: Marvel * Manufacturer: Hasbro * Year: 2010 * Ages: 4+
"Crushing pressure prevents all but the toughest tech from ever venturing to the bottom of the ocean. Unfortunately, some villains have access to such technology, and Iron Man is the only hero high-tech enough to stop them."
— from the back of the card
It's time, folks! I recently got lucky and located two of the 3.75-inch scale Iron Man 2 action figures (first mentioned here, Toy Fair post here) and the first figure I opened, Deep Dive Armor Iron Man, is everything I was hoping for out of the series. It looks like our wishes have come true and the doors have opened to unleash an armory of 3.75-inch scale Iron Man figures that are going to fit in great with the Marvel Universe series. If you love the Marvel Universe series and have been waiting for this new line then stop reading and run out to every store you know of right now; you want this line of toys.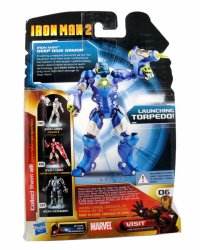 Packaging
An attractive card and blister display, the packaging for the Iron Man 2 series pops from the shelves and won't be at all confused with the Marvel Universe line. The photos above show the card front and back, and there's little I can add to actually showing you the card images. I still wish that Hasbro would show the entire range of action figures on the card back, but the basic design is good and beautifully shows off the Deep Dive Armor action figure.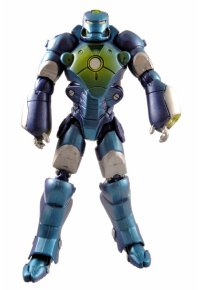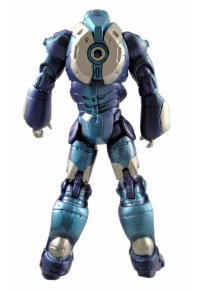 A Powerful, Magnificent Iron Man Design
The second I saw photos of the Iron Man 2 action figures I was drawn in by the Deep Dive Armor Iron Man design. When it comes to specialty suits/armors for special environments underwater action ranks almost as high as arctic when it comes to my favorite special climate designs. (And we are getting an ice-themed Iron Man for this series, which should make up for the terrible Arctic Armor Iron Man that I reviewed a few months ago.) And the colors on this particular design — blue and green with silver touches — looked great in all of the pics. How lucky am I that my first score included the exact figure that I wanted?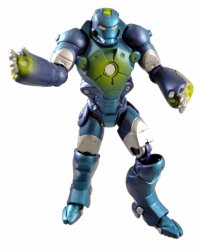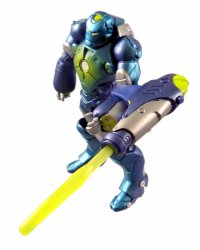 Sculpt
Coming in at about 4.5-inches tall, this Iron Man action figure towers over my Marvel Universe action figures (Proto-Classic Armor, Basic Iron Man, Silver Centurion, Golden Avenger, and Stealth Ops), but that's perfectly acceptable since this suit is meant to be bulkier and less compact than the usual Iron Man armor designs. And the action figure's sculpting carries that massive design forward, with thick, powerful boots and gauntlets and a wide torso giving the design the bulkiness that I expected from a deep sea suit of armor.
I have no idea if the same team that worked on the Marvel Universe Iron Man figures in my collection designed this guy, but the sculpt is sharp and every bit as good as what we've been given with the many Marvel Universe Iron Man action figures. My favorite sculpted details have to be the face — it's Iron Man, but with a few minor changes — and the gauntlet blasters.
Paint
Deep Dive Armor Iron Man's paint aps are actually pretty minimal, but the combination of colors comes together in a way that makes me love the final design. Primarily cast in a blue plastic, the action figure shimmers with a metallic sheen effect across all of the blue and silver surfaces. The silver is painted on — pretty good in most places, but there's some bad slop over the left arm — and the green on the chest, gauntlets, and palms was applied with an airbrush (no doubt before the silver was added). As I said, the paint's minimal.
Fortunately the poorly-applied silver paint apps are limited to just a few spots (the left arm is the worst offender, but there are some spotty areas on the back of the toy), and for the most part the silver is applied cleanly and without any mistakes. A fanatical collector will want to look very closely at each figure before buying one, but for those of us who are just excited to have a batch of great 3.75-inch scale Iron Man action figures what I've got is more than acceptable. The paint may not be 100% perfect, but it looks very cool.
Accessories
Deep Dive Armor Iron Man comes with a missile launcher that snaps onto either one of his gauntlets; a nice feature for kids, but action figure collectors will likely just toss the launcher into a box. It's perfectly fine, but I prefer my action figures without bulky, silly missile launchers.
Fortunately, the other two accessories — a set of three cards and a stand — are neat enough that I can ignore the launcher and not feel too bad. The cards, which I discussed in my Toy Fair post, look nice, and the fact that the stand was designed to hold both the figure and the cards was a great touch. And at $1 less than Marvel Universe action figures, I'm impressed with the level of articulation, the great sculpt, and the number of accessories Hasbro packed with the toy. Maybe that means we'll see a drop in the price of Marvel Universe action figures later this year.
Closing Thoughts
I need a 3.75-inch scale "Hall of Armors" display for my growing Iron Man collection, because if the other Iron Man 2 action figure I bought (Stealth Operations Iron Man) is this good then I'm going after more of the figures in this series. And nothing would be cooler than a huge display with a tower of Iron Man suits arranged and ready for action.
After the disappointment of the new 3.75-inch scale Spider-Man series (Dive Attack Spider-Man review here) I was worried that the Iron Man 2 line would be a frustrating mess. Well, if Deep Dive Armor Iron Man is any indication of what we can expect from this series then we're in luck. This is a great action figure and an incredible expansion to the Marvel Universe line.
Now I need to rush out and find some of the other action figures in this series.
---
Philip Reed already knows that regardless of the quality of every other figure in this line he's getting a Hulkbuster Iron Man. How could he resist?