Review – K.I. The Creature on the Flying Saucer
No, I haven't gone insane and bought a Toygraph K.I flying saucer creature toy. What has happened is I took advantage of being at Matt Doughty's house yesterday and played with his toys. While the crew prepared the new launch for Onell Design I spent a little time with this Toygraph toy. Built on the saucer from the Space Trooper Flying Saucer (review here), this toy is on my list of ones to grab. It's pricey, but it's massive and insanely cool.
A Wicked Sculpt
We've seen the saucer before, but this body design is crazy. A mechanized-face brain monster with creatures for shoulders and a weird face hidden in the chest this is one of the strangest toy designs I've ever held in my hands. And the guts spilling out is a great touch on a design that's already got me dying to go online and track one down for myself.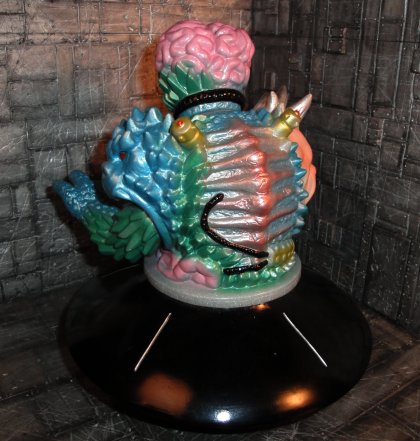 And look at the back design. A mix of bones, armored plating, what appear to be alien bolts of some sort, and hoses all wrapped around tons of plastic. This thing is huge, about 8-inches tall or so and a hefty beast of a toy. I see these on ebay for about $100 or so and now I understand why; there's a lot of plastic in this alien monster.
Painting
The paint is okay. It's weird colored sprays with little in the way of detail work. I like the pinkish flesh color of the brain and guts, but in general the paint feels like it needs a little something more to be truly spectacular. To be fair, though, none of the Space Troopers toys that we've looked at have had amazing paint jobs. This toy's paint works and doesn't make me want to skip buying one, but it's definitely not all that it could have been.
Articulation
Very little articulation on this toy. The neck swivels, the arms kinda swivel (at the point where they meet the mouth shoulders), and the waist swivels at the saucer. And that's it. But we all know that Japanese vinyl toys are more about the design than the articulation, and fortunately for this toy it has more than enough in the "fantastic design" department to compensate for limited articulation.
So Why Do I Love It?
Purely because it's so weird and wacky. The entire Space Troopers line has kinda a 50s sci-fi feel to it, and K.I. here breaks from that a little but still has some elements — the brain head and saucer — that fit it perfectly within the line. The more I play with Japanese vinyl toys the more ideas I get, and seeing the head in the chest and at the shoulders makes me very happy. And excited to get back home and start playing around with resin bits to build something new.
Closing Thoughts
Toygraph's toys appeal to my inner crazy and this K.I. might be the best of their bunch that I've actually had time to play with. It's big, weird, feels great in my hands, and has just enough spiky bits to threaten the other toys around it. The paint isn't the greatest, but the toy is so cool that I actually don't care all that much. Hell, I'd love to get an unpainted one and take a shot at painting it myself.
Great design and one I suggest you track down if you at all like what you see in these photos. And for more photos (of a different colorway) see this post at toybot studios. Man, I think I like that colorway better than the one Matt has here at his place.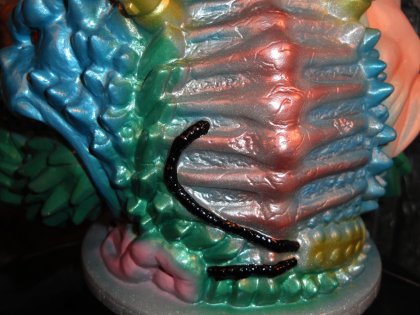 ---
Philip Reed also wants the version of this toy that replaces the saucer with legs. That's a towering monstrosity of fun!