Review – KFC Justice Badbat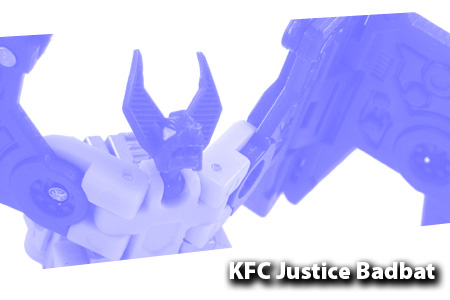 Tooling a new toy can get expensive, especially when you're not getting mass market-level sales, so it's not at all uncommon for the makers of third-party Transformers toys to reissue repaints of their various designs. And that's what we have today with the Justice Badbat, a blue repaint of the Badbat toy that was included with the Mugan Vox toy (last mentioned here). And Mugan Vox itself was a repaint, but we'll save that entire discussion for later.
Why Do the Cassettes Amaze Me So?
Above you can see the Justice Badbat packaging as well as what's hiding inside the box. I like that the cassette case isn't the standard clear, but realistically I don't need anymore of these micro-cassette cases and would be perfectly happy if Keith's Fantasy Club (KFC) didn't include cases in a few of their releases. Save some cash, guys, and put it towards improved paint apps of lowering the purchase price a little. Please.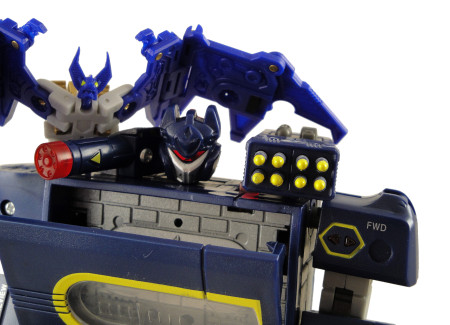 Anyway, the transformation design is simple but not too simple, with the wings covering most of the "body" of the toy when it is in cassette mode. I like that the accessories — Ratbat's engine/weapon pieces — are built into the toy and that there are no loose parts. Well, that's not exactly true and the word "loose" leads me to my one complaint with the toy . . . and all of KFC's cassette designs.
Were These Designed for Human Hands?
On several of the KFC cassette toys I find myself tracking down a needle, blade, or other fine pointed object to get in and flip out some of the smaller parts. On Justice Badbat I need to resort to a pointy thing to get the feet flipped out. And since I have almost zero control when using a device to move a part (yeah, that makes sense) the looser the joint the more likely we are to see a microscopic plastic part fly across the room. Justice Badbat's ball-jointed head is the worst offender on this toy, with me picking up the head three times during the transformation from cassette to bat.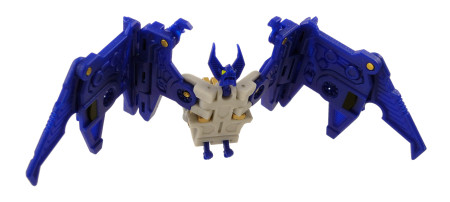 I'd love to see a little more effort to make these human-friendly go into future designs. Just a little more plastic in spots would allow a fingernail to get in there and pry loose a part or two, and that small change would make me a lot happier with KFC's range of cassetteformers. The designs are fun — I own several of them — but each time I open a new one I know I'll soon be chasing parts across the room. It's only a matter of time before one of these tiny pieces gets lost forever.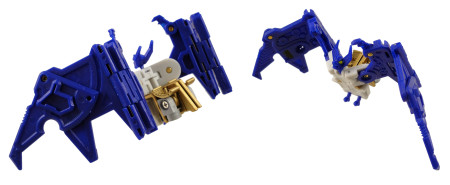 I Really Do Like It
Minor complaints aside, the Justice Badbat is a decent modern Ratbat-like design with a sharp sculpt and a transformation that's fun to play with (other than the tiny pieces and parts chase). Seeing that the weapons were built into the cassette made me happy and I love how the wings flip outward and then extend from that point. The toy may not have quite the wingspan of the BTS unofficial Ratbat (see below), but it's nonetheless an impressive work.

Transforming Expectations
While working on my Transforming Expectations book I've been snapping pics of many third-party Transformers toys, and it was only over the last few weeks that I realized work on the book had resulted in fewer reviews on the site. So with a lot of photos shot I decided it might be fun to share some of the toys that are going to be in the finished book, and that's where this Justice Badbat toy comes into play.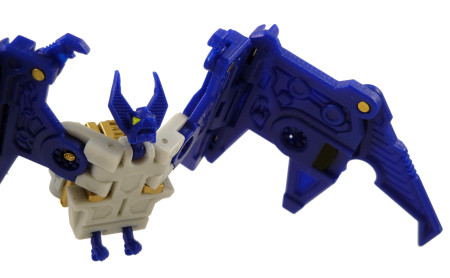 Toy site Captured Prey supported Transforming Expectations and will have an ad in the back of the book, so if you're interested in any of the KFC transforming cassettes I encourage you to buy from Captured Prey and let them know I sent you there way. I really appreciate their getting behind my book and I hope that they are happy with the book once it is finished and shipped.