Review – Killzone: Helghast Sniper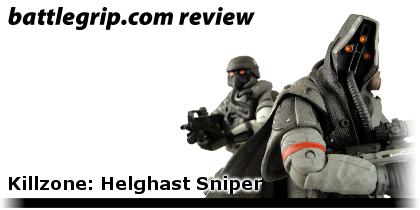 Manufacturer: DC Direct * Year: 2011
Last week we looked at the Killzone: Helghast Assault Infantry* (review here), a 7-inch scale action figure that was a bit of a disappointment in the "toy" category but seriously impressive as a small, semi-poseable statue. Well, I can now report that the companion piece — the Killzone: Helghast Sniper — has the same flaws as the Assault Infantry . . . but it's still a great work.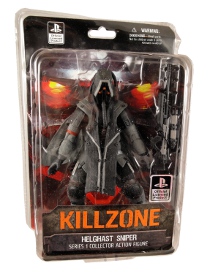 Basically the Same Articulation
See my Helghast Assault Infantry review and you'll have a good idea of this action figure's articulation. The only extra point of articulation is that the Sniper's left wrist is on a peg and rotates, so either this figure was given one extra point of articulation or my Assault Infantry has a fused joint. In fact, the joints are so similar that I had to take a close look at both figure's to be sure that DC wasn't just reusing parts, but it looks like the two are completely unique sculpts.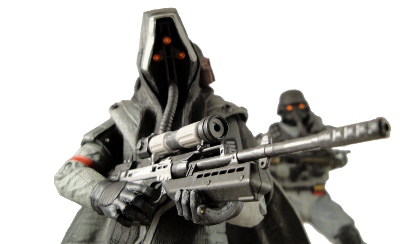 And Speaking of the Sculpt
This Killzone: Helghast Sniper looks as awesome as the Helghast Assault Infantry; unfortunately I tossed the packaging for the Infantry before checking the sculptor, but this piece's sculptor — Robert Lynders — did a fantastic job and I suspect it was the same artist on both action figures. And a quick search on the web shows that yes, the same artist sculpted both action figures. Check Lynders' gallery for a look at some of his other works.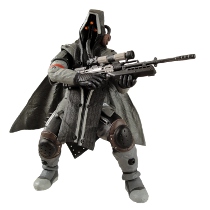 Incredible Accessories
The Helghast Assault Infantry has a great look, but this Helghast Sniper's soft vinyl accessories attached all over the body really add some depth to the toy and are incredible pieces. The cape is two vinyl parts, the soft vinyl draping down the front is a third part that connects to that great-looking helmet, and up under that front piece are a few more small vinyl parts that add to the layered look of the action figure. And that doesn't even count the various hoses or the rifle; basically what we have here is a military action figure in 7-inch scale that has as much layering with soft vinyl accessories as we see on Hasbro's G.I. Joe line these days. And it really makes the toy look stunning; getting these two on the shelf was definitely the right move.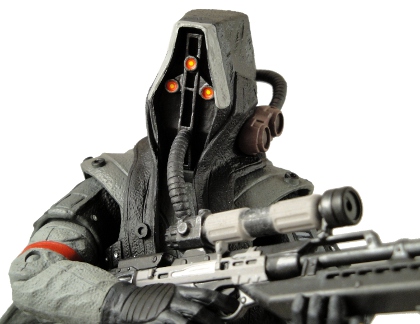 Makes Me Want to Learn About Killzone
I don't know anything at all about the Killzone series*, but I've gotta admit that these two action figures make me want to learn more. And since there's a novel based on the series — Killzone: Ascendancy* — it looks like I'll have to track down a copy. Damn Alex and his gift, because he took something I was kinda interested in and has me trying to track down a novel. Fortunately I don't have a Playstation because I can't be tempted into trying the game.
Actually, I'm glad he grabbed me that Assault Infantry for my birthday, because the two of these really do make a nice pair on the shelf. Great designs and fabulous execution.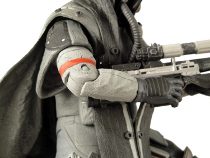 Closing Thoughts
This Helghast Sniper is every bit as cool as the Helghast Assault Infantry* and both are recommended if you like the photos you see in these reviews. Don't expect much in the way of articulation or poseability, but for near-future militaristic semi-poseable statues these are superior works of art.
I don't think I could rank one higher than the other, and owning the pair is definitely the way to go because they look better as a small group than as single figures. I don't know if there are any other character designs in the Killzone series* that are as cool as these two, but if there are then I hope DC Direct gets on more figures right away.
Excellent works of art.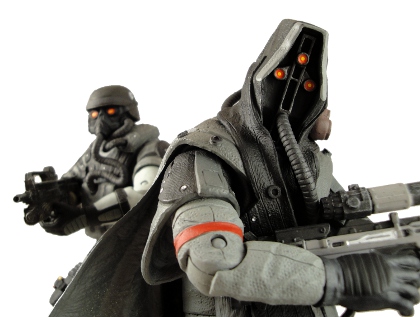 ---
Philip Reed also needs to look at more of Robert Lynders' work, because these two action figures are both great sculpts.