Review – Longneck Dempagon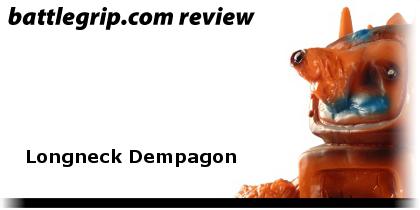 A few months at Skullbrain this Longneck Kaiju Dempagon toy came up for sale . . . so, as you can see, I grabbed it. I had posted about the basic toy before, but the $280 price tag at the time scared me away. Well, when this design popped up for $40 I snagged it. And I'm glad that I did, because this toy is durable and weird.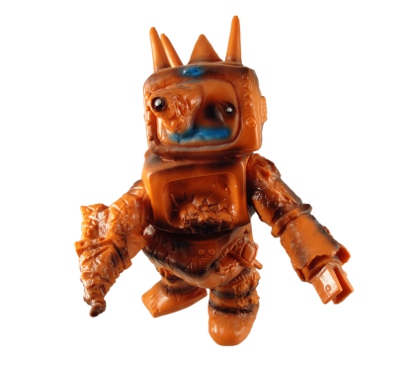 Almost 10-Inches Tall
One problem when looking at photos of kaiju toys is that it's tough to tell just how big they are. Well, trust me when I say that this Dempagon is huge, because at almost 10-inches tall he's really beefy and feels great in-hand. Even though he's a hollow vinyl toy he's big enough that he's really got some heft to him. And the plastic is thick and chunky, giving the toy a lot more durability that we see in resin toys and smaller vinyl toy designs. When it comes to size this Dempagon is truly impressive.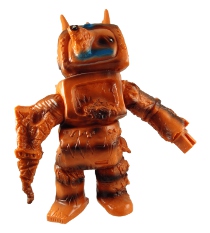 Almost No Articulation at All
As with most of the kaiju toys we have looked at this guy's biggest flaw is that his articulation points exist solely because of tooling requirements and not because there was an attempt to actually create an articulated toy. The arms pop into holes in the sides of the torso and the torso and lower body are connected by a third post/hole joint. So what we get are three "points of articulation" that are simple swivels; the arms can swing up and down and the beast can rotate at his waist. But that is it, so don't expect to see any dynamic poses from this vinyl toy.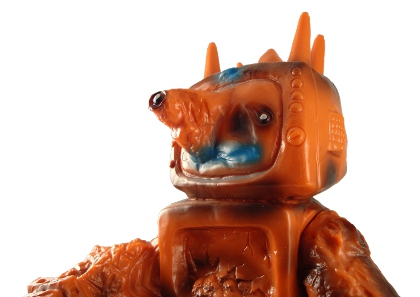 A Monster Made of Junk
The Dempagon is made of a television, cell phone, keyboard and mouse, what looks like an electrical plug, some sort of radio tower . . . well, just look at the pics and see how many bits of machinery you can find hidden in the design. The two photos directly below give you a good look at some of the details, but in general all of the sculpted details on the toy are soft and rounded. It really is a weird blending of parts and I don't think I would have been as attracted to the toy as I was if it had been symmetrical. That's a bit odd for me, but maybe the bad influence of Japanese toys is starting to make me overcome my love for symmetrical designs.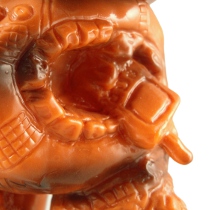 Weird Paint Designs
I only have the orange Dempagon shown here, but if you really want a look at some colorways see this thread at Skullbrain. That's a lot of paint variants on the toy design, but I've gotta say that I'm happy having just a single Dempagon in my collection.
The paint on this toy is very simple — orange plastic with some black and blue spray and silver details on the eyes — but it works and makes for an attractive design. There are more complex designs in that Skullbrain thread, but what I have here looks good on the shelf with my other kaiju toys.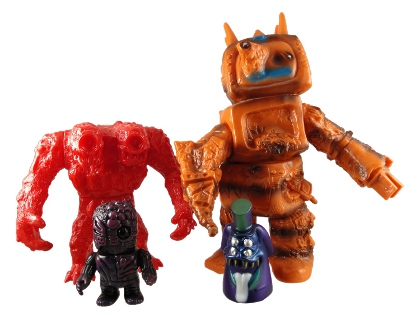 Closing Thoughts
The $40 I paid for this Dempagon toy feels like I got a great deal — I paid much more than that for the Steregon toy that is smaller (review here) — and I'm glad that I've got one now, but I have to say that it's not such a great design that I'd be happy if I had spend $80 or more for the toy.
Beefy and durable, the Dempagon is a good toy but not a great toy.
---
Philip Reed wouldn't be upset if he stumbled across a blank Dempagon.