Unofficial Transformers manufacturer MakeToys (website) recently released a two-pack with not-Seaspray and not-Powerglide transforming robot toys. First up we have Hover, their not-Seaspray minibot that stands about 3.5-inches tall in robot mode and has far superior articulation than the original 1985 Seaspray toy.
Packaging
A minimalist design showing Hover and Bomber on each side of the box, the packaging is professional enough but not spectacular or particularly eye-catching. I'll be curious to hear what others think of the box, because I think it's decent but not something that would lead me to pick up the set if I ever saw it in a store. I guess it's a good thing that it was the photos of the toys that were posted online.
Vehicle Mode
Very similar to the original Seaspray (see the Transformers WIki), Hover is a simple hovercraft design that's blue, yellow, and white and looks okay but isn't all that exciting. He looks just fine though I'm happy he'll be in robot mode in my collection and not vehicle mode.
Robot Mode
This is where the toy starts to become fun. With more articulation than I expected — ball-jointed shoulders, hips, knees, and ankles, hinged elbows, and a swivel neck — Hover is playable, poseable, and quite a bit of fun. Overall the toy's a success, but I do have a couple of complaints that are worth mentioning.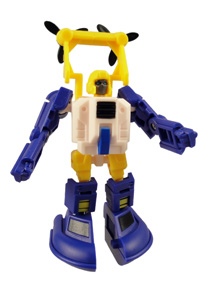 Problems
The shoulders tend to pop off of the joints, especially during transformation, but at least they're ball-joints and it's easy to snap the arms back on. And the transformation, while simple, isn't perfect with it taking a few tries to get the parts aligned perfectly when transforming from robot back to vehicle mode. But in the end these are actually minor issues that don't affect the toy's fun or value.
Closing Thoughts
Hover is my first toy from MakeToys (website) and it's one that makes a nice minibot but isn't so great that I'm going to recommend it to anyone but the most dedicated of Transformers Generation One fans. The toy captures the classic look with improved articulation and a less rigid, boxy design and could easily pass for an official design if it wasn't for that shoulder problem.
Hover's decent, but it's his companion in the box — Bomber — that was my real reason for buying this set. Check back soon for a look at a not-Powerglide that's almost as good as the X Transbots Glider (review here).
---
Philip Reed is happy with Hover because the design is right, articulation is good, and the plastic feels nice. But after the Hercules pieces it's going to take a lot to truly impress him.