Review – Marchon Roadbots Cementorr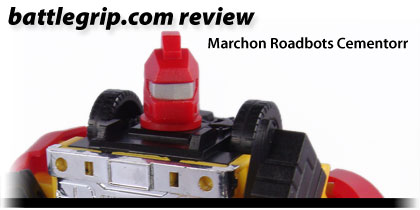 Line: Roadbots * Manufacturer: Marchon * Year: 1984 * Ages: 4+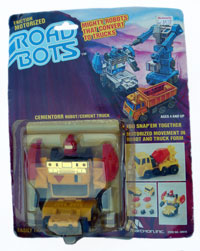 And here he is, the companion to Loadorr and Hookorr and, it appears, the only one of the Marchon Roadbots that I never owned as a kid. That might be a good thing for this review, because maybe I'll be able to look at the toy without memories and nostalgia influencing my comments. I doubt it, since the minute I snapped him apart and assembled him into a cement mixer I was already getting those same old feelings; Cementorr feels just like his fellow Roadbots.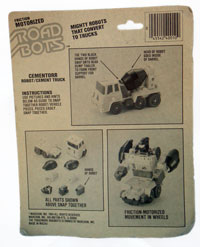 A lot shorter than the other Roadbots when in robot mode, Cementorr is an awkwardly-shaped machine; his arms, especially, make him look unusual. Like the other Roadbots, the rear half of the truck — which forms the platform that the robot stands on — is a motorized engine that helps propel the robot forward just a little more when he is pushed.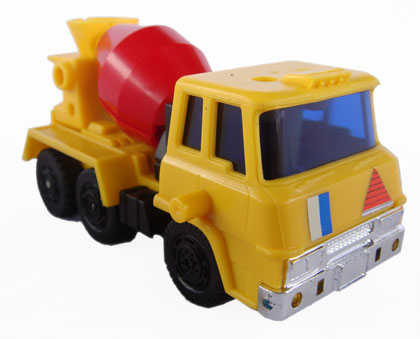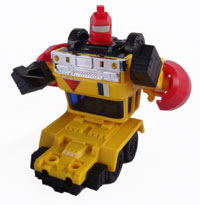 Unlike Hookorr, which appears to be relatively unique in the design of his individual parts, Cementorr shares a common cab design with Loadorr; the two cabs are not identical but the design is so close that I continue to mix them up and have to refer to photos to ultimately decide which cab goes with which figure. The rear half is different from Loadorr's — it's longer, since Cementorr doesn't use his hands to connect the rear half and cab (which is what Loadorr does) — as are all of the other pieces.
Closing Thoughts
A cheap toy in 1984, Cementorr hasn't really improved with age. His unusual transformation process — and the fact that popping the figure apart repeatedly both wears out the connectors and makes it more likely that you'll lose a piece of the toy — and "knockoff" status, makes him a most unloved and unwanted toy. Cementorr, like the other Marchon Roadbots toys, appears to make his way onto ebay on occasion so if you want one keep searching there. Again, as with the other robots in the series I wouldn't recommend paying more than $10 for Cementorr.
Am I the only person who remembers these toys?
---
Philip Reed has the three Marchon Roadbots in his office where they currently sit merged into a single, ugly robot. Well, all except for Cementorr's cab which wouldn't fit nicely onto the contraption that Phil created.