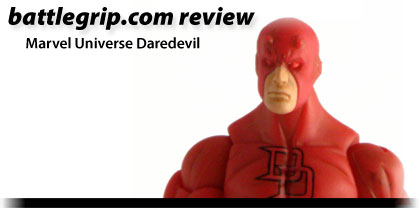 Line: Marvel * Manufacturer: Hasbro * Year: 2009 * Ages: 4+
"Though he is blind, Daredevil perceives far more than most people. His senses heightened to superhuman levels by a childhood accident, he lives in a world of continuous sensation. He can smell lies on a man's breath, or hear the panicked heartbeat of a mugging victim from ten blocks away. His uncanny radar sense paints a detailed picture of the world around him, allowing him to dodge bullets, and survive incredible dives from the rooftops to the street."
— from the back of the card
With reviews of Spider-Man and Stealth Ops Iron Man down, it's time to take a look at the final Marvel Universe 3.75-inch action figure that I've picked up so far: Daredevil. (I've looked for others, especially Captain America, but so far I've only spotted these at Toys'R'Us and the figures are selling out fast, so I have to be patient.)
Again, the packaging is the standard card design so it's not worth discussion. The card back again shows three figures — Wolverine, Stealth Ops Iron Man, and the Human Torch — while this time around we get a warning printed on the front of the pack (because Daredevil includes a tiny accessory while the other two figures I reviewed included larger accessories). No matter, though. The card's in the trash now, anyway.
On to the action figure.
Daredevil, from what I'm able to tell by photos and reviews of the other figures in the series (since he's the only figure I currently own who isn't hidden by a mask), perfectly illustrates the primary problem with the Marvel Universe series: the faces are pretty ugly. This review at www.quickstopentertainment.com shows a decent close shot of Daredevil's face if you want a look at him; I promise you, he's ugly.
Other than the ugly face, the sculpting is pretty good. Daredevil's got a different sculpt than Spider-Man which really helps the two figures look different when they're standing side-by-side, but online reviews point out that — as with most action figures — there are only a few different basic bodies so the more figures you collect the more you'll notice the similarities. It's not a huge deal, but I didn't want you to leave with the impression that every figure in the series used a unique sculpt.
The Card Back Lies
If you look closely at the card back (above), you can see Daredevil holding his nunchucks with one piece in each hand. Unfortunately, the accessory is actually a one-piece unit (as shown in the photos here) connected by a chain and they do not come apart. I don't know why the card back shows what it does, but it's misleading so don't believe it. Even as one unit, though, this is an okay accessory (though I still want stands) that's far superior to Iron Man and Spider-Man's cheap plastic extras. (I really dislike those "blast" pieces.)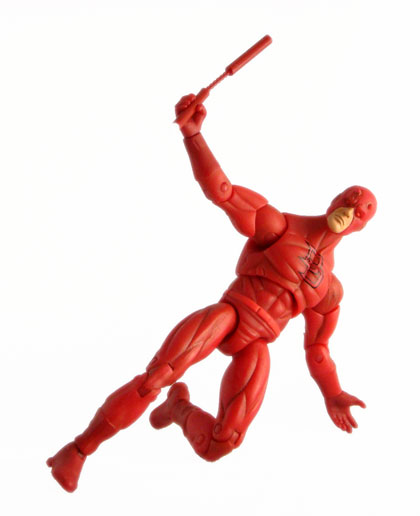 Poor Articulation
Daredevil has excellent articulation . . . if you compare him to the DC Universe Infinite Heroes line. For a G.I. Joe or Marvel Universe action figure, though, he's missing a twist waist and the arms can't quite go down far enough (Daredevil needs to lay off the weights and slim down a little). Maybe I'm being a little unfair, but that solid waist really gets on my nerves and Daredevil needs better leg articulation. Again referring to the review at www.quickstopentertainment.com, consider this statement:
"The leg articulation is where the other big disappointment comes in. The ball jointed hips allow for movement out and in from the body, and some forward movement, but almost no backward movement."
Closing Thoughts
While both Spider-Man and Iron Man (Stealth Ops) are great action figures, Daredevil is merely okay. Hasbro needs to put a little more effort into the face sculpts for this series and they need to look to their own G.I. Joe line before designing any new figures. If they can fix the minor articulation issues, and the faces, then this will be one of the best action figure lines I've ever seen. Even without those changes, though, the masked heroes are going to become classics.
Search for Daredevil toys at Amazon.com!
Order Marvel Universe Action Figures from Entertainment Earth!
---
Philip Reed read more Marvel than DC comics when he was younger, though Daredevil was never one of his regular reads. In fact, the only Daredevil trade paperback Philip owns is The Man Without Fear. It's a good read, but Philip isn't rushing out to grab any more Daredevil books any time soon.