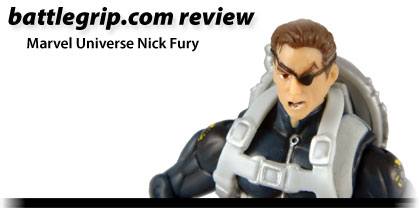 Line: Marvel * Manufacturer: Hasbro * Year: 2009 * Ages: 4+
The first mail-away Marvel Universe 3.75-inch action figure, Nick Fury is only available by jumping through several hoops (details can be found at Action Figure Pics and Toy Bender). Well, I jumped through those hoops and when I got home a few days ago my Nick Fury was waiting for me. Was he worth the effort and the expense?
Not really.
Packaging
Nick Fury comes in a box that's decorated with the S.H.I.E.L.D. logo on one side and logos/copyright information on the back. It's a nice, attractive box and I'll actually hang onto this one and place it in the display case with the toys. I usually toss toy packages, but this one closed up nicely and looks like it's going to make an excellent backdrop for my Marvel Universe action figure collection.
There wasn't any tape or other material keeping the box sealed so it was very simple to pop the box open and slide out the insert tray. Bright red, almost everything was packed neatly into its own compartments . . . and without any tape, rubber bands, or twist ties. The only item that was taped to the vacuform insert was the file folder (Nick Fury comes packed with the usual Marvel Universe documents and extras, including a code for use on the Fury Files website).
A minimalist design, a simple insert tray, and a lack of twist ties and rubber bands makes this an excellent package. I hope to see Hasbro use this same arrangement for any other Marvel Universe mail-away figures.
A 3.75-inch Action Figure with Problems
So what's wrong with Nick Fury? A few different things, the biggest of which has to be Fury's terrible face sculpt. Look at any of the photos here and you'll see what I mean. Someone thought it would be a good idea to sculpt Fury with either a snarl or biting down on an imaginary cigar and the result is less than flattering for our hero. The photo at the top of this page (the review header) also clearly shows the other problem with Fury's face sculpt: he looks too young!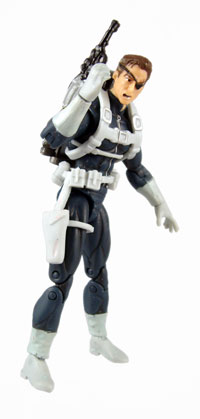 Another problem with this Nick Fury action figure is an issue that is plaguing several toys in this series; Fury's sculpt drastically interferes with his articulation which means that the arms won't lie flat at his sides and his legs are constantly in unnatural positions. Fury's articulation isn't really any worse than some of the other toys in the series — it's possible that The Thing (reviewed here) is the worst in the series — but it's very frustrating.
While the sculpt is a problem for every 3.75-inch Nick Fury mine has its own special problem; the right wrist joint is loose and the hand is extended a little from the arm. The photo at right shows the gap where the hand is popped a little loose from the arm. This isn't a devastating problem but Fury does have time maintaining a hand pose over time as the weight of anything but his pistol slowly swivels the hand out of position.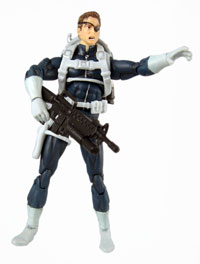 Paint
Nick Fury is primarily cast in a single color – the dark blue of his battlesuit – but there are enough paint applications to give the action figure some depth. The face is neatly painted, the gloves and boots are painted with almost no sloppy edges, and the S.H.I.E.L.D. emblems on each shoulder are so detailed that I suspect these are stickers or some sort of stencil was used. Fury's rocket pack has only the simplest of painted detail — again, the S.H.I.E.L.D. emblem — but it's enough that it works.
Overall the paint is fine and I don't have any complaints.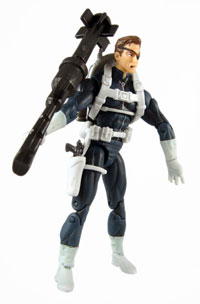 Accessories
Nick Fury comes with more in the way of accessories than any other Marvel Universe series action figure I've bought. With a pistol, three over-sized rifles, a vinyl belt/holster, and a backpack strapped to a vinyl harness Fury feels more like a G.I. Joe action figure than he does a Marvel Universe action figure. This is the level of accessorizing I expect from Hasbro's 3.75-inch action figures and I hope they follow along this path for future releases in the series.
The only accessory Nick Fury is missing is a display stand. Please, Hasbro, start packing stands with all of the toys in this series.
Closing Thoughts
So far Nick Fury is the most expensive action figure I've picked up in this series — $25 for the subscription and $5 shipping/handling costs — and he's most certainly not one of the best figures in the series. The packaging is attractive, the accessories are excellent, but the figure's ugly mug and frustrating sculpt/articulation interaction seriously hold him back. Anyone planning to collect this complete series no doubt already has their own Nick Fury action figure but if you're a casual collector I recommend you pass on this toy.
I've no doubt that if the Marvel Universe series action figure series continues to perform well then Hasbro will either release this exact figure through stores or (and I hope this is the option they choose) release an improved version of Nick Fury.
I bet Fury would look pretty good in the seat of one of my G.I. Joe vehicles. Hopefully Hasbro will give us some Marvel Universe vehicles.
Order Marvel Universe Action Figures from Entertainment Earth!
---
Philip Reed isn't going to sell or trade his Nick Fury, but he is going to be a lot more careful about any other Marvel Universe mail-away action figures. Nick Fury is a cool character and all, but the ugly face really takes away from the figure's overall appearance and fun value. The guns are unnecessary — and ridiculous — but maybe they'll work well with some other 3.75-inch action figures.