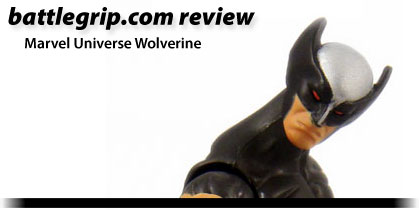 Line: Marvel * Manufacturer: Hasbro * Year: 2009 * Ages: 4+
"He's the best there is at what he does, it's said. And what he does is fight. Like the animal that is his namesake, Wolverine may be small in size but he is ferocious in battle."
— from X-Men: The Ultimate Guide
The Marvel Universe 3.75-inch action figure series has so far been pretty mixed for me. From the low of The Thing (reviewed here) to the high of Captain America (reviewed here), this series has both disappointed me and impressed me. Well, for the last day of X-Men Toy Week here at battlegrip.com, I felt it important that we take a look at the Marvel Universe Wolverine action figure. Let's dive right in.
Packaging
By this point, after so many reviews of toys in this series, it's really not worth even mentioning the packaging. The photo above (and one below) shows exactly how Wolverine is packaged; there's nothing different or special here. The card back shows Black Panther (I'm not interested in him so I continue to leave him at the store), Human Torch (again, no interest), and Iron Man (I snagged the Stealth version so I can live without this one).
Wolverine Action Figure
As was pointed out in this review at www.mwctoys.com, Wolverine uses the same basic body as Daredevil (reviewed here), with the one major exception — besides the head and claws, which are new sculpts — being the fact that something is preventing Wolverine from lowering his right arm. Daredevil has this same problem, but it's even worse on Wolverine. I'm not sure if it's an assembly problem with this figure or something else, but it's frustrating since it seriously affects Wolverine's poseability.
I think this articulation issue has to be a problem with this specific figure, and not every Wolverine, because in the review at www.mwctoys.com Michael writes:
"I complained about this body with Daredevil, but I had much better luck getting it to pose with Wolverine. Not sure why, and your mileage may vary."
That's the exact opposite of my experience with the two figures, so it's got to be something in the manufacturing process with the toys and not the actual design.
Wolverine's claws are permanently attached to his body in the extended position. The claws are kinda weak, and made of a soft plastic that bends and warps. The claws are just okay.
Wolverine's face, the other newly sculpted part for this toy, is excellent. As we've already seen before, the Marvel Universe characters with a mask look better in this series than those who have a face that we can clearly see and Wolverine stays true to the pattern.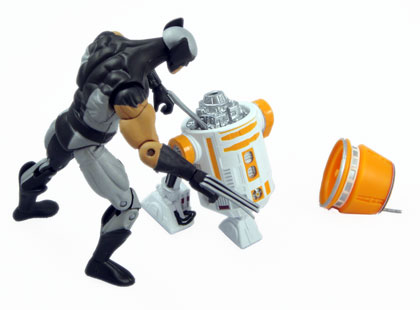 The paint job on Wolverine is excellent, with very little in the way of rough lines; for the most part, every detail is cleanly painted and the hard lines on his costume are especially neat and tidy (certainly better than many other action figures I've seen). I think Wolverine was cast in flesh-colored plastic, but it's difficult on some parts for me to tell what's the paint and what's the plastic. Great job, Hasbro! Please give us more figures with paint jobs this good.
Accessories
With a rifle and a sword (why's it red?), Wolverine comes with better accessories than most of the action figures in this series. The only problem with Wolverine and his accessories is that Wolverine's right hand is posed a little too open for him to hold an accessory without fear that he'll immediately drop it. It's possible that hot water, bending, and patience will fix this problem, but I haven't tried that yet so I can't guarantee that the hot water method will help Wolverine to hold his weapons.
Again, the one accessory I really want to see added for this series is a stand. Action figures this poseable really need stands so that we can take proper advantage of the poseability. It's probably just a matter of time before someone out there starts producing usable stands for this series, but I think every action figure released these days should come with a stand.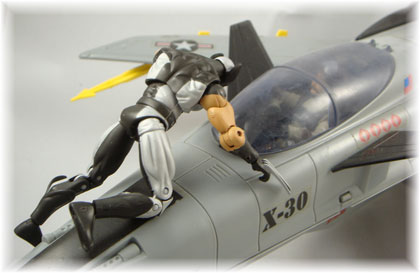 Closing Thoughts
Before I started playing with him, I wasn't all that excited about this Wolverine action figure. When I first took him out of the pack his joints were stiff and it was tough for me to get him to stand. After playing with him, though, his joints loosed up and he started to become a lot more fun. And the more I looked at him the more I liked him, which was a great surprise to me.
This isn't the best Wolverine action figure on the market, but if you're collecting the Marvel Universe 3.75-inch action figure series then I recommend adding Wolverine to your collection before you pickup a weaker figure like The Thing.
For more thoughts on this Wolverine figure, and this series, take a look at this thread at www.toyark.com.
Order Marvel Universe Action Figures from Entertainment Earth!
---
Philip Reed is forced to admit that, when it comes to superhero action figures, his personal feelings about the character has a great influence on his opinion of the toy.