Review – Masters of the Universe Classics Cy-Chop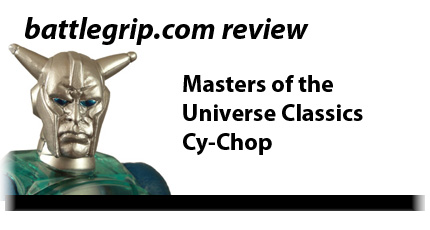 The Masters of the Universe Classics Cy-Chop* action figure hasn't been getting the best of reviews. Yesterday, Poe Ghostal posted his own comments on the toy (read "Poe's Point > Cy-Chop Addendum") and it's with Poe's comments that I want to start my own Cy-Chop review.
Beast Man Body Parts
As with most of the Masters of the Universe Classics series, Cy-Chop* is created out of a mix of reused parts from earlier toys as well as some completely new pieces. And it is the Beast Man reused parts that I want to address. In "Poe's Point > Cy-Chop Addendum" Poe writes:
As for the furry limbs, I just don't think they work with the character design. They're what make him look so slapdash to me; they clash thematically with the character's "cyborg" design and demonic head.
I personally disagree with Poe for one very simple reason: We don't know what Cy-Chop looked like before the accident that led to him becoming a cyborg. In the character's back story — see the packaging photo, above, or visit the Doc Thomas Cy-Chop review at Poe's site to read the back story — we are told that the character:
" . . . Scychor was healed by rogue scientists by preserving his organs in a robotic chest and his brain in a cyborg skull."
The story doesn't make any mention of the character being given an entirely new body, so it is very likely that he was a fuzzy, beast-like creature before the accident and those scientists saved his limbs. But as I commented in Poe's Cy-Chop Addendum the team at Mattel could have made Cy-Chop* far more exciting to fans if they had included accessories to transform Cy-Chop back to his Scychor design.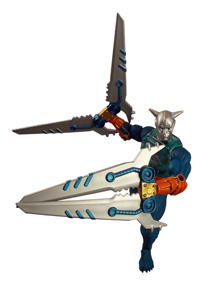 Third Party Designers, You're Up!
So what would make Cy-Chop into his pre-accident design? Well, I think it could be done with four new components (that Mattel should have included with the toy):
Armor – Orange-colored armor that fits down and covers the torso would be the first step in transforming the character back to his pre-cyborg design. Mattel would have likely used an existing armored piece, but a third party maker should craft an entirely new design the completely covers Cy-Chop's robotic torso.

Head – A new, furry-styled head that is the same color as the toy's arms and legs. If I were designing this I would make it an organic version of the robot head that the toy has, changing the two protruding spikes into boney horns.

Hands – Technically this is two pieces, but we'll treat them as one since the character would really need two organic hands to make the transformation work.

Weapon – Finally, to bring Scychor to life the toy needs a weapon on some sort.
So four accessories that Mattel missed including with the toy are now an idea for a third party Masters of the Universe Classics designer to step in and create for fans. There don't seem to be a lot of Cy-Chop* fans out there, but someone releasing an upgrade kit with those four parts would probably do okay moving a few hundred units. It's definitely a resin job for a garage operation.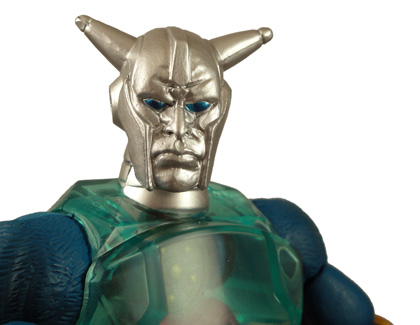 But What About That Review?
Over six hundred words about the toy and not one that could really be said to be a true review? Yeah, I'll admit that a lot of what I've found myself wanting to say about Cy-Chop* is a response to others (and not just Poe, but his comments were the most recent and it was reading his post that helped me develop my ideas for the unofficial upgrade kit) and not a true review of the toy itself. This is mostly because the basics of the toy — plastic quality, paint, articulation, packaging — are pretty much what we have come to expect from the Masters of the Universe Classics series. One issue with so many toys using swapped/shared components is that as a reviewer it gets tough to say new things about the basics.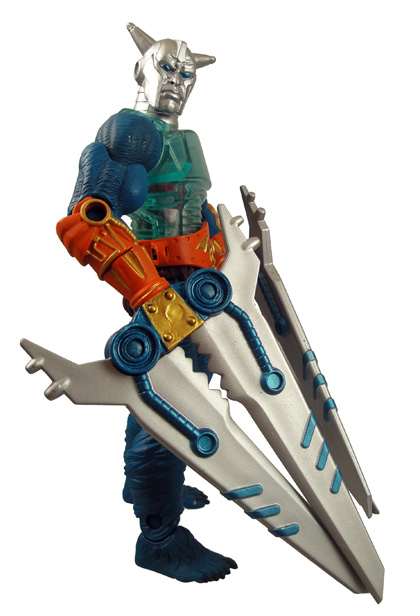 Fortunately, though, Cy-Chop* has attracted so many negative comments online that I can focus on trying to explain why I like the toy and let the photos do most of the "review" work. So that leads me to:
I love the Micronauts homage. That chromed/silver head is cool as hell and just one more point of weirdness in a toyline that already merges a lot of strangeness in one place. And the dead-like look of the stare kinda works for the robot-like head.

The scissors are far neater in person than they are in photos. I know many feel the scissors are too big, but when opening and closing them they feel right to me (and could have even been longer). What surprised me the most was that the scissors don't seem to overly disrupt the toy's balance; Dragon Blaster Skeletor (review here) has a much tougher time standing than Cy-Chop* does.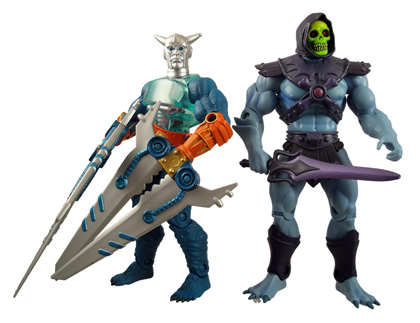 Closing Thoughts
It feels weird to me to be the one defending a Masters of the Universe Classics toy while others are against it. I usually dislike several of Mattel's decisions when it comes to the line, but with Cy-Chop* I think they made a good choice in including this new toy in the line. Where they failed, I think, was in not adding the parts to let people change the character to his pre-cyborg form.
I think that Cy-Chop* will be one of those toys that is hated at first, but within a year or two he'll start to get some positive buzz and slowly become a toy that fans of the line enjoy. The massive, over-sized scissors feel to me like a design that could have existed in the original 1980s Masters of the Universe line while the Micronauts-like head and torso could have definitely been designed by a Mattel toy designer in 1984 or 1985.
Sorry so many dislike you, Cy-Chop*, but opening and playing with you — combined with thinking through Poe's Cy-Chop Addendum and complaints with the parts choices — has made me like you as a toy more than I did when all I had to go on were online photos and reviews.
You're a fun and silly toy and, in my opinion, a fine addition to the Masters of the Universe Classics series.
---
Philip Reed really does love the look of Cy-Chop and hopes that someone runs with his upgrade kit idea. It would be neat to see the pre-accident concept get some attention.