Review – Masters of the Universe kookycraft Skeletor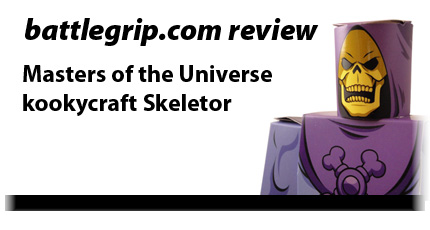 Paper toy fans, take a look at what I found at the Dallas Fall Toy Preview last week. While leaving the show I ran across this Masters of the Universe Skeletor with a bunch of trashed boxes; I don't typically dive into the trash, but when a Skeletor I've never seen before is peeking out I've gotta check it out. And imagine how surprised I was when I found an unpunched and ready to play with Skeletor in the box. Score!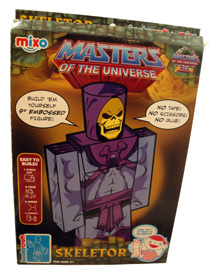 Packaging
A simple and attractive box, the kookycraft Skeletor — as well as the other paper toys in the series — should be easy to spot in stores. The box is super thin (it's just holding six cardstock sheets and a set of instructions) and looks quite nice. The back shows the other toys in the series and gives you a good idea of what you can expect to find inside.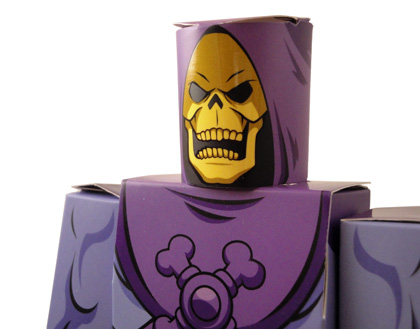 Easy Assembly
Pre-punched, scored, and ready to pop out and fold, the kookycraft Skeletor comes as six flat sheets that require just a little assembly. I had trouble with a couple of the smaller spots — where the arms connect to the torso gave me the most problems — but overall this was easy to put together and only took about ten minutes to finish.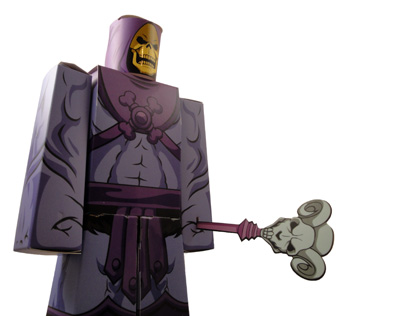 Great Design
9-inches tall with sharp, clean lines, the kookycraft Skeletor is a great design and I suspect this will be popular with Masters of the Universe fans are gonna be quite happy to get a cute series of paper toys for their collections. I don't know who designed the toy, but this is a good piece and recommended if you're at all into Skeletor and want something a little different for your shelf.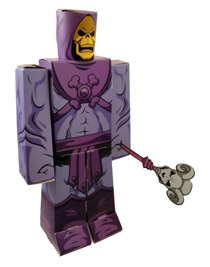 Closing Thoughts
An accidental find, I'm going to start keeping my eyes open for more of the Masters of the Universe kookycraft paper toys. I'm not sure what the price of the toy is, but I'm guessing that based on the size these are gonna be $8 to $10/each. But I could be very wrong; if anyone has details on this line I'd appreciate a link.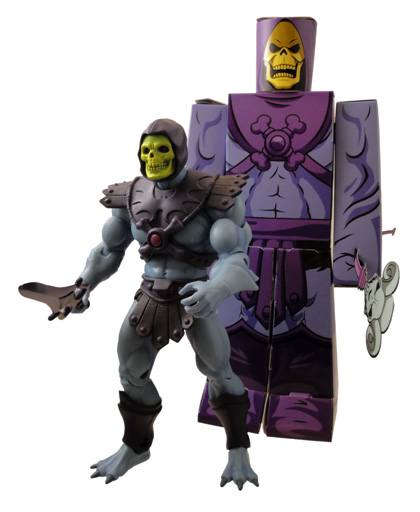 ---
Philip Reed suspects he won't find anything this cool in the trash at NYCC this week.