Review – Masters of the Universe Skeletor Wacky Wobbler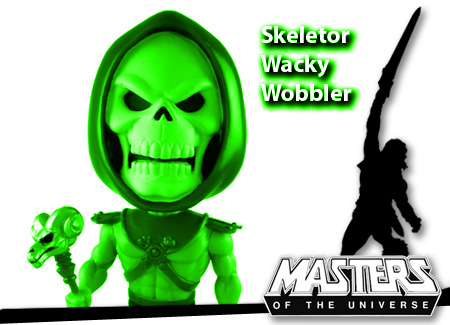 Funko's 2012 Skeletor Wacky Wobbler* is one of those weird collectibles that looks great in a collection, especially when it's displayed with other Skeletor statues and action figures. It's not the most dynamic or exciting Skeletor you'll ever see, but's cute and fun . . . and that's enough to make me suggest you grab one if you're a Skeletor fan.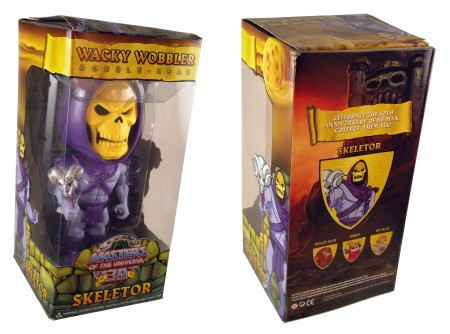 Sculpt
Standing just over 7-inches tall, including the base, the Skeletor Wacky Wobbler* sculpt is clean and tight. Not surprising; Funko's sculpts are often very nice and the company has no problems warping designs to give them a different feel that's new yet still instantly recognizable. This toy isn't anywhere near as stylized as the Pop! Vinyl Skeletor*, but it's still quite cute.
Paint
The Skeletor Wacky Wobbler* doesn't have some of the paint problems we've seen with other Funko toys, but it's also not as beautifully painted as the better action figures and statues on the market. For a $10 to $15 bobblehead the paint apps are just fine, though, so between a great sculpt and decent paint I really do have no problems suggesting this piece to the Skeletor fans in the audience.
Closing Thoughts
This Skeletor Wacky Wobbler* is a very simple collectible. The head wobbles and bobbles on a spring, the large base keeps the toy upright on even the shakiest of displays, and generally I'm perfectly happy with my purchase. It's not the only Skeletor you'll ever own, but as part of a collection of Skeletor toys and statues it's perfect.