Review – McFarlane Monsters Dracula Playset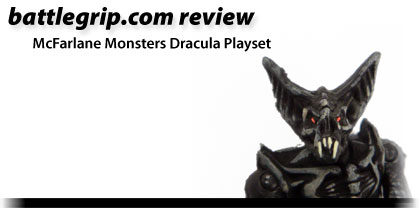 Manufacturer: McFarlane Toys * Year: 1997
Monsters are cool. That has to have been what led to the launch of the McFarlane Monsters line of playsets in 1997. Combining small, barely poseable action figures with cool, elaborate displays, this series of toys looks fantastic in photos and on the desk or display shelf. How do they stack up as toys, though?
Not very well.
Packaging
A fairly standard blister on card design, the one thing that really makes this series stand out is the size of the package. At over 12-inches tall, about 11-inches wide, and roughly 4-inches deep, this is one hefty blister pack.
The card back shows the other initial releases in this series. Hunchback looks okay, Frankenstein is very neat (spoken from experience, since this is the one McFarlane Monsters set that I bought when the line was new), and the Werewolf has a fantastic feature: the victim's limbs are detachable! You can tear him limb from limb! How's that for fun?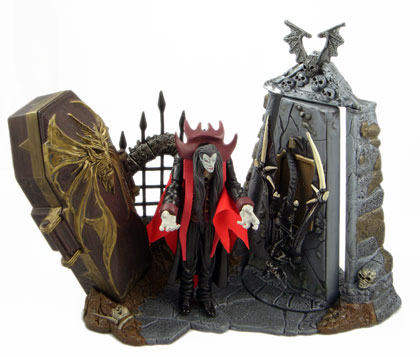 The Playset/Display
What's the difference between a display and a playset? Hell if I know, but I'm gonna go against the title of this toy and say that what we have here is more display than it is playset. It's small — about 9-inches wide, 6-inches tall, and 3-inches deep — and it only has one "play" element: a rotating wall.
And it's one hell of a beautiful display. Sculpted spikes and skulls decorate the base and the wall, and the painting — though minimal — is almost flawless. I suspect that McFarlane Toys pays a little more for the paint applications on its toys but whatever they do it was as good in 1997 as anything else on the market.
The rotating wall feature isn't the most exciting thing in the world, but it's functional. One side of the wall includes a hook for the vampire bat to hang from (see below) and by pushing one side with your finger you can spin the wall to reveal a hiding place for Dracula. I suspect it's this one feature that made them call the piece a playset, but I'm not convinced that this is enough to transform the piece from a display into a playset.
The photo above shows how the coffin (see below) can stand on the display. It's nice that they included a space for the coffin, but honestly the display looks just as good with or without the coffin. I'm displaying mind with the coffin as shown above, but there's no reason you couldn't just lay the coffin on its back.
I wonder if a block of carbonite would stand in the place that's reserved for Dracula's coffin?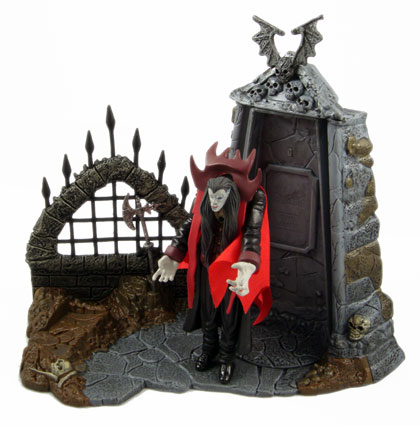 Dracula
Standing about 4.5-inches tall (to the top of his costume), I'm comfortable with calling Dracula a tall 3.75-inch scale action figure. After all, he looks good with the other figures in my collection and it's not unimaginable for there to be a towering evil lurking in the shadows of the toy box. Dracula exhibits the same flaw found on my McFarlane Toys action figures: his articulation sucks. Even taking into account that this toy is over a decade old, articulation at the shoulders and neck does not make for a fun toy.
Dracula does look good, though. McFarlane Toys produces some excellent-looking toys (and back in 1997, they were kicking ass and forcing the other companies to step up their game) and Dracula is no exception. With a cloth cape, beautifully sculpted details in the face, and an adequate paint job (to be honest, there's very little paint here, with most of the piece just cast in black), he's a great display piece.
He's not a great toy, though. As I'm sitting here playing with him one of his arms came off. I know that he's over a decade old, but that's no excuse for the plastic to just fall apart on me. Maybe a little glue will get him ready for the toy shelf; after all, it's not as if losing arm articulation is going to make it all that much playable than it already was.
Vampire Bat
With a wingspan of almost 8-inches, this gruesome monster is massive and ready to attack anything in sight. With articulated arms/wings and a ball-joint articulation for its head, this piece to the playset has pretty much the exact same articulation as the Dracula figure described above. The sculpting on the bat is phenomenal, with a Gigeresque-like musculature and bone structure that goes great with its oversized ears and teeth. The toy's paint is also excellent, with grays and whites highlighting all of the raised areas.
This piece is definitely nicer than the Dracula.
Coffin
The coffin included with the set fits Dracula perfectly, even if opening the lid sometimes reveals unwanted guests. Poor Dracula, he's gonna have to chase these Crayboth off before he can get any sleep. Those little Glyos System guys just won't stop invading the other toys on my shelves.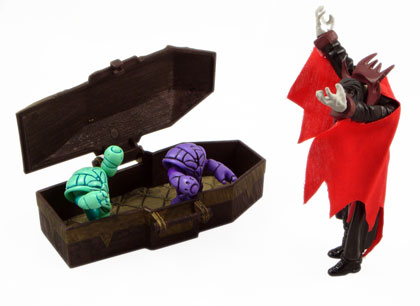 And now we see that no sooner does he get settled in then Dracula finds himself under attack by a Buildman. The Glyos System Buildman is holding the stake that comes with the Dracula Playset. Why would Dracula keep a stake in his creepy display scene? Not a very smart vampire.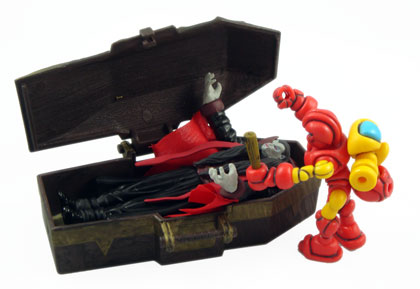 Closing Thoughts
Part of the McFarlane Monsters line, this playset is more of a display item than it is a playable toy. With a great design, a creepy display base, and a couple of minor extras, this is a cool desktop piece but it's not a great toy. I can't recommend working hard to track down any of the McFarlane Monsters sets, but if you get lucky and find one at a low price — and happen to like the monster — then any piece in the set is worth adding to your collection.
One of these days McFarlane Toys will produce some actual toys. Until then, they're going to be one of the top producers of articulated art statues that you can buy.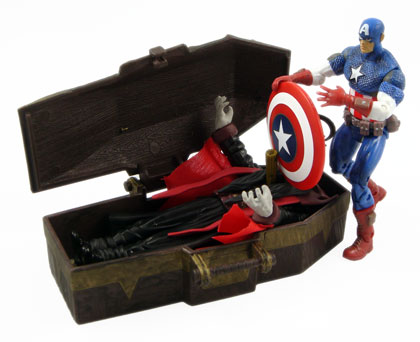 I know there's a comic out there where Captain America takes off Dracula's head. Why can't I find a reference to the comic online? Maybe I imagined it.
---
Philip Reed bought a large collection of toys a few months ago and hidden inside were several releases in this series. Expect to see more McFarlane Monsters playsets in the coming months. Expect it!