Review – Porlzilla's Illuminoids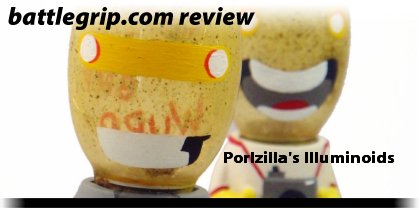 Designer/Resin * Year: 2009
"The little Illuminoids are created in pairs from a simple spark of life when someone makes a screen using a gocco printer. Not happy simply being thrown in the bin once their jobs were done they've set out to make a name for their little selves in the big wide world. Shame the one spark in their heads has been and gone, the little blighters are pretty dim now!"
— from the back of the box
A few months ago designer toy artists Paul Burke and Jon Paul Kaiser — selling their wares through www.porlzilla.com — launched The Illuminoids, twelve resin and glass designer toys that were sold in six sets of two. With excellent timing and fantastic luck I managed to score #6 or 6 and, after several weeks of work and too little time to play with toys, I'm now ready to pop the box open and take a look at what resin and glass toys look like.
Join me, folks, for resin toys that are even more fragile than the tiniest of resin pieces I've already managed to avoid breaking. Hell, these guys are probably even more fragile than Ashley Wood's WWRP Bramble (review here).
Packaging
Packed in a custom box, the Illuminoids pair come to us in a box that shows to me that the artists felt that the box was as important a piece as the toys inside the box. Fully hand assembled, this tiny little telescoping box features artwork, some fun text (reprinted above), and even tells me that this particular toy is by Paul Burke so I need to be saying "artist" and not "artists." Sorry, Paul, but I only now read the fine print on the box. I was spending too much time playing and not enough time reading.
I have no idea what a "Gocco Printer" is, but the artist obviously loves this type of printer since not only does the toy use a "Gocco" bulb for its head but the packaging, as the box tells me, was printed on one of these printers.
What's really nice is that the box is sturdy enough that I'm going to be able to display it right alongside the Illuminoids toys. Great colors, fun design, sturdy construction . . . this is some nice packaging that, to be honest, only works because the toys are so light. Solid resin pieces at this size would shred a box of this light weight. Still, it works for this set so I'll move on now.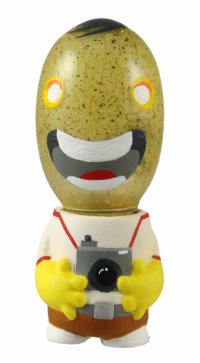 The Illuminoids
Each standing almost 3-inches tall, the Illuminoids are a mixture of a resin body — a little over 1-inch tall — and a flash bulb that has been painted. The bulbs are chipped and slightly cracked — I think that's an effect of having been used and not accidental wear during travel — and a yellowish color that keeps the bulbs from being completely clear.
It looks as if the resin bodies were cast and then the bulbs glued inside — these have to be two-part molds for the bodies because there's no flat surface that looks like it would have worked for a one-part mold — and the mold lines were smoothly sanded away, leaving a fairly clean cast. Both toys, even though the paint makes it look as if there might be some slight variation, are from the exact same mold.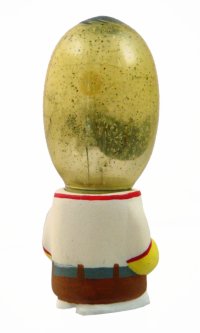 The toy has almost no weight at all, which is unusual for a resin piece of this size. Most resin toys, if you've never held one, are much heavier than you would expect a toy of their size to be. These Illuminoids, though, get so much of their size from the glass bulbs that they're much lighter than I expected them to be. They're also very fragile; handling these makes me a little nervous since I'm not exactly the most graceful person on the planet.
I love how the package included two of these guys. When I first saw the advertised price online (somewhere around $30) I thought it was a little high, even for a tiny resin piece. Once I realized that two of these were packed in the box for that price the offer looked a lot more attractive. And I'm glad I made the order because these guys are an excellent addition to my growing resin toy collection.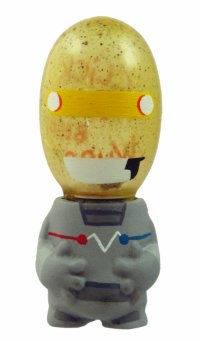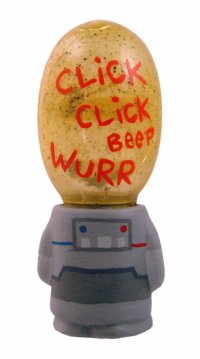 Paint
Besides the construction, which I've talked about, the other thing that gives these toys their charm has to be the fun paint jobs. I especially love the Illuminoid with camera, since the idea of a bulb-headed toy with a camera is delightful.
Really? Did I just use the word delightful? I'm either sleepy or these little guys are so charming that they're slowly changing me. Guys, if I say "delightful" in another review this week please send someone over to rescue me from this cute pair of toys.
With the amount of detail painted on these guys it's probably a very good thing that they're so small. I can't imagine painting a dozen of these without adding some variation to the design or making a mistake or two, but both of mine look pretty good and I don't see anything that I would call a mistake.
Closing Thoughts
The Illuminoids from Porlzilla are not the greatest resin toys I've ever seen but the execution — and concept! — are quite well done. The idea of reusing flash/light bulbs along with resin to create designer toys is something I've never seen before and it is quite impressive. The artist, Paul Burke, has created something I'm proud to display in my toy collection and I hope to see him generate some other cool stuff very, very soon.
---
Philip Reed knows that some of you would rather see a new Star Wars action figure or Marvel Universe action figure review than more resin toy reviews. Well, sorry, but today's a resin toy. But don't worry because there are a few Marvel Universe action figure reviews coming up very soon. Just as soon as the Illuminoids take some pics of my new Red Hulk action figure I'll get that review online. Snap those pics, guys!