Review – Power Attack Batman, Toxic Takedown Batman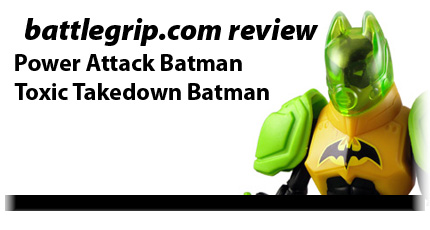 The new Power Attack Batman action figure series (Amazon.com search*, at Entertainment Earth*) continues to keep me happy, even if the Toxic Takedown Batman here is basically a repaint of the Thermo Attack Batman that I already reviewed (review here). New colors, the addition of a helmet, a different weapon, and one completely unexpected change are all that separate this 6-inch action figure from the Thermo Attack version of the toy.
Batman's New Helmet
Translucent green plastic in the shape of a helmet — complete with bat ears! — is the big difference between Toxic Takedown Batman and Thermo Attack Batman. The helmet snaps down into the collar of the torso and holds firmly in place; you can tell these action figures were designed to be played with because they feel durable and the pieces seem to stay nicely in place when you move the toys around. Not too surprising, since the limited articulation and bright colors just scream "designed for kids!"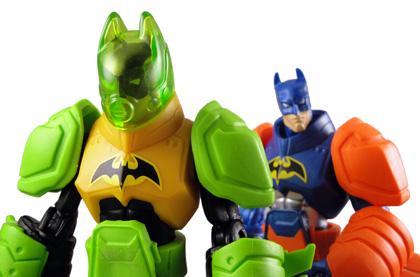 And Batman looks good with the helmet off or on. I'm going to display mine with his helmet on — mostly because it makes him look just a little less like the Thermo Attack Batman action figure — but I can totally understand if someone were to toss the helmet in a drawer and forget that it even exists.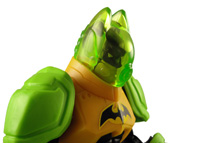 A Closed Fist
With Toxic Takedown Batman using the same sculpt as the Thermo Attack Batman I was a bit surprised when I noticed that the toy's left hand is closed into a fist . . . Thermo Attack Batman's left hand is opened so I just assumed that this guy would be the same. Weird. That means that someone at Mattel decided to spend a bit of cash on sculpting and tooling a forearm that's different from the other figure . . . and I can't understand why. I would have been perfectly happy with an open left hand and, I suspect, so would kids. After all, how's Batman going to hold a weapon in his left hand when it's closed?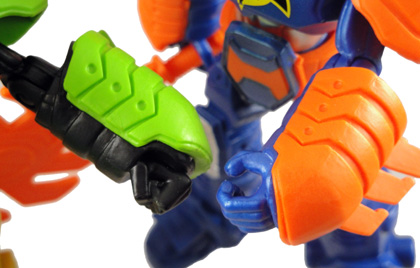 The other strange thing is that the action figure's photo on the cardback clearly shows that it was designed with two hands that could hold weapons. Somewhere between prototyping and production the decision was made to close up the fist. Maybe one of the sites that gets to ask Mattel questions will ask why the money was sunk into a closed fist. (Though I'm probably the only person who noticed or even cares; I sometimes pick the stupidest things to focus on.)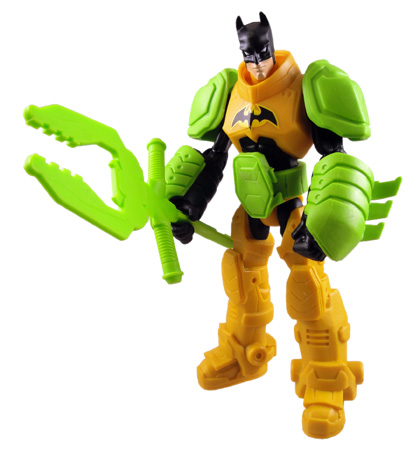 Batman's Claw
As you can see, Toxic Takedown Batman comes with a giant claw device that — if we follow the story on the back of the packaging — is used for handling toxic barrels. Well, the inability to rotate his wrists combined with a closed left hand means that Batman can't use the claw as its shown in the art. Do I care? No, not really. The claw looks suitably nasty as some unknown melee weapon and doesn't need to be used for anything except threatening the other toys on the shelf.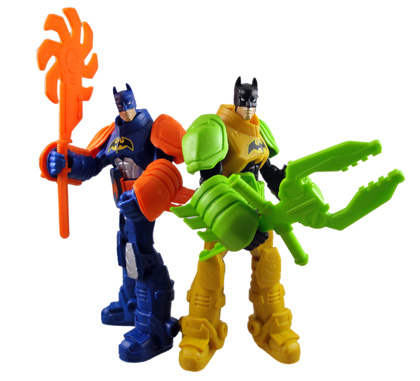 Closing Thoughts
He may be a repaint, but the Toxic Takedown Batman is bright and fun and just the thing to get me even deeper into the Power Attack Batman action figure series (Amazon.com search*, at Entertainment Earth*). There's some sloppy paint here and there, the articulation is very limited, but in the end it's an excellent toy and a great companion to the Thermo Attack Batman action figure.
---
Philip Reed should probably play with something else now, but he's having too much fun with nineties-style Batman toys to put them down.