Review – RealXHead Chaosman X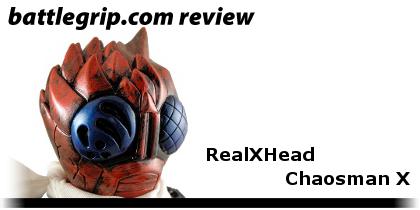 Manufacturer: Real X Head * Year: 2011
Back in February Real X Head offered up pre-orders on four new figures through RealXHead USA. And what made this special was that it was a made-to-order run of four figures; pre-orders were open for about one week during which time anyone could order figures. No limited release. No sellout in moments. A nice, easy, workable system that resulted in everyone having a chance at the toys.
And, even cooler than the system was the fact that the toys arrived less than two months after the orders were placed. And that was even after an earthquake. Overall a fantastic pre-order experience; I hope RXH does this again and I hope other toy manufacturers look at how well this worked.
A Familiar Body
We've already seen this body before. Both Pheyaos Man (review here) and the RXH Callgrim (review here) share this basic body so see those reviews for more photos of the body design. The only way in which this body is different is that the left arm ends in a hand instead of a weapon, but otherwise this is simply a rerun of an existing mold.
Is That a Fly head?
Chaosman X's left eye has a fly-like, insectoid look to it but that right eye is something even weirder. I don't know enough about the RXH series to know if this is a new head design or not, but I suspect that this is a pre-existing head sculpt popped onto the body with a new paint design. Regardless of its status as a new design or not this is a fun head design; the spiky, hair-like design of the head flows neatly into those bulging eyes and that mechanical mouthpiece marks this guy as either a robotic alien or a bizarre creature in a suit. Either way it's neat.
But It's the Paint that Makes it Remarkable
But no matter how cool the sculpt is I've gotta say that Chaosman X's truly incredible feature is the paint. Black vinyl with copper, silver, and yellow spray effects that bring out the toy's details . . . well, just look at the photos and you can see why this is one startling colorway. And those metallic blue eyes contrast wonderfully with the coppery-colored head looks great; not to mention the wipe trick on the head which gives the toy a weather-beaten look.
Closing Thoughts
Another excellent addition to my Real X Head collection, Chaosman X stands out on the shelf because of that paintwork. The pre-order system used worked perfectly, and the toy looks so great that if RXH offers another set of toys through pre-order I won't hesitate to grab them (if the designs capture my imagination).
---
Philip Reed needs a larger shelf for his RXH collection. Amazing, just a year ago he hardly had any RXH toys at all and now he's got an army. Careful, guys, or you'll fall into the same trap.