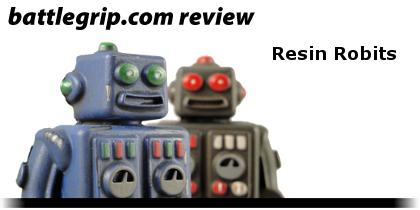 This little Robit resin toy from Halfbad Toyz (website, Twitter) is available right now at the Halfbad store for just $5. That's crazy cheap for a 2.75-inch resin toy (or any resin toy for that matter), so when I spotted it online I ordered two for myself. So what do I think of them? Keep reading and (as you've guessed) I'll spout off a bunch of rambling nonsense about these little robot toys.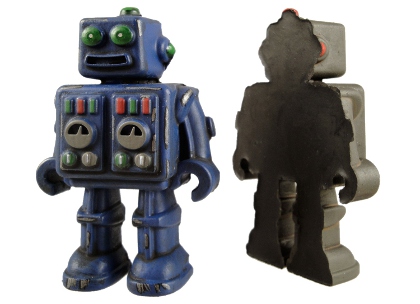 Single-Sided Toys
First thing is to get my one complaint with the toy out of the way: This toy has no back. As you can see in the photo, above, the back of the toy is flat and featureless. This isn't really a problem since it's going to sit on a shelf looking out at the world, but the backless design was a surprise. But I suppose for $5 I should not be too surprised that something had to be shorted a bit. That price really is crazy low for any resin toy.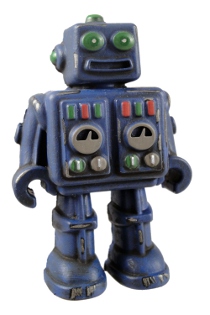 A Well-Crafted Robot
Looking a lot like an old school metal robot, the Robit here is cute and very nicely sculpted. There are just enough details on this 2.75-inch tall robot to make him look like a work of love, and he's generic enough that I know I could never point to any one existing robot as the inspiration. Robit is clearly inspired by all of the metal robot toys of the past.
Paint
The official product description at the Halfbad store makes it clear that not all of these will be painted. The site says:
You get one Robits per order, in either hand painted or chase colorways. This is a "blind" purchase, but we guarantee you will be happy with your purchase.
I was either really lucky or someone over at Halfbad Toyz noticed my name and decided to be nice to me. Either way, both of my Robits arrived painted and both paint apps are excellent. Very tight and attractive (as with everything I've seen painted by the guys over at Halfbad Toyz). Cool stuff!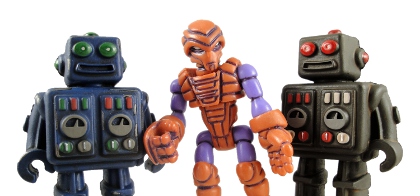 Closing Thoughts
I'm not a fan of the single-sided approach, but for $5 the Robit is an awesome deal for resin toy fans who also love robots. These are big enough to look good in a display, and the blind-bagged style approach means that someone ordering four or five of these at once should wind up with a fun collection of little robots.
Definitely recommended for resin toy fans!
---
Philip Reed should set the Robits up with other robot toys in his collection. Robot assault!