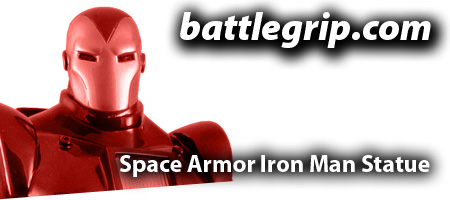 When Bowen Designs (official website, at Sideshow Collectibles*) released their Space Armor Iron Man mini bust (review here) many would see that as completing a niche in an Iron Man display and move on. But not the crew at Bowen Designs. No, they had to take things up a few notches and also release this Space Armor Iron Man statue, a 14-inch tall Iron Man statue that is — not surprisingly — an incredible piece of art.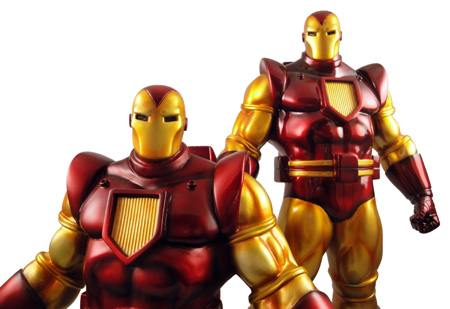 Iron Man Fans Live in an Amazing Age
Can you believe just how many Iron Man statues (Amazon.com search*) are out there right now? The series of Iron Man movies has sure as hell catapulted the character into mainstream minds, and manufacturers have taken advantage of the character's popularity to produce statue after statue after statue.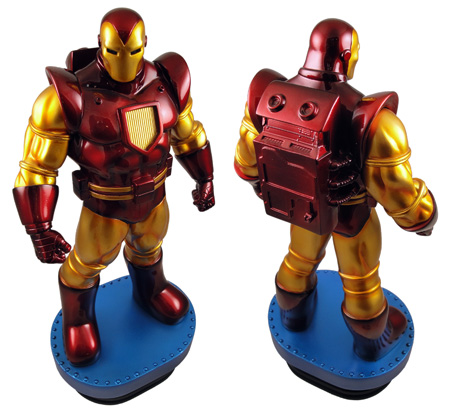 And where once Iron Man collectibles were kinda uncommon — see The Fwoosh post, THE HALL OF ARMOR – A Brief History of Iron Man Toys, for an idea of the early days — there are now more Iron Man collectibles than any of us can afford. So that makes choosing a little tough, but considering how cool this armor is, and how limited the statue is (the Amazon entry* claims it was a run of 325 units), I feel I made the right choice in grabbing this instead of a number of movie action figures.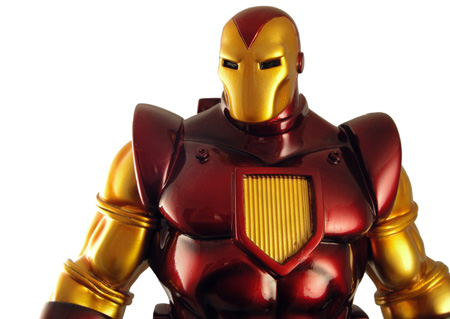 Quality I Expect
Bowen Designs (official website, at Sideshow Collectibles*) makes some of the best busts and statues out there; every one of their collectibles I own looks great and the work all shares a common feel with smooth, comic-like lines and bright colors that look like they're sampled from comic books rather than real life. And even though the Space Armor Iron Man statue has only a few different colors across the armor what paintwork there is looks as fabulous as anything from the company. Just look at the pics here and I think you'll see why I'm so very happy that this is in my collection.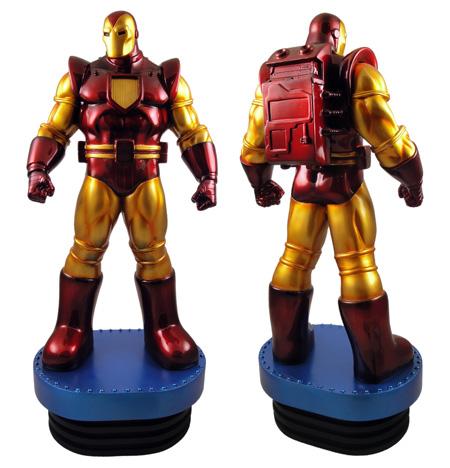 Same Scale as the Bust
This statue is scaled perfectly with the Space Armor Iron Man mini bust (review here) and, fortunately, it is in a different pose so displaying the two together works quite well. I'm not sure if the two pieces share any common parts — it's possible, but I'm too busy enjoying how they look together to start looking for identical matches in parts — but even if they do I really am not bothered since both work well alone and work even better as a group. The statue is definitely the cooler of the two, but with the difference in price I can say not everyone will be crazy enough to buy both so the bust alone makes a great addition to any Iron Man shelf.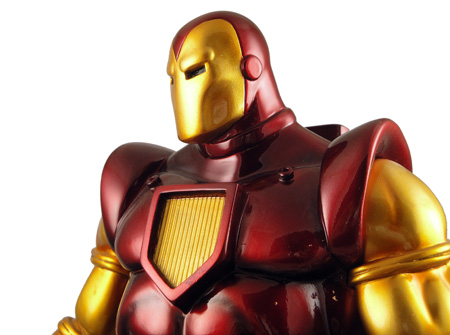 So Very Heavy
At 14-inches tall — and that doesn't count the base — I'm sure you're not surprised to learn that this Space Armor Iron Man statue is one heavy chunk of art. As with many other statues the figure and base are two separate parts that peg together, and what's nice is that the piece rests solidly enough on the base that I have no worries — despite the size and weight of the figure — of the statue falling over and breaking. Well, so long as the cats stay away from that shelf; but of the statue falls it will be because of a kitty and not because of the design of the statue or the base. Those are both excellent and nicely balanced.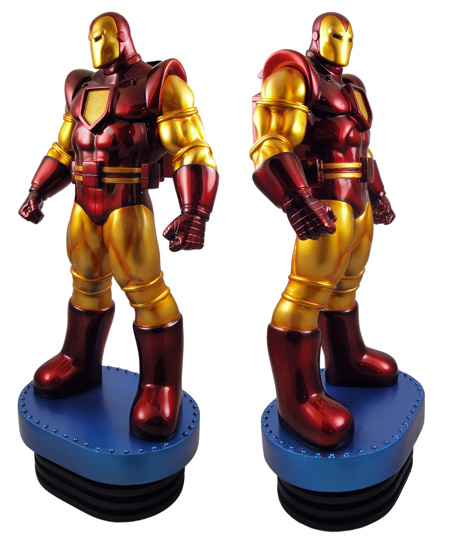 Closing Thoughts
It's clear that someone at Bowen Designs (official website, at Sideshow Collectibles*) loves Iron Man. Every Iron Man work I have by the company is as near-to-perfect as I could hope for, and they choose armors that don't typically get attention from other manufacturers (I really should review the Hydro Armor bust* soon). This Space Armor Iron Man statue is a buy I do not regret and would happily make again if I had to do it all over.
Actually, the only thing I do kinda regret is not going after the full-size Hydro Armor statue after the original order was cancelled — see "A Bad Start to my Bowen Designs Membership" — and rather than make myself cry I think I'll just avoid searching for that Hydro Armor statue today. I really don't want to know what it would cost me to snag one today.