Line: Star Wars * Manufacturer: Topps * Year: 2011
Now here's a creative idea that deserves applause. The Star Wars Power Plates (search Amazon.com*) from Topps are metal license plates with a magnet on the back, sold one per pack for $2. And with a combination of blind packaging, a low price point, and a low number of unique pieces in the first wave (only 30 different designs) I suspect there will be more than a few Star Wars fans trying to grab complete sets. Just imagine what refrigerators are going to look like if this idea takes off.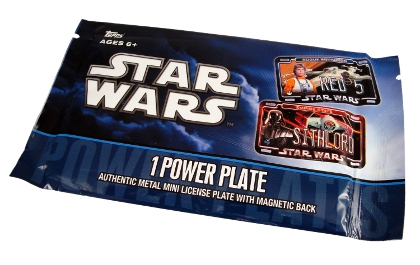 Metal!
These mini-license plates are actually made of metal and they feel really tough. I wouldn't suggest trying to build a house out of them or trying to stop a bullet, but the metal is a decent quality and overall the plate feels like it's worth the $2 price tag. I only bought one — I was curious and wasn't totally sure of what I would think of them — but I could see myself grabbing one or two more from time to time. The one I did buy is now on the refrigerator and it stays just fine; the magnet on back is pretty big.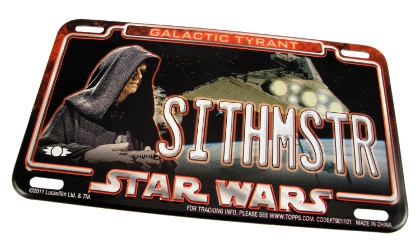 See all 30 Designs!
While the official webpage sucks — really, it's a lame page — you can see all 30 of the license plates on starwarsguide.net. A third of the designs are prequel pieces while the other twenty are all classic trilogy-based pieces so regardless of your Star Wars preferences there's something here for you . . . except for Clone Wars fans who will likely have to wait for a future set. I don't see any info on a Clone Wars set, but if these sell well there's no way it won't happen.
Closing Thoughts
As Vader says, Impressive. $2 for a single metal license plate is a much better deal than I thought before opening the package. And at 4″ x 2.25″ these plates are fairly large and really do look good on the refrigerator. Custom license plates aren't anything new, but I can't remember seeing tiny license plates in trading card-like packaging before. Of course there is very likely several instances of this idea being marketed in the past, but it's one I can't remember so I'm impressed.
But then I'm sometimes too easily impressed, so find someone who has bought one or two of these plates and check them out for yourself. I think it's a great idea.
---
Philip Reed may not go after a full set of these but he seriously respects the creativity behind them. Inexpensive and fun collectibles are always popular with Philip's brain.