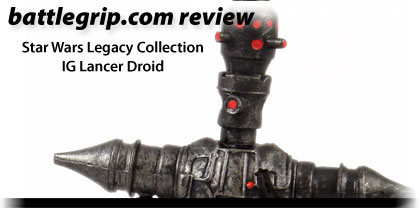 Line: Star Wars * Manufacturer: Hasbro * Year: 2008 * Ages: 4+
"IG lancer droids are deployed by the InterGalactic Banking Clan on the planet Muunilinist to serve as a homeworld security force. Durge leads an army of IG lancers into battle against Obi-Wan Kenobi and his clone troopers during the Clone Wars."
— from the back of the card
If you followed Robot Fever Week last week, and if you read my review of IG-86 (review here), then you won't be at all surprised to see the IG Lancer Droid action figure pop up on the site today. IG-86 was just so much fun that as soon as I found that I could buy the Lancer Droid for half price then I went ahead and ordered two of them.
Unfortunately, the IG Lancer Droid isn't anywhere near the same level of quality as IG-86. He's not a terrible action figure, he's just a disappointment when compared to the other IG droid.
Packaging
What you see, and what you've seen before. The card back reminds me that I do not own any Clone SCUBA Troopers. That just feels wrong.
The IG Lancer Droid Action Figure
Coming in at almost 4.75-inches tall, the IG Lancer Droid towers over many of the 3.75-inch Star Wars action figures. The combination of being a tall droid — even the original IG-88 action figure from 1980 was one of the taller figures in the classic line — plus the elongated head design makes this one lean, menacing droid that has the classic IG design with just enough changes to the appearance to make him something kinda new and neat.
The droid's design is a fantastic modification of the classic IG shape, with the modified head shape mimicked on the droid's shoulders being the primary difference in design between the two types of droids. Additionally, the IG Lancer Droid's hands are three-clawed designs rather than the standard two-claw used on IG-88 or the vice-claw used on IG-86. Numerous hoses, and a mechanical component that wraps around the droid's torso, help separate the design from the classic. Overall, IG Lancer Droids look cool.
Where It All Goes Wrong
The IG-86 action figure had fantastic articulation. The IG Lancer Droid does not. The Lancer has a twisty head, a solid torso without any waist articulation, twists at the thighs and feet as well as beneath the shoulder pieces, a twist joint that raises the arms up and down, and hinges at the elbows and knees. It's decent articulation, but after the ball-joint shoulders and cool hands of the IG-86 this design just doesn't measure up.
An even bigger problem is that the figure's thin design is combined with a slightly soft plastic that feels a little different — and weaker — than what we got with IG-86. Combine the softer plastic with a bad left leg/hip joint on both of the Lancers and you run into some problems with standing the action figure without a stand. Hasbro, if I send you $1 will you send me a case of stands? These figures really need to come with stands, just like your G.I. Joe figures do.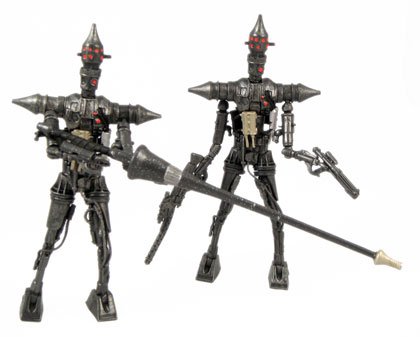 Nice Paint, IG
While not as nice as the weathered effect on the IG-86 figure, the IG Lancer's paint job is certainly better than we've seen on some other action figures. He's cast mostly in gray with dark washes giving him a beaten look and red paint and silver highlights bringing out some of the droid's details. If there's one thing Hasbro is getting right with the recent droid's it has to be the paint. IG Lancer looks great with IG-86 because they both have a similar paint job that helps tie them together.
Accessories, Another Point of Failure
Not the number of accessories. No, IG Lancer Droid's come with an excellent number of accessories: a blaster, a blaster rifle, and a lance — which the droid can wear on his back — mean this guy is heavily armed and ready for battle. The problem is that he has a tough time carrying either one of his blasters, since his hands aren't quite the right size for the blaster handles. The lance isn't an issue — it snaps onto the wrist — until you realize that the weight of the lance is more than the droid's arm joints can handle.
Excellent number of accessories. Poor design on making the IG Lancer actually able to take advantage of his accessories.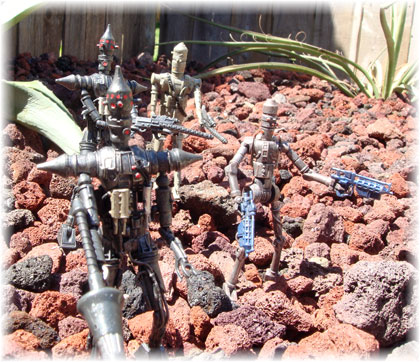 Closing Thoughts
I've been a little tough on the IG Lancer Droid here, but only because I had such high hopes after the fantastic IG-86 Assassin Droid action figure. What we have here is a great concept and droid design that's brought down by inferior articulation, poor hand design, and a weak plastic.
For MOC collectors — not me, since you can't play with the toys when they're trapped behind plastic — this is a great buy since he looks really good behind his bubble. You guys should snag one of these if you love droids. Those of you who are gonna open this guy up may want to think twice before spending more than $4 on him. Hunt around and I'm sure you'll find a good deal.
Now I wanna grab a Magnaguard and see how they are. More IGs for the party!
---
Philip Reed is happy that he picked up the IG Lancer Droid — and that he got two of them! — but he's even happier that he picked them up at half-price. After the excellent IG-86, this guy is kind of a letdown. He's not terrible, he's just not as cool as the IG-86 action figure.